---
Wait… did you read that right? A dietitian is telling you to eat fried anything, let alone rice?
Yep- we did it! We combined brown rice with cauliflower rice to make the base of our bowl and added Mighty Spark already seasoned ground chicken to save time.
Power bowls are a great way to prep several meals for the week at once. First pick your base (quinoa, brown rice, sweet potato, cauliflower rice, etc), add a protein, then throw on some veggies and greens. For a Chipotle style bowl you could do brown rice, black beans, shredded chicken, peppers and onions, salsa, and avocado then mix in some greens. For a mediterranean style bowl you could start with quinoa, tomatoes and cucumbers, chickpeas, cucumbers, salmon, olive oil and balsamic vinegar.
The possibilities for Power Bowls are endless, and they're a much more satisfying option than those boring desk salads.
Looking for more power bowl ideas? Check these out:
Sesame Fried Rice Power Bowl Recipe
Makes 6 servings
Total time depends on the type of rice you buy (instant vs old-fashioned). I always recommend the quickest option, especially if you are meal prepping and cooking more than one meal at a time.
1 cup uncooked brown rice
2 cups cauliflower rice**
2 carrots, small diced
2 tablespoons sesame oil
3 eggs
2 tablespoons Braggs Aminos***
3-4 cups of baby kale, chopped
1 small bunch of green onions
2 tablespoons sesame seeds
BONUS: If you don't feel like chopping carrots or kale, just pick up a pre-chopped bag of stir-fry veggies in the produce section.
Cook brown rice as directed on package. You can use microwaveable 10-minute rice or the old-fashioned kind.
While rice is cooking, heat a large sautee pan or wok to medium heat. Brown the ground chicken. Start dicing your carrots and kale while the chicken is browning. Remove the chicken from pan when done.
Using the same pan, heat 2 tablespoons of sesame oil on medium-high. Add your cooked rice and continuously stir to keep from burning. Add your cauliflower rice and eggs straight into the pan and keep everything moving.
Add your Braggs Aminos and kale. Remove from heat once cauliflower rice has softened.
Divide the rice and veggie mix among 6 containers. Top each with ground chicken.
Garnish each with green onions and sprinkle with sesame seeds.
*I enjoy this ground chicken because it is already spiced and super flavorful. You could use diced chicken breast here instead, as long as you spice it up a little.
**You can usually find "riced cauliflower" or cauliflower rice in individual packages in the produce section. If you can't find it there you can probably find cauliflower rice in the freezer section.
***Never heard of Braggs Aminos? It's like soy sauce, only way healthier and lower in sodium. You can find it in most grocery stores or on Amazon.
Looking for a way to get quality, grass-fed, free-range, organic meats delivered to your door each month?
I was vegetarian for 2 years and even dabbled into the vegan world at one time (read about my vegan experiment here). I didn't like the idea of conventional farming and did not want to promote that industry. However, I missed the satisfaction of protein in my meals and I bruised very easily. My body craved foods with iron, so I knew something was missing. Now, I eat meat again but I make sure that I get it from sources I trust (my parents farm in Ohio or Butcher Box). I found it hard to find truly free range and organic meat at my local grocery store, so now I just get it everything I need for the month delivered at one time.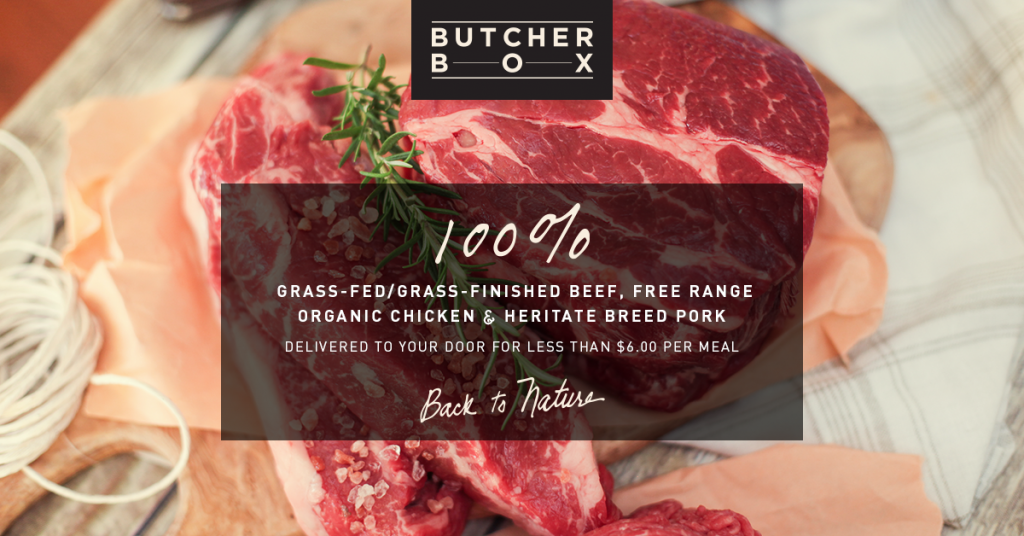 How does it work?
ButcherBox delivers 8-11 pounds of grass-fed & grass-finished beef, free-range organic chicken, heritage-breed pork, and wild caught Alaskan Sockeye Salmon directly to your door.
They can curate a selection of cuts for you or you can choose your own.
ButcherBox believes in a healthier food system where everyone has access to meat the way Nature intended: free of antibiotics and hormones, and humanely raised on open pasture.
Let me know if you try them and what you think!
Recipe and post by Megan Ware, RDN, LD. Read more about our dietitians here.