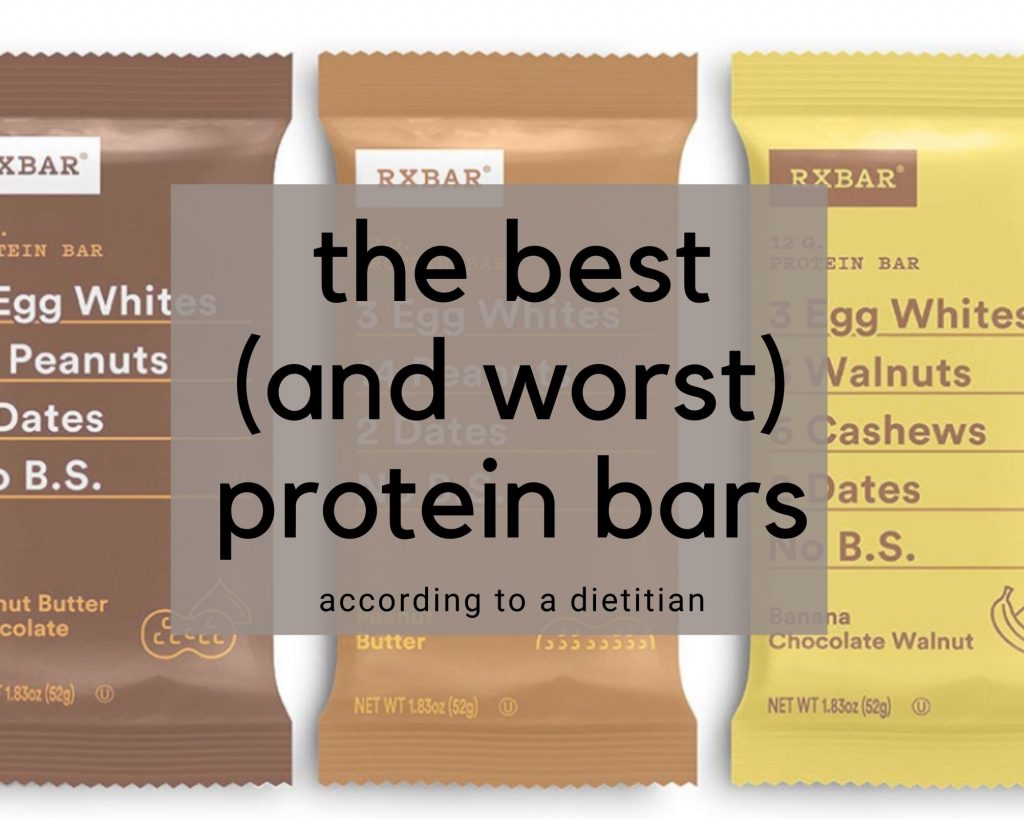 ---
It's everyone's dilemma: you want something healthy you can grab on-the-go that tastes great and is actually good for you.
If you're looking for a bar that's best for a snack between meals or a quick source of energy before a workout, check out The Best Snack Bars Under 150 Calories. If you're looking for strictly plant-based bars, check out The Best Vegan Protein Bars.
For this post I reviewed heftier bars with at least 10 grams of protein that can be used as a post-workout recovery food or even part of lunch in a pinch if you're stuck in your car or can't leave your desk.
There's no reason that you HAVE to start incorporating protein bars into your daily routine but it is great to have some healthier options on hand in times in need.
Unfortunately most protein bars have loads of artificial ingredients and are really no better for you than a candy bar.
I've rated the following bars based on taste, ingredients, nutrients, and price. This is a popular post that I continue to update. Some companies have sent me bars to sample but I have not been paid by any company to review these products. All opinions are my own.
I skipped the bars with a million sketchy ingredients like Power Bar, ZonePerfect, Met-RX, Adkins, Muscle Milk, Detour, Myoplex, EAS, Probar and Balance Bar— do NOT eat this crap. They all get automatic F's.
The Best:
KIND Protein
KIND makes a ton of different bars– make sure you buy the ones that say PROTEIN to ensure they have 10 grams or more per bar. I love that KIND Protein bars are made from real food (mostly nuts) and have some crunch to them. Most grocery chains carry them although sometimes you'll find them in the cereal aisle and sometimes in the "nutrition" aisle next to supplements. KIND is one of the cheapest options when it comes to good bars and you can even find them in airport snack bars, Starbucks, and gas stations.
Zing Bar
Zing bars were developed by registered dietitians who couldn't find an adequate snack to recommend to their clients. What sets these bars apart is the added iron (15% of daily needs in one bar). They're non-GMO and get most of their protein from seeds, nuts, and pea protein. I haven't found a flavor I don't like. The downside is that you have to go to a specialty store like Whole Foods to find them but Amazon has them for $24 for a 12 pack.
RXBAR
Only 8 ingredients? Sold. I love RxBar's no nonsense packaging and simple message. They have no gluten, soy, dairy, or added sugar and get most of their protein from egg whites. A bar made from real food that provides real fuel. They don't have the intense sweetness or bitter aftertaste like some protein bars on the market that use sucralose but they do have a chewy consistency that some people don't enjoy. RXBARs can be found in singles at most grocery stores, including Trader Joes. The Dark Chocolate Sea Salt and Chocolate Cherry are my favorite flavors.

Oatmega Bar
Oatmega bar is at the top of the list because they are the best tasting bars and have 14 gram of protein with 7 grams of fiber. They also have sustainable sourced omega 3s, which set them apart. The protein comes from New Zealand grass-fed whey with a minimal total of 5 grams of sugar and no artificial sweeteners. My favorite flavor is Chocolate Mint with White Chocolate Raspberry and Cinnamon Bun rounding out the podium. Out of all of the bars on this list, Oatmega is the one that my clients enjoy the most. Pre-pandemic they were easy to find in stores, but now seem to be sold primarily on Amazon. They are still on the cheap end at about $2 per single bar, $6 for a 4 pack or $20 for a 12 pack.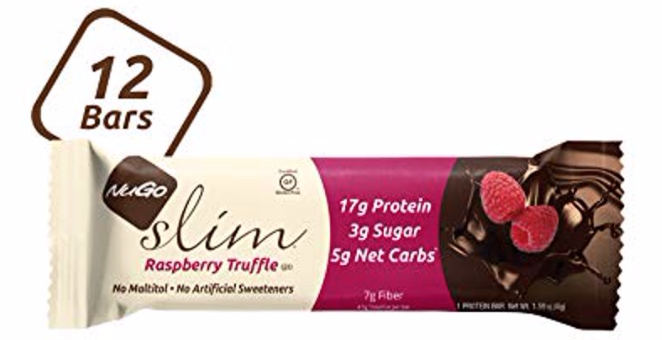 NuGo Slim
The good: 190 calories with 16 grams of protein, 7 grams of fiber and only 2 grams of sugar. I loved the intense dark chocolate taste in the Raspberry Truffle and Brownie Crunch flavors. The bad: Crunchy Peanut Butter was too dry and not as satisfying. Soy protein is the main protein source. They are harder to find in stores and keep in mind that not all the lines of NuGo bars are created equal in terms of taste or nutrition.
The Bar Shack (Custom-Made Protein Bars)
If you have food allergies and can't find a vegan bar that meets your needs I would suggest making your own with The Bar Shack. You can customize each and every ingredient, with every superfood you can think of. You get to name your bar and pick a label too, which is pretty awesome.
Bars to avoid:
Clif Bar
The only time you should eat a Clif bar is when you are doing the activities pictured on the front of the bar: hiking, cycling, and mountain climbing. With 40+ grams of carbs, these bars are not for sitting at your desk.
Luna Bar
Yeah, they taste good and can definitely curb a sweet craving but the ingredients suck: soy protein, brown rice syrup, cane sugar, and palm kernel oil, to name a few. I'll give them a few points because they recently decreased the amount of sugar in their bars from 14 grams down to 8.
Quest Bar
The body building and figure competitor communities are absolutely obsessed with Quest. The macronutrients are pretty incredible– all are under 200 calories, over 15 grams of fiber, 1 gram or less of sugar and 20 grams of protein. They're big in size and have lots of bulk to fill you up so I can see why competitors love them.
The first flavor I tried (Double Chocolate Chunk) felt was grainy, like I was chewing on straight protein powder. It left a weird taste in my mouth– probably from the 6 grams of erythritol and the overpowering taste of sugar alcohols. Cookies & Cream was the best flavor I tried. The Lemon Cream Pie was completely inedible. The texture reminded me of old chewing gum that's been sitting in your car too long.
We were not paid to review any of the above products. All opinions are our own. This post may contain affiliate links.
About the author: Megan Poczekaj, RDN, LD, is a registered dietitian nutritionist in Orlando, FL. She owns the private practice, Nutrition Awareness, where she teaches other entrepreneurs how to maximize their productivity and performance with nutrition. She is the author of the book The Optimized Life: A Nutrition Guide for Entrepreneurs and co-host of the Nutrition Awareness Podcast.
If you need help losing weight, improving your performance, or increasing your energy, schedule your initial consultation here. Not in Orlando but still need some nutrition tips? We also do online or over the phone consultations.