---
It's everyone's dilemma. You're looking for something healthy you can grab on-the-go that tastes great and doesn't have a million ingredients. In our previous post, The Best Snack Bars Under 150 Calories, I reviewed bars that are best for a snack between meals or for a quick source of energy before a workout. To find the best protein bars, I looked for more complete bars with at least 10 grams of protein that can be used as a post-workout recovery food or even as a part of lunch in a pinch if you're out on the trail or stuck in your car.
It's important to rely on packaged foods as little as possible and you don't need to start incorporating protein bars into your daily routine, but it is great to have some healthier options on hand in times in need. The problem with protein bars is that they often have loads of artificial ingredients and are really no better for you than a Snickers bar.
I've rated the following bars based on taste, ingredients, nutrients, and price. This is a popular post that I keep updated and some companies have sent me bars to sample but I have not been paid by any of these companies to review these products. All opinions are my own. Some links provided are affiliate links. 
I skipped over all the bars with a million sketchy ingredients like Power Bar, ZonePerfect, Met-RX, Adkins, Muscle Milk, Detour, Myoplex, EAS, Probar and Balance Bar— do NOT eat this crap. They all get automatic F's.

Oatmega Bar A

Oatmega made it to the top of the list because each bar has 250 mg of EPA and DHA (healthy fatty acids). They are organic and use New Zealand grass-fed whey with around 200 calories, 5 grams of sugar, 5 grams of fiber, 14 grams of protein and NO fake sweeteners. My favorite flavor is Chocolate Mint, but I like the Lemon Chia and White Chocolate Raspberry options too (because they're not your typical chocolate peanut butter flavor that every brand has). Out of all of the bars on this list, Oatmega is the one that my clients say tastes the best. Oatmega bars are on the cheap end too at about $2 per single bar or $6 for a 4 pack. They are easy to find in singles and 4 packs in most grocery stores including Target, Publix, HEB, and Walmart (usually in nutrition aisle where the supplements are).
KIND Protein A

Not all Kind bars fit my 10g of protein– skip the breakfast bars and look for ones that say PROTEIN. Some stores stock them by the rest of the breakfast barsand others have them in the "nutrition" aisle. KINDs line tend to be one of the cheaper options when it comes to good bars and you can often find them in the airport snack bar and gas stations. 
KIND Sweet & Spicy A
Sometimes you're just not in the mood for a sweet or chocolatey bar. Enter KIND's Sweet & Spicy line. Bold, savory flavors like roasted jalapeño almond are made with whole foods, non-GMO ingredients, and 10 grams of protein per bar. 
Good2Go Protein Bar A
Good2Go (or G2G) is perfect for fueling athletes. No refined sugars, no preservatives and high in protein from whey, nut butters and oats. These bars are super filling, made from real food, and at 300 calories per bar are good on their own as a meal-on-the-go. If you like peanut butter or almond butter, you'll love these bars. G2G offers 20% off any order using the code "NUTRI". 
RXBAR
A
Only 8 ingredients? Sold. I love RxBar's no nonsense packaging and simple message. They have no gluten, soy, dairy, or added sugar and get most of their protein from egg whites. A bar made from real food that provides real fuel. They don't have the intense sweetness or bitter aftertaste like some protein bars on the market that use sucralose but they do have a chewy consistency that some people don't enjoy. RXBARs can be found in singles at most grocery stores, including Trader Joes. The Coffee Chocolate is my favorite flavor.
NuGo Slim A
Brownie Crunch 
This bar was pretty perfect for me- 190 calories with 16 grams of protein, 7 grams of fiber and only 2 grams of sugar. I loved the dark chocolate taste of the Brownie Crunch and that they used no artificial sweeteners. The Crunchy Peanut Butter was too dry and not as satisfying. It's harder to find, but NuGo tends to be cheaper than RXbars, Oatmega or Good2Go. Keep in mind that all the lines of NuGo bars are created equal- in taste or nutrition. They do offer vegan flavors of the Slim line as well.

The Bar Shack A
Custom-Made Protein Bars
Want a bar that perfectly fits your needs? Make your own! The Bar Shack lets you pick your base, add in your favorite type of protein, and throw in the superfoods of your choice. You choose each and every ingredient, name your bar, and even customize the label. Perfect for anyone with dietary restrictions or allergies.
thinkThin Lean Protein and Fiber Bar A-
The macros are great: 150 calories, 10 grams of protein, 5 grams of fiber and 5 grams of sugar. They taste almost as good eating a candy bar. The flavor and texture of the Salted Caramel reminds me of a Tagalong Girlscout Cookie. The Cinnamon Bun White Chocolate and Birthday Cake hit the spot too. Don't get me wrong here, these bars are not exactly real food. The ingredients are non-GMO, but the list is long (and includes things like "natural" flavors). There are no artificial sweeteners or fiber though, so I choose these over Quest bars—for taste, texture, price AND ingredients. They run between $1.50 and $1.75 per bar so they don't break the bank, plus they are easy to find. I stock up on them for when I'm in the mood for something sweet. I'm a sucker for their seasonal flavors like Pumpkin Spice and Dark Chocolate Peppermint too.  
Keep in mind that thinkThin's Lean Protein and Fiber bar is different from the thinkThin High Protein (B) bar. The high protein version packs 20 grams of protein in the 230-240 calorie bar but they have a dry texture and semi-bitter flavor.
Good Greens Wellness Bar
 A-
Good Greens bars have soft texture and are vegan, gluten, dairy, and preservative-free. They have added probiotics and superfood ingredients, 10 grams of protein and 5 grams of fiber in 190 calories. The Pumpkin Spice flavor was my favorite (basic, I know). They have a few less favorable ingredients like evaporated cane juice, palm kernel oil, and agave syrup but you also get an added bonus from superfoods like maca and camu powder, mangosteen, acai, and chorella.
Zing Nutrition Bar A-
Zing bars were made by registered dietitians who couldn't find an adequate snack to recommend to their clients on the go. They get major bonus points for covering 15% of daily iron needs in one bar. They're non-GMO and get most of their protein from a nut blend, rice protein concentrate, and pea protein. The downside is that you probably have to go to a specialty store like Whole Foods to find them and they cost between $2.50 and $3.50 per bar.
Perfect Bar, Carob Chip B
There's nothing wrong with this bar– it's very similar in texture and taste to the Good2Go bars just with a teeny bit more calories and sugar and less protein. The predominant flavor was honey which was a little too sweet for me. I prefer the Good2Go Bars over the Perfect Bar because the size of the Good2Go bar fills me up a lot more, but I'm willing to give another flavor of the Perfect Bars a shot before I write them off. They are usually found in the refrigerated section of healthier grocery stores like Fresh Market, Lucky's and Whole Foods.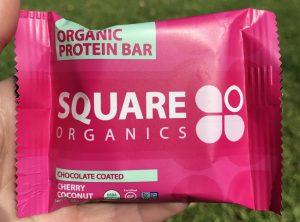 Square Organics B
You want something that tastes like a decadent dark chocolate candy bar or truffle? Square Organics is your bar. I couldn't believe how delicious these things are, given that I don't love a lot of plant-based protein bars. You can find them at Whole Foods, Lucky's Market, and some of the bigger, nicer Publix. The sugars are a little higher than some of the other bars on this list (11-13g), but like I said, they taste like candy. The Chocolate Coated Cherry Coconut is my favorite. Square offers 20% off any order on their website with the discount code "MEGAN20".
Vega Sport Protein Bar B
Vega bars are higher on the calorie end at 260 calories per bar and are designed for people with an active lifestyle. They get their protein from organic sprouted whole grain brown rice protein and pea protein and have bonus nutrients from alfalfa and SaviSeed. They  are perfect for post-workout recovery. Unfortunately, they also have 16-19 grams of sugar per bar and cost around $3-4, both of which are a little too high for me. For those needing the extra calories and carbs, and have the cash, go for it.
Dr. Mercola's Pro Puff Protein Bar, Vanilla Almond, B
The calories and macronutrients in this bar are great (only 1 gram of sugar). They're non-GMO and have no artificial sweeteners. They have a really strong vanilla flavor and a chewy, almost sticky consistency with seeds scattered throughout. I definitely didn't mind it but I just couldn't wrap my head around paying $4 for a single bar. I've only seen them available online and if you really loved them, you could buy them by the box (12) for $3 a bar or in bulk from Dr. Mercola's website and end up paying around $2.80 a bar (plus shipping). They're also gluten and soy free. 
Health Warrior Superfood Protein Bar
Dark Chocolate Coconut Sea Salt, B
This bar is made mostly of an organic ancient grain blend of chia, oats, and quinoa. The taste is just OK, very similar to the Coconut Chocolate RX bar with with the consistency of chia added. I just didn't find it worth the 200 calories for only 10 grams of protein. The good part is that you get the extra benefit of omega 3s from the chia that you don't get from most bars. It's not bad, but Oatmega bars are better.
Luna Protein Bar C
They taste decent and definitely curb my sweet craving but they are about half the size of other protein bars at 1.6 ounces. Lunas are on the high end for saturated fat at 3.5 grams and sugar at 14 grams. The upside is that they have 12 grams of protein and added calcium, iron, folic acid and vitamin D. They contain some organic ingredients but are not 100% organic. Luna's website states that they use no hydrogenated oils and source non-genetically modified ingredients but they are not non-GMO certified. I wish these bars had a little less sugar than 14 grams and were less pricey considering there's not a whole lot of "whole foods" ingredients. 
Quest Bar C

The body building and figure competitor communities are absolutely obsessed with Quest. They come in about a million different flavors and the macronutrients are pretty incredible– all are under 200 calories, over 15 grams of fiber, 1 gram or less of sugar and 20 grams of protein. They're big in size and have lots of bulk to fill you up so I can see why competitors love them.
The first flavor I tried felt was grainy and felt like I was just chewing on protein powder. It left a weird taste in my mouth– probably from the 6 grams of erythritol and the overpowering taste of sugar alcohols. I personally made the decision to cut artificial sweeteners out of my diet so I won't be making them a staple. Cookies & Cream was probably the best flavor I tried but the Lemon Cream Pie was completely inedible. They're not cheap at $2.50 per bar but it is better than hitting the vending machine. 
Clif Bar B or F, depending on your activity

There are about 20 different flavors of Clif bars. Depending on the flavor they can run between 230 and 250 calories per bar and are geared toward someone needing a meal on the go, not just a snack. The 22-25 grams of sugar is high, but if you're out trekking, climbing or mountain biking all day (which is what these bars were made for) you need the extra carbs for energy.
Clif bars are 70% organic and use ingredients that are not genetically engineered. They've got lots of added vitamins and minerals and 10 grams of protein per bar. My favorites are the Peanut Toffee Buzz (with caffeine) and Carrot Cake. They fill you up and and are probably the cheapest bars on this list at about 99 cents a piece.
I give them a B for an on-the-trail breakfast or during a long day of serious physical activity, but I'd still love for you to add more protein (like a hard-boiled egg) if you're having it as a meal. F if you're not active (like going to sit at a desk all day) and don't need the extra carbs/sugar.
Larabar ALT, Lemon Pound Cake Fruit and Nut Bar, C
This one was just OK. I've got to give them points for having only 9 ingredients, all of which I can pronounce. They are non-GMO, gluten-free, dairy-free, and vegan. Ten grams of protein is pretty good for this little bar and it tasted alright, but at 210 calories it wasn't as good as something called Lemon Pound Cake should taste. I still wanted a cookie afterward. I also tried Chocolate Peanut Butter. The flavor was better but the texture wasn't. The hard chunks and soft bar didn't mesh well. It wasn't worth it. 
The Larabar ALT is the only Larabar with 10 or more grams of protein, so I did not include other Lara bars in this list.
Power Crunch Protein Energy Bar C
If you're really craving a vanilla wafer or a Kit-Kat but need some extra protein, buy one of these. Otherwise, I'd pick something else on the list. They're not terrible as far as ingredients but they're not the best either (palm oil, enriched flour, palm kernel oil, canola oil). All the flavors are decent and at least there's no artificial sweeteners. 
Perfectly Simple by Zone Perfect C
These bars have only 8 ingredients and 10 grams of protein but the first ingredient is invert dried cane syrup (sugar). I snagged this bar for a breakfast on the go in the airport, along with some strawberries I brought along. It's not the worst thing I could eat, but it's not the best either.
Chapul Aztec Bar D

At least I can say I tried it. This bar is made with cricket protein powder. Crickets are an environmentally sustainable complete protein source and high in iron and B-12. Crickets require little resources and some say it's the "protein source of the future." Cricket protein and protein bars have been gaining popularity lately so I figured it was time to bite the bullet and give it a try. The Dark Chocolate, Coffee, and Cayenne was bad enough that I couldn't bring myself to eat more than 2 bites. I give them points for innovation, but the flavor and macros (only 5 grams of protein and 25 grams of sugar) need significant improvement before I start eating bugs.

GREENS PLUS Plus Bar F
I stopped in Whole Foods after a workout to try to find a new bar I hadn't tried and landed on this. It was disgusting. It tasted like algae mixed with syrup and peanut butter and had the consistency of old chewing gum. Sure, the ingredients are ideal but there's way too many options there to gag these down.
If you need help losing weight, improving your performance, or increasing your energy, schedule your initial consultation here. Not in Orlando but still need some nutrition tips? We also do online or over the phone consultations.
We were not paid to review any of the above products. All opinions are our own. This post may contain affiliate links.
About the author: Megan Poczekaj, RDN, LD, is a registered dietitian nutritionist in Orlando, FL. She owns the private practice, Nutrition Awareness, where she teaches other entrepreneurs how to maximize their productivity and performance with nutrition. She is the author of the book The Optimized Life: A Nutrition Guide for Entrepreneurs and co-host of the Nutrition Awareness Podcast.