Registered Dietitian Nutritionist, Licensed Dietitian (Florida)
I'm Kait- a Registered Dietitian Nutritionist in Orlando with a passion for people and food. I love serving motivated individuals who want to optimize their health, crush weight loss goals, and fix their relationship with food once and for all.
I don't believe in"quick fixes" such as generic eating plans, diet pills, fat burners, or 1200 calorie diets for weight loss suck because they restrict you and don't last long-term. This means even if you do see immediate results from following a strict diet, it's likely you'll regain it and then some (trust me, I've been there).
If a short-term, restrictive diet is what you are looking for, I'm not the nutritionist for you.
But if you are looking for a sustainable approach to weight loss & health goals while making healthy eating a part of your lifestyle, I can help.
I will take the time to get to know you on a personal level first before making any recommendations. Then, I will give you the right tools to break the cycle of dieting & finally find a sustainable eating plan to accomplish your goals so you never have to diet again.
When I'm not meeting with clients, you can find me perusing the aisles of Whole Foods, speaking at my Toastmasters meeting, or testing my limits at the squat rack.
Current obsessions: almond milk lattes, my Miniature Australian Shepherd Grits, and high-waisted everything!
My Toxic Romance with Dieting:
I'll be honest- my relationship history with food has been far from perfect. In fact, I spent my entire adolescence and early adulthood trying out different crash diets and committing myself to a new one every season.
Like most toxic relationships, the beginning stages of my diets were typically fun and even exciting. I had high hopes and would fantasize about how blissfully skinny I would be forever and ever. But no matter how promising my latest diet seemed, it would always end the same way- me on the kitchen floor, elbow deep in a tub of ice cream with shame and regret written all over my face.
As dramatic as that sounds, it's not an exaggeration.
Being the hopeless romantic and eternal optimist that I am, I would always stand up, dust myself off, and dive back into the dieting game. As soon as I would catch wind of the latest fad, it was if my previous food failures never happened.
This is the diet for me, I'm sure of it! I'd think. I'll be better this time. I'll follow the rules and stick to the plan.
Whichever diet I was committed to that week distracted me from my personal relationships and as a result, they began to suffer. My friends quickly got bored of hearing about my latest romance with romaine lettuce when we went out for lunch. I stopped going on dates because meeting for drinks meant cheating on my diet. My family got tired of catering to my ever-changing dietary demands at holidays and events, so I found excuses to stay home. I refused to "reverse all of my hard work."
Outsiders and acquaintances made comments about my dedication or wished they had my willpower. But what they didn't know was how miserable I was watching my friends indulge in cheeseburgers while I was stuck choking down the same old baked chicken and steamed broccoli all day every day.
It got worse overtime.
To deal with my negative emotions, I found myself cheating on my diets and living a life of secrecy. I'd sneak downstairs after my roommates went to bed to binge on cereal. When no one was around at work, I'd open my drawer of snacks and lose control. Then, I hid the wrappers in my purse so there'd be no evidence of my binge in the trash can.
For years, I suffered through the same restrict-binge cycles and emotional eating habits.
No matter how long I was 'good' on my diet, I always caved and overate whatever I was limiting this time- carbs, alcohol, fat, sugar, snacks- you name it! Food always won, and I never maintained a weight I felt comfortable at.
When I came to terms about the dangers of dieting, I got real with myself and admitted the damage I had done to my metabolism after a decade of restrictive eating. No wonder I couldn't lose weight: my body was in freak-out mode, my hormones imbalanced, and my adrenals were shot. I wreaked havoc on my body and health and what did it bring me? Nothing but wasted time, money, and unnecessary struggle.
I vowed never to diet again.
Instead, I adopted a healthy and sustainable way of eating that not only fit my lifestyle but didn't compromise my mental wellbeing and social life. There were no labels or diet products involved.
I adopted an eating pattern that made me feel incredible– I was fueling my workouts and work days with food that make me feel deprived. I ate when I was hungry without worrying about if it was OK.
Social outings were actually fun since I didn't have to hide in the bathroom tracking my calories.
I no longer felt ostracized at family gatherings from my weird food aversions.
Instead of spending all my money on diet cookies, bars, shakes, & ice cream, I let myself enjoy the real freakin' thing without feeling victim to sugar cravings.
When I felt sad or lonely, I dealt with my feelings without using food as a to numb them out.
The best part- I was actually eating more than ever before but still losing weight while building muscle.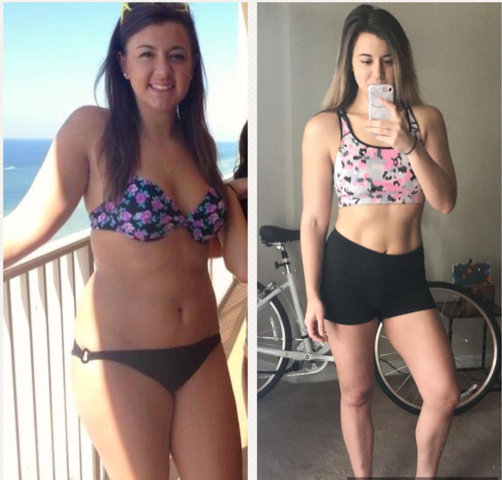 Today, I've mastered balancing health with life. My relationship with food is nothing but blissful- I eat to stay fit and happy while coaching other people how to do it, too. I'll never go back to my restrictive eating ways because it simply does not work.
You can watch this version of my story on Instagram.
Professional Background:
When I was in 7th grade, I decided I wanted to be a dietitian. Ten years later, that dream came true when I graduated with my degree in dietetics and nutrition from Missouri State University. I completed my 9-month Dietetic Internship at MSU with an emphasis in public affairs. During college, I taught group fitness classes and worked in the fitness facility at our campus gym.
After passing my board certification exam and officially becoming a registered dietitian nutritionist, I accepted a position as clinical dietitian at Florida Hospital (now AdventHealth) in Orlando. I worked in many areas of the hospital from oncology to intensive care before specializing in cardiopulmonary nutrition. I began working on the side at Nutrition Awareness until March 2019 when I left the hospital to work full time in private practice!
Since starting at Nutrition Awareness, I have been a guest speaker at for local events and organizations including Anytime Fitness, The Florida General Baptist Church Annual Convention, A Tribe Called Venus, and Primus CrossFit. I also host the Nutrition Awareness Podcast and have been featured on 1520 WBWZ.
I have been featured in Food and Nutrition Magazine & I served on Central Florida's Academy of Nutrition and Dietetics as the Communications Chair for two years.
Still here? Kudos! Here are some random things about me:
I'm a personal development & self-improvement junkie! Recommendations for podcasts and audiobooks always accepted.
Speaking on the Nutrition Awareness Podcast is my favorite pastime.
My celebrity crush is Seth Rogen. Trust me, I don't understand it either.
I was born on Easter, but I won't celebrate on the holiday until I turn 104.
In college, I worked two jobs instructing group fitness classes and manning the front desk at our campus rec center.
My secret talent? Screwing up the lyrics to every song I try to sing to, every time.
I was born and raised in St. Louis, Missouri. Go Cards!
Ready to connect? Click here to schedule your initial consultation with me. I can't wait to get to know you!