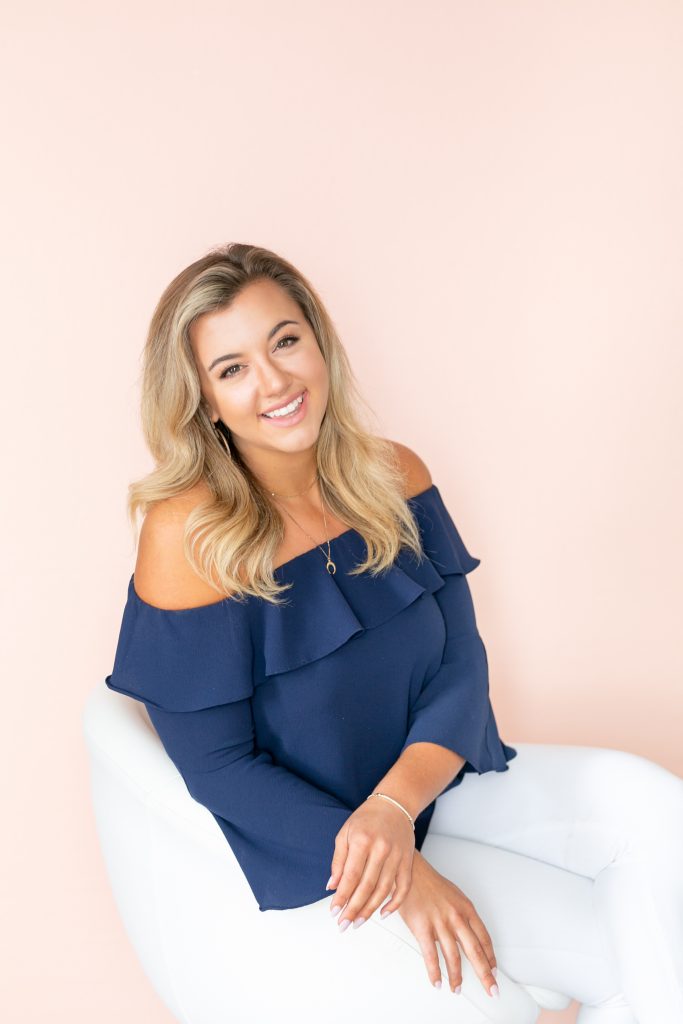 Hey there! I'm Kait, and I help yo-yo dieters break the "all-or-nothing" mindset, find balance with food, and lose weight without restricting.
My Story:
I didn't know how to eat without being on a diet for nearly a decade.
My first date with dieting was inspired by a chapter of a book called The Secrets of Skinny Chicks when I was 12 years old .
The rules?
1200 calories per day, max.
60 minutes of cardio, minimum.
No pasta, bread, potatoes, sugar, or rice allowed.
Each meal had to be eaten at least 4-5 hours apart.
They honestly should have named this book: The Secrets of Hungry, Miserable Chicks with No Life because that's exactly what I became.
Obviously, I couldn't stick to these intense restrictions for long (spoiler alert: no one can), but that didn't stop me from trying again!
Years following, I became the definition of a yo-yo dieter. Every meal plan or diet I tried promised me the same results: I'd be thin if I eat less, move more, and spent my babysitting money on their unregulated supplements.
Funny thing was, I never lost weight. And if I did happen to shed 5-10 pounds, I always regained it within a few months.
Despite all of my failed attempts, I dieted my way through high school and into college. I'll never forget sorority recruitment during my sophomore year when my restrictive eating began to spiral out of control.
At the time, I was committed to the fad of "clean eating." This diet forbids foods such as bread, crackers, chips, cheese, dairy, pastas, pizza, desserts… A.K.A. everything delicious.
While my friends enjoyed catered sub sandwiches and burrito bowls, I would bring my own Tupperware containers of plain quinoa, baked chicken, & steamed broccoli.
Girls in my sorority made comments about how dedicated I was and praised my willpower. They laughed about they could never give up junk food because loved donuts and pizza too much. These public admirations went to my head, and I proudly identified as "the healthy one" in my sorority.
Still, I felt deprived, isolated, and hungry.
By the fourth day of recruitment, the catered meals became irresistible. After eating my drab lunch from home, I snuck 3 large cookies and 4 bags snack-sized of chips in my tote. During our 15 minute break, I darted up to my room and inhaled it all before it was over. I ate in secret because I couldn't let anyone to know I was cheating on my 'clean eating' plan.
The next morning, I did the same thing with but with a bagel, cream cheese, and a large cinnamon sugar muffin. The following afternoon, it was a large serving of tortilla chips with queso and 2 frosted brownies.
I felt like a fraud.
Just one little cheat off of my eating plan, and I'd completely thrown my diet out the window. But since I had already messed up, I figured why bother trying? I'll just enjoy my food in secret and "start over on Monday."
Rinse. Lather. Repeat.
This is just one example of how many times my restrictive diets backfired. I'd be able to stick to whatever fad I was following for awhile but as soon as I messed up, I spiraled out of control. No pantry was safe!
To make up for overeating, I'd compensate with hours of cardio on the elliptical and restrict myself from different foods I loved. The more often I restarted a diet, the more extreme and obsessed with it I became.
I began skipping football tailgates with my friends, making up excuses as to why I couldn't join my family for dinners out, and missing out on fun activities so I could go to the gym. Eventually, people stopped inviting me places because they knew I would say no.
Even if I did decide to tag along, all I would think or speak about was food. I went from being the admirable, fit chick to "that girl who only talks about dieting."
My desire to lose weight turned into an unhealthy obsession, leaving me feeling lonely and depressed.
But can you guess what didn't make me feel so lonely? Eating.
As a result, my secret snacking became more frequent. It was an exhausting cycle of restrict, feel sad, eat, feel guilty, and so on.
Instead of losing weight, I began to gain it. My metabolism had been so compromised it was impossible for me to sustain a healthy weight without starving myself.
Even worse, I developed an unhealthy relationship with food and my body. I had zero confidence and felt like a flop.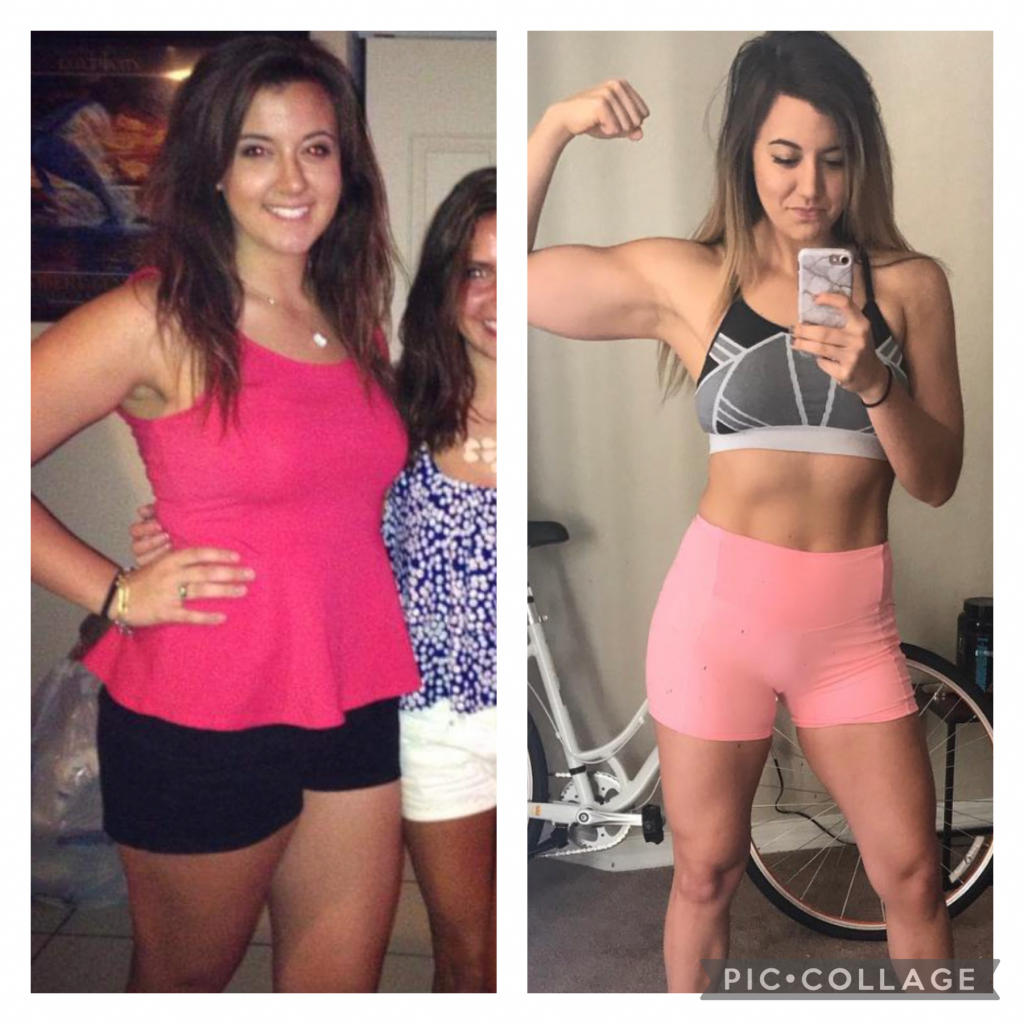 How I Finally Lost the Weight
After about 8 years of reliving this vicious cycle, things began to come full circle when I returned home from a Spring Break trip to Panama City Beach. After a whole week of drinking, eating, and traveling, I didn't like what I saw in the mirror.
My gut instinct was to diet. I could cut carbs, hit the gym, and swap breakfast for a meal replacement shake! But as I considered my options, I remembered a famous saying my friend had quoted on trip when we tried a second time to sneak backstage to the Luke Bryan concert: doing the same thing twice and expecting different results is the definition of insanity.
Sheesh. I had tried every diet under the sun and nothing had worked. If doing the same thing twice is insane, then there was no word in the English dictionary to describe me.
By definition, dieting is insane.
I vowed to change my ways. Instead of restricting, I adopted a healthy and sustainable way of eating that not only fit my lifestyle but didn't compromise my mental wellbeing and social life. There were no labels or diet products involved.
I adopted an eating pattern that made me feel healthy– I was fueling my workouts and work days with food that make me feel deprived. While being mindful of my food choices, I ate when I was hungry and stopped when I was full.
Social outings were actually fun since they did not have to stop to track my calories.
I no longer felt deprived from having fun and enjoying food with my friends and family.
Instead of spending all my money on diet cookies, bars, shakes, & low-fat ice cream, I let myself enjoy the real freakin' thing in moderation. Because I was eating healthfully more often than not, I never felt bad for having a treat nor did I have trouble stopping at one serving.
I opted for workouts I genuinely enjoyed. Instead of slaving on the cardio machines, I fell in love with weight lifting. As I began to see my physique improve, I stopped feeling triggered to diet or cut calories.
In fact, I was actually eating more than ever before but still losing body fat while building muscle.
Today, I've mastered balancing health with life. My relationship with food is nothing but balanced. I eat to stay fit and happy while coaching other people how to do it, too.
My goal as a registered dietitian nutritionist is for clients to achieve their health & weight goals not by restricting foods but though finding a balanced, individualized approach to healthy eating.
Professional Background:
When I was in 7th grade, I decided I wanted to be a dietitian/nutritionist. Ten years later, that dream came true when I graduated with my degree in dietetics and nutrition from Missouri State University. I completed my 9-month Dietetic Internship at MSU with an emphasis in public affairs. During college, I taught group fitness classes and worked in the fitness facility at our campus gym.
After passing my board certification exam and officially becoming a registered dietitian nutritionist, I accepted a position as clinical dietitian at Florida Hospital (now AdventHealth) in Orlando. I worked in many areas of the hospital from oncology to intensive care before specializing in cardiopulmonary nutrition. I began working on the side at Nutrition Awareness until March 2019 when I left the hospital to work full time in private practice!
Since starting at Nutrition Awareness, I co-host the Nutrition Awareness Podcast and have been featured on 1520 WBWZ, Keeping it Positive Podcast, The Culinati Podcast, Marky Mark and the Fitness Bunch Podcast, Interested Eater Podcast, and The Nerds Adulting Podcast.
I host a show (Nutrition) Date with Kait on The TĒM app.
I have been a guest speaker at for local events and organizations including Anytime Fitness, The Florida General Baptist Church Annual Convention, A Tribe Called Venus, Gainesville Academy of Nutrition And Dietetics, F45 Downtown Orlando, and Primus CrossFit.
I have been featured in Food and Nutrition Magazine, Parade Magazine, & I served on Central Florida's Academy of Nutrition and Dietetics as the Communications Chair for two years.
Still here? Kudos! Here are some random things about me:
If I were on death row and had to choose my last meal, I'd order chicken nachos with white queso and guac… and an Oreo milkshake.
Speaking on the Nutrition Awareness Podcast is my favorite pastime.
I love to cook, but I LOATHE baking. My future kids are 100% bringing Publix cupcakes to their school bake sales.
I was born on Easter, but I won't celebrate on the holiday until I turn 104.
In college, I worked two jobs instructing group fitness classes and manning the front desk at our campus rec center. Today, you can find me sweating my tail off at before dawn at F45 Downtown Orlando or lifting weights at my gym.
My secret talent? Screwing up the lyrics to every song I try to sing to, every time.
Even though I'm from the midwest (St. Louis, MO), I think ranch dressing is digesting. Controversial opinion, I know.
My mini Aussie Grits (pictured below) is the furry love of my life.
Ready to connect? Click here to schedule your initial consultation with me. I can't wait to get to know you!