---
Sometimes you just need a little protein on the go, especially if you follow a vegan or plant-based lifestyle. With new vegan protein bars and shakes popping up everywhere, how do you know which ones are no better than a Snickers bar and which will keep you fueled for the next few hours?
First, make sure the bar has at least 10 grams of protein. Bars that are mostly carbohydrate-based (I'm looking at you, granola bars) are just going to leave you hungry soon after. They are not adequate for refueling after a work out OR as a snack to get you to your next meal. Most of the bars in the cereal aisle (Nutrigrain, Nature Valley, Quaker) have a ton of carbs with no protein to balance them out.
Next check out the ingredients. Does it contain sucralose, high fructose corn syrup, palm kernel oil, or sugar alcohols like mannitol, erythritol, or xylitol? Do most of the ingredients sound like food or a science experiment? Skip it!
Now for the real test: does it taste great or leave you feeling like your chewing up dirt?
Most of these bars I bought myself. I got a few for free at expos and some sent to me by the company. I was not monetarily compensated for any review. I've tried A LOT of vegan protein bars that didn't make the cut. The following bars made our "best list" based on taste, ingredients, and nutrient content.
I'm hooked on these. GROW bars have jumped on the "sprouted" superfood trend. They are the only bars I know of that are using sprouted raw watermelon seeds as the main ingredient. GROW bars taste great and have only 8 simple ingredients. This is the best of the best in the vegan protein bars category.
This bar has a soft texture and the added bonus of probiotics and antioxidants from real fruits and veggies. The chocolate mint and pumpkin spice flavors are my favorite. They have a few less favorable ingredients like evaporated cane juice, palm kernel oil, and agave but you also get an added bonus from superfoods like maca and camu powder, mangosteen, acai, and chorella.
I can't believe I'm saying this, because I've told everyone to steer clear of LARABARS for years. The regular LARABARS are just sugar bombs. Their previous ALT line of protein bars were gross. BUT, they've come out with their new line of plant-based protein bars and I have to admit that I'm a fan. Super simple ingredients and they taste great. They still have 18g of sugar (about the same as an apple and its all from fruit), but now they have 11g of protein. Just make sure that the box or bar says PROTEIN. I loved the lemon blueberry muffin and almond butter chocolate brownie flavors.
The smallest amount of sugar for the most amount of protein, but it does come at a cost of adding sugar alcohols.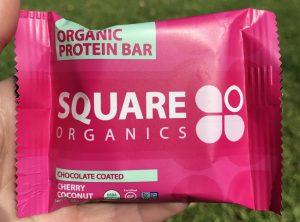 You want something that tastes like a decadent dark chocolate candy bar or truffle? Square Organics is your bar. I couldn't believe how tasty these things are, especially given that I don't love the taste of many plant-based protein bars. In Orlando, you can find them at Whole Foods, Lucky's Market, and some of the bigger, nicer Publix. The sugars are higher than some of the other bars on this list (11-13g), but like I said, they taste like candy. The chocolate-coated cherry coconut is my favorite. 
Zing bars were made by registered dietitians who couldn't find an adequate snack to recommend to their clients on the go. They're non-GMO and get most of their protein from a nut blend, rice protein concentrate and pea protein. Zing gets major bonus points for covering 15% of daily iron needs—something many vegans need to supplement. The only downside is that you probably have to go to a specialty store like Whole Foods to find them.
Have a food allergy and can't find a vegan bar that meets your needs? Need something that fits your unique macronutrient requirements? Or just want to make your own bar with your favorite flavors? You can customize each and every ingredient, with every superfood you can think of. You get to name your bar and pick a label too, which is pretty awesome.
Primarily made from nutrient rich hemp seeds, these hearty bars are great for vegans and carnivores alike and have the added bonus of healthy omega 3 fats.
Similar to the think! bars, Nugo slim packs in 18 grams of protein for 180 calories. The main protein source is soy. You'll love the chocolate mint if you like the taste of dark chocolate. The downside of these bars is they are pretty dry and crumbly and I would pick the other bars if it was a straight up taste test. The upside is that they tend to be cheaper and a little easier to find. Note that not all flavors of Nugo Slim are vegan.

Vega bars are the highest calorie bars on the list at 260 calories and are designed for those with an active lifestyle. They get their protein from organic sprouted whole grain brown rice protein and pea protein and have bonus nutrients from alfalfa, and SaviSeed. Perfect for post-workout recovery.
I love their fun flavors like Superfood Chocolate Chip cookie, Chocolate + Tart Cherry + Pistachio, and Apple Chunk + Cinnamon + Nutmeg. You can get them online for about $30 per box (12 bars). They use pea protein as their protein source and monk fruit as a sweetener. I liked the texture better when I kept them in the fridge.
Do you have a bar that you think belongs on this list? Let us know!