---
Does anyone else get annoyed when they find a photo of a recipe they want to make but then have to scroll down through an entire explanation of this random bloggers weekend trip to Branson (with 700 photos) before you get to the actual recipe?
Same. So I'll spare you the boring details about my weekends and get down to the nitty gritty: the many ways you can use these two super quick instant pot recipes.
Power bowl: a layer of greens and veggies (I used baby kale, chopped purple cabbage, and watermelon radishes) + warmed black beans and salsa chicken + avocado on top.
Tacos: salsa chicken + black beans + shredded cheddar + shredded lettuce on a flour tortilla
Toast: sprouted grain toast + avocado spread + shredded chicken + over easy egg
Dinner: pair the chicken and beans with brown rice and a salad on the side
Now, let's talk about how to responsibly source chicken. This is probably the first chicken recipe you've ever seen me share. I was vegetarian for a few years but once I was able to start getting beef, pork, and venison from my families small farm in Ohio (I literally take a huge empty suitcase with me, fill it with frozen meat, and check it), I felt good about working those protein sources back into my diet. My only option for chicken, on the other hand, is the grocery store, so I just don't buy it. I want to know where my food came from and how my food was raised.
Enter ButcherBox. Have you heard of them yet? ButcherBox delivers 100% grass-fed beef, free range organic chicken and heritage breed pork directly to your door. Think of them as the neighborhood butcher for modern America. Their chicken is free range and organic. It's great for the chicken that they get access to the outdoors instead of being stuck in a dark barn unable to move all day, but it's also great for you because they get to eat grass and bugs. When what you eat eats well, you get the benefits too.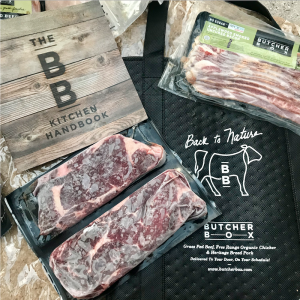 So far, I've tried their chicken and bacon and they've both been phenomenal. The convenience is key. I know you don't want to go to 3 different stores- one for produce, one for meat, and one for toilet paper; so this gives you the option of having all of your meat delivered to your door (frozen) for the month.
Right now ButcherBox is offering 2 lbs of wild Alaskan salmon for free with your first order.
And now, what you've all been waiting for (or skipped straight to). The recipes:
Instant Pot® Salsa Chicken
Makes 8-10 servings (freezes well)
3 lbs boneless, skinless chicken breast, thawed (see frozen directions below)
1 packet taco seasoning
1 container fresh salsa (2 cups)
1. Sprinkle each chicken breast with the taco seasoning on each side.
2. Place in the Instant Pot® and cover with salsa.
3. Cook on the "poultry" setting for 10 minutes, then let it sit for 10 minutes before releasing the pressure. If your chicken is frozen, cook for 15 minutes and let it sit for 20. Test the temperature of the chicken to make sure it has reached 165 degrees fahrenheit (mine was well above 200).
4. Once chicken has cooled enough for you to not burn yourself, shred with a fork. The flavors intensify if you let it sit overnight.
Makes 8-10 servings (freezes well)
This recipe used to take at least 12 hours in the slow cooker!
12 ounces dried black beans
1 medium onion, diced
5 garlic cloves, minced
1 jalapeno, minced
1 tablespoon cumin
1 tablespoon dried oregano
1 teaspoon salt
1 teaspoon black pepper
4 cups beef (or vegetable) broth
1. Rinse beans well.
2. Add all ingredients to pot and stir to combine.
3. Set your Instant Pot® to "beans" for 35 minutes, then let sit for an additional 20 minutes before you release the pressure. Drain any excess liquid.
Could those recipes be ANY easier? I froze half of the beans and half the chicken in freezer bags for a quickly reheated dinner on a busy day.
Since I've just started delving into the Instant Pot world, I'm looking for other recipes that can be modified to take 30 minutes or less instead of all day in the slow cooker. Do you guys have any go to Instant Pot recipes?
Disclosure: This post may contain one or more affiliate links. All opinions are our own.