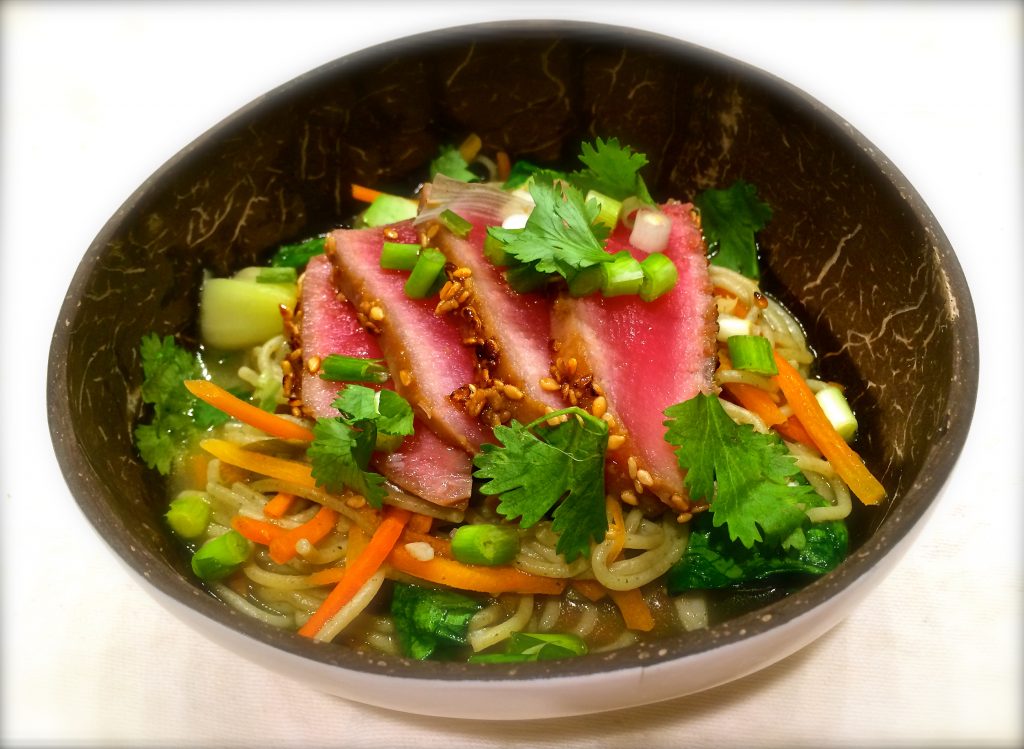 ---
Move over college kids, Ramen isn't just a dorm food anymore.
I'm pretty sure Ramen noodles were one of the first things I learned to make for myself. In high school, my friends and I used to make instant mashed potatoes out of the box, add the noodles, seasoning packet and butter and call it a meal. Future dietitian in the making right there.
So am I saying that you should start incorporating the 19 cent noodle packs back into your diet? Oh no. There's a much better alternative. Lotus Foods makes Rice Ramen, made from heirloom and organic rice (wheat-free). They still come with a seasoning packet but have half the amount of sodium. They have an organic millet and brown rice version that has 5 grams of protein and 2 grams of fiber per serving (2 servings per packet), which is way more nutrition than I was getting in my microwave chef days.
Don't like ahi tuna? For an easy vegetarian version, add steamed edamame.
Easy Ahi Tuna Power Bowl
6 ounces ahi tuna
2 tablespoons Braggs Liquid Aminos (can use soy sauce as a substitute)
Powdered ginger
3 tablespoons toasted sesame seeds
4 tablespoons sesame oil
2 tablespoons minced ginger
2 cloves minced garlic
2 baby bok choy (chop and separate bottoms from greens)
3/4 cup shredded carrots
Toppers: green onion and cilantro
Cover ahi tuna in Braggs Aminos and sprinkle with dried ginger. Let sit.
Heat oil in a medium sized pot and sautee garlic and ginger for 1-2 minutes over medium heat until fragrant. Add bok choy bottoms (saving greens) and carrot. Continue sauteeing for another 5 minutes.
Add 2 cups of water and bring to a boil. Add Ramen noodles and cook according to packet directions. Remove from heat.
Add spice packet and stir in bok choy greens.
Heat 2 tablespoons of sesame oil in separate pan over medium heat. Sprinkle sesame seeds over tuna and sear for 2-3 minutes on each side.
Spoon Ramen into 2-3 separate bowls, topping with sliced tuna, green onion and cilantro.