---
Have you tried a buddha bowl yet? They are popping up on menus around the country and made up of large quantities of nourishing, fiber rich vegetables and hearty whole grains. Urban dictionary defines buddha bowls as "a bowl which is packed so full that it has a rounded 'belly' appearance on the top much like the belly of a buddha."
Little did I know, I've been making buddha-esque bowls for lunch for years and calling them Power Bowls. I start with a grain like brown rice as my base then add tons of veggies, a protein, and a homemade dressing. For more buddha bowl ideas, check out my Spinach Pesto-Salad with Farro and my Two-Grain Southwest Salad. Same concept, maybe just not as pretty.
This buddha bowl recipe from the A Happier, Healthier You ebook has a quinoa base and a variety of veg like sweet potatoes and spinach for a load of fiber, potassium, and iron. It also has healthy fats from olive oil and egg yolk which will boost the satisfaction factor and protein from the egg and the quinoa to help keep you full.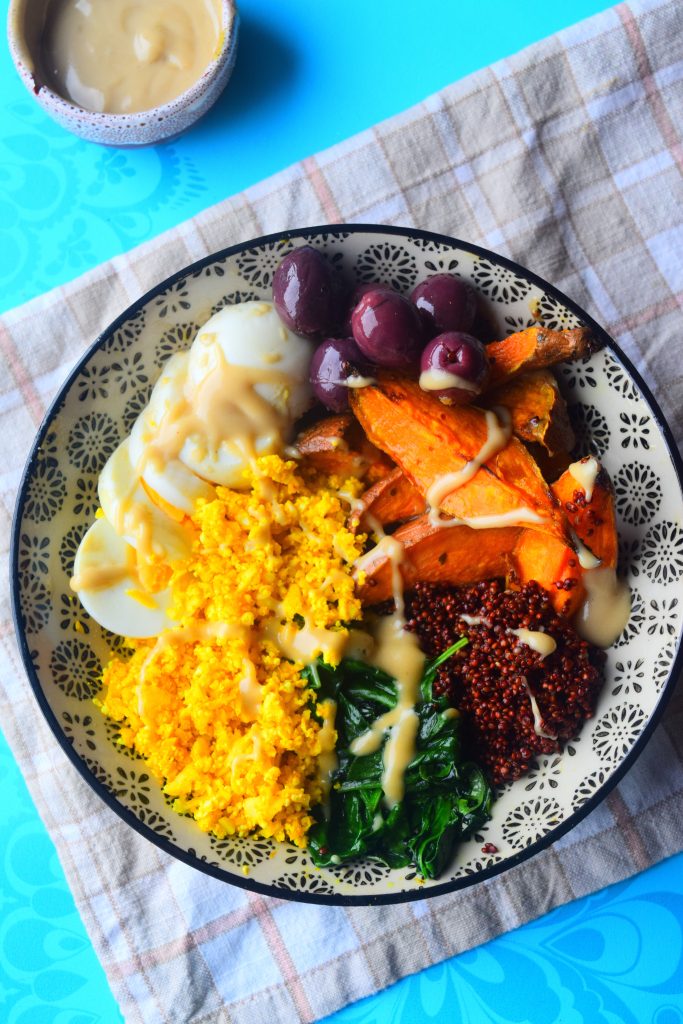 And if you want to be really cool, top that baby with some avocado.
Quinoa Buddha Bowl
1 sweet potato, chopped into wedges
1/2 cup red quinoa, dry
1 cup vegetable broth
1 1/4 cups grated or riced cauliflower
1 teaspoon turmeric
6 cups spinach
2 hard-boiled eggs, shells removed (leave out to make it vegan)
1 cup black olives
2 teaspoons olive oil
To make the dressing:
1/4 cup tahini
5 tablespoon hot water
2 tablespoon lemon juice
1 tablespoon maple syrup
Preheat the oven to 400 degrees Fahrenheit.
Place the sweet potato wedges on a baking tray with the olive oil, then bake for 20 minutes.
Place the quinoa in a saucepan with the vegetable broth, bring to boil, then simmer for 15 minutes until soft or according to package instructions.
Heat olive oil over medium in a large pan. Mix together the grated cauliflower and turmeric until well combined, then pan fry over a medium heat for 2-3 minutes. Add the spinach and mix until wilted. Remove from heat.
Make the dressing by whisking together the tahini, maple syrup and lemon juice. Once well combined, add in water a tablespoon at a time to thin the dressing if desired.
Divide veggie mix, quinoa, sweet potatoes, eggs and olives into 3 bowls and top with a drizzle of dressing.
You can download your FREE kindle-edition copy of A Happier Healthier You here.