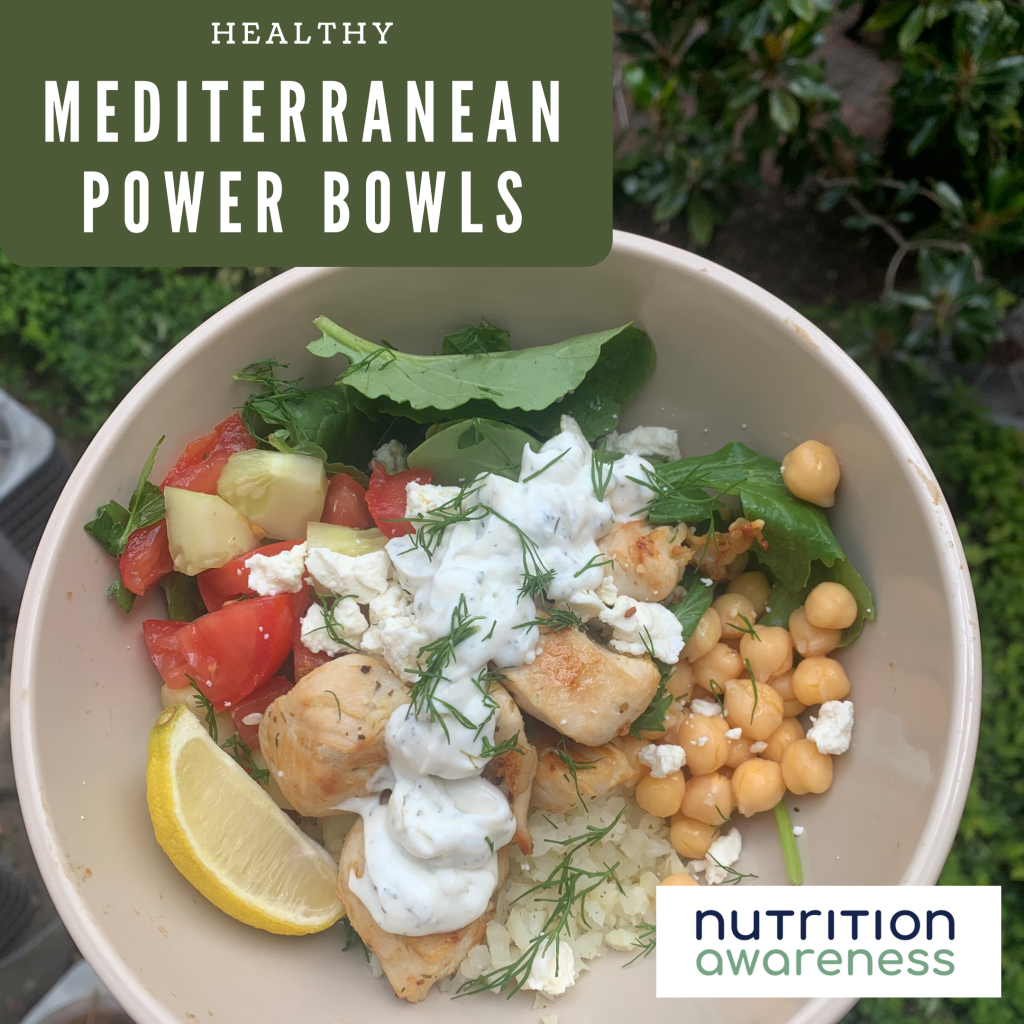 ---
Meal prep these healthy Mediterranean Power Bowls for work lunch or family dinners!
Greek food is my favorite & I'm not exaggerating when I say I could eat it every day. Gyros, chicken souvlaki, spanakopita, warm pita bread, baklava… I could go on!
For my wallet's sake, I prefer to cook it at home. Plus, I can control the ingredients so there are more veggies and nutritious goodies.
This recipe makes for an easy make-ahead lunch or crowd pleasing family dinner. Plus, it's packed with fiber, protein, and flavor!
Vegetarians & Vegans: swap out the chicken for falafel or double up on the chickpeas.
Need 1:1 accountability and help with healthy eating & weight loss?
Apply to our virtual Daily Accountability Program (DAP) today!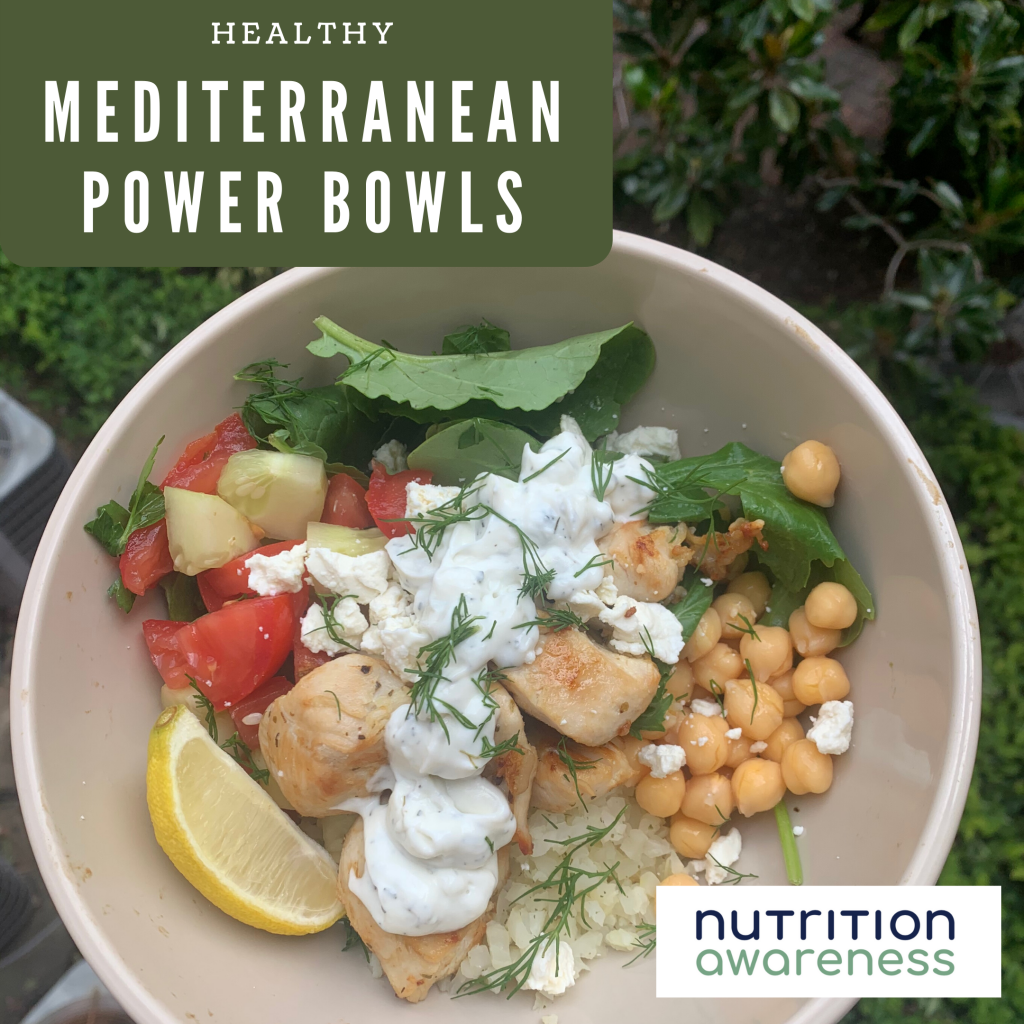 Mediterranean Power Bowls
Serves: 4
Time: 1 hour, 15 minutes
Ingredients
Greek Chicken:
1 pound chicken breast
2 tablespoon olive oil
1 tablespoon oregano
2-3 garlic cloves, minced
1 tsp salt
Bowl:
4 cup cauliflower rice
4 cups leafy greens of choice (I used a kale & spinach mix)
2 Roma tomatoes, diced
1 cucumber, diced
1/2 red onion, chopped
1/4 cup parsley, chopped
1 tablespoon red wine vinegar
1 tsp salt
1 can garbanzo beans, drained and rinsed
Feta cheese crumbles
Tzatziki sauce
Fresh dill
Instructions:
Marinate Greek chicken: cut chicken breast into one-inch cubes and combine in a plastic bag or sealed bowl for at least 1 hour before cooking. You can also do this the night before!
When you're ready to cook the chicken, heat a large skillet over medium-high heat. Pour marinade into skillet heat until chicken cooked through, about 8-12 minutes.
Meanwhile, steam cauliflower rice and serve over fresh greens in serving bowl.
In a separate bowl, combine & stir together tomato, cucumber, red onion, parsley, red wine vinegar, and salt. Spoon into your power bowl over rice and greens.
Top your bowl with chicken and chickpeas.
Sprinkle feta cheese & drizzle tzatziki over your bowl. Add fresh dill for an extra kick!
Enjoy with whole grain pita bread or Cedars Whole Grain Pita Chips.
Easy Swaps:
You can use farro or brown rice instead of cauliflower rice (or a combination of 2!)
Falafel makes for a plant-based swap for the chicken
Roasted chickpeas or hummus also work if you want different textures
Pickled red onions are delicious with the dish!
You can swap the tzatziki for the lemon tahini recipe from Megan's Greek Barley Bowl
You may also like…
Kait Richardson is a registered dietitian nutritionist in Orlando, FL. She is a partner at a private practice, Nutrition Awareness, where she helps frustrated yo-yo dieters reach their health goals using 1:1 nutrition coaching. She is the co-host of the Nutrition Awareness Podcast.