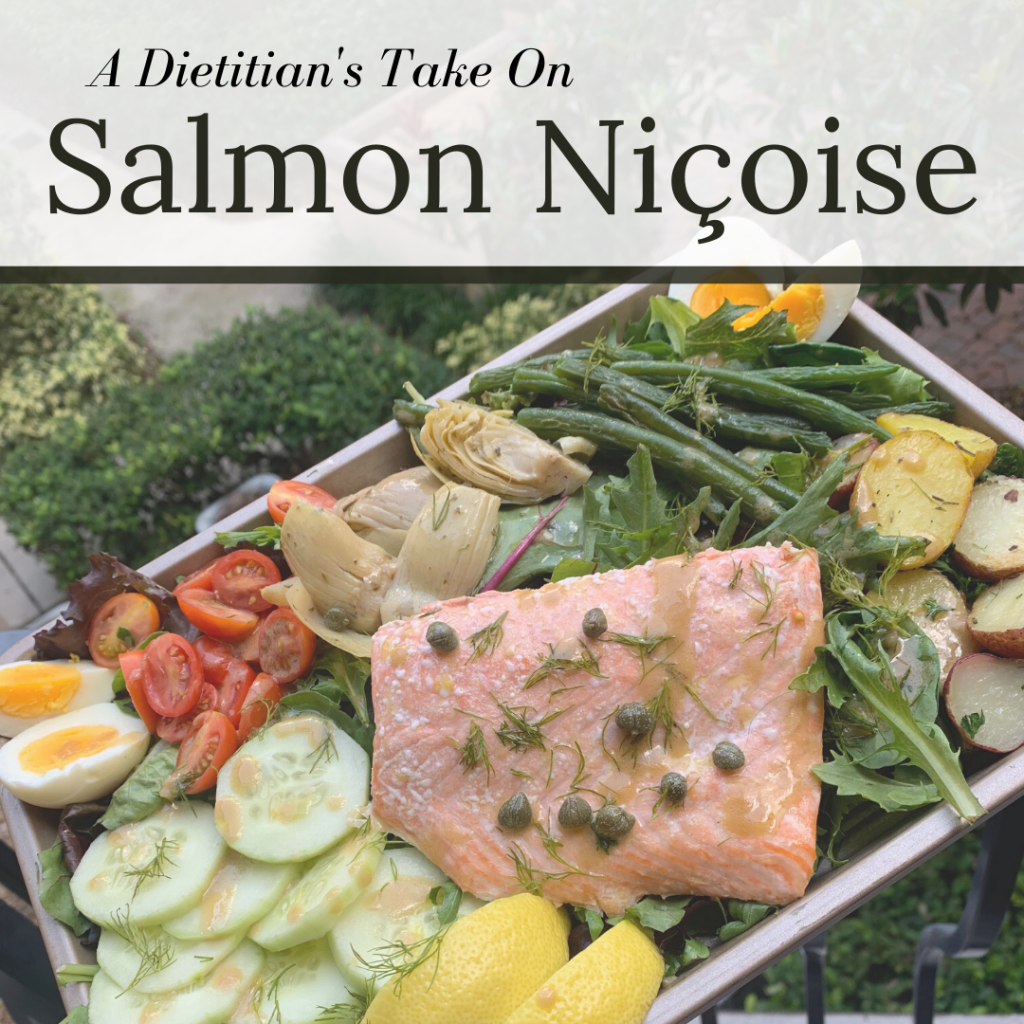 ---
Dazzle your dinner table with a healthy & fresh Salmon Niçoise Salad
I promise it's a lot simpler to make than it looks!
I have a confession: I first learned what a Salmon Niçoise Salad was from the Instagram explore page, and I was instantly inspired. I HAD to make one.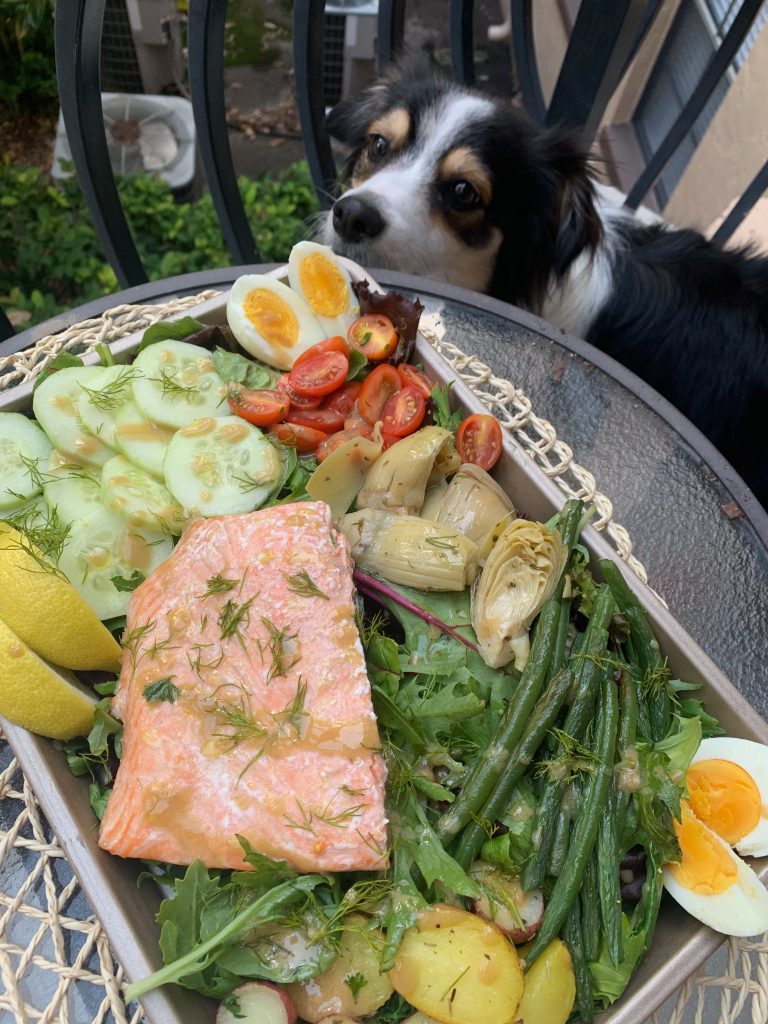 Traditionally made with tuna or anchovies, Salad Niçoise is packed with fresh flavors and tasty textures from simple ingredients: baby tomatoes, green beans, boiled eggs, olives, & olive oil.
However, I didn't have any tuna on hand nor do I care for olives (sue me).
Buuuuut I did have a filet of wild-caught salmon, jarred artichokes, and a fresh haul of locally grown vegetables.
There seems to be a lot of disagreement on how to properly make a Niçoise salad but since I don't care for rules, I just threw together the goodies I had on hand.
It turned out marvelous if I do so say so myself, so I wanted to share my recipe with you. I'll note some say swaps at the bottom of the recipe if you need some inspiration to make your own Niçoise Salad!
Need 1:1 accountability for your healthy eating & weight loss goals?
Apply to our virtual Daily Accountability Program (DAP) today!
Salmon Niçoise Salad
Serves: 4-6
Time: 40 minutes
Ingredients:
Honey Dijon Dressing:
1 tbsp dijon mustard
1 tbsp red wine vinegar
1 tbsp pure maple syrup or honey
1/3 cup extra virgin olive oil
Salt and pepper
Salad:
1 pound wild-caught salmon filet
1/2 pound baby russet potatoes
1 tbsp extra virgin olive oil
1 tbsp dried rosemary
1/8 cup fresh parsley, chopped
1 tsp salt
1/4 pound green beans
4 pasture-raised eggs, boiled
1 cucumber, diced
1 cup baby tomatoes, sliced in half
8 cups spring mix
1/4 cup marinated artichokes
1 lemon
Capers
Fresh dill
Instructions:
Preheat oven to 450′ F and set rack in the middle. Place salmon on one side of a baking sheet covered in aluminum foil & let sit on counter to reach room temperature. Set aside for now.
Slice baby potatoes in half. Toss in 1 tbsp of olive oil, dried rosemary, parsley, & salt. Bake in a pyrex dish for 28-30 minutes or until skin is crispy.
Meanwhile, combine ingredients for dressing and chill in fridge.
Blanch green beans and boil eggs. Quarter and set eggs aside. Toss green beans in 1/2 tbsp olive oil. Set on other side of salmon baking sheet. Sprinkle with salt.
Once potatoes are done cooking, reduce oven temperature to 375′ F.
Brush salmon with high-temperature oil (avocado oil). Butter will work.
Bake for 18-20 minutes, turning green beans half way through.
While salmon and green beans cook, begin to assemble salad. Fill a large serving tray with spring mix. Using a spoon, drizzle 1/4-1/3 of the dressing over leaves. Top with cucumbers, tomatoes, sliced eggs, potatoes, and artichokes. Drizzle with 1/2 of the remaining dressing.
Once salmon and green beans are done, assemble on salad. Squeeze lemon over salmon and top with capers. Sprinkle fresh dill over salad. Drizzle remaining dressing. Enjoy!
Swaps:
Cucumber: sliced radishes add a pop of color
Salmon: ahi tuna! Both are easy to cook on a skillet and packed with omega-3 fatty acids. Of course, tuna packed in water works, too.
Artichokes: kalamata olives or red pepper. Check out your local markets olive bar
Green beans: asparagus, baby!
Grape tomatoes: heirloom tomatoes, if you can find them!
Potatoes: roasted or grilled corn
Eggs: sliced avocado
If you make this recipe, snap a photo and tag us on your Instagram stories! Our handle is @nutrition.awareness.
Kait Richardson is a registered dietitian nutritionist in Orlando, FL. She is a partner at a private practice, Nutrition Awareness, where she helps frustrated yo-yo dieters reach their health goals using 1:1 nutrition coaching. She is the co-host of the Nutrition Awareness Podcast.