---
Ever feel like you're stuck in a brown rice rut? Yep, my hand is raised. You want to make sure you're getting a slow digesting, complex carb at lunch to hold you over throughout the day but what else is out there? Face it– you're probably getting sick of quinoa too. How about barley, whole grain couscous, farro, or teff? Have you tried black rice or red rice? Boring brown rice isn't your only option.
These Greek Barley Bowls combine some of my favorite Mediterranean flavors with chewy, nutty barley. Don't let the ingredients list scare you, because many of them are pantry staples. In fact, the only 'new-to-my-pantry' ingredients were barley and tahini. Not familiar with either? Let me give you a quick rundown: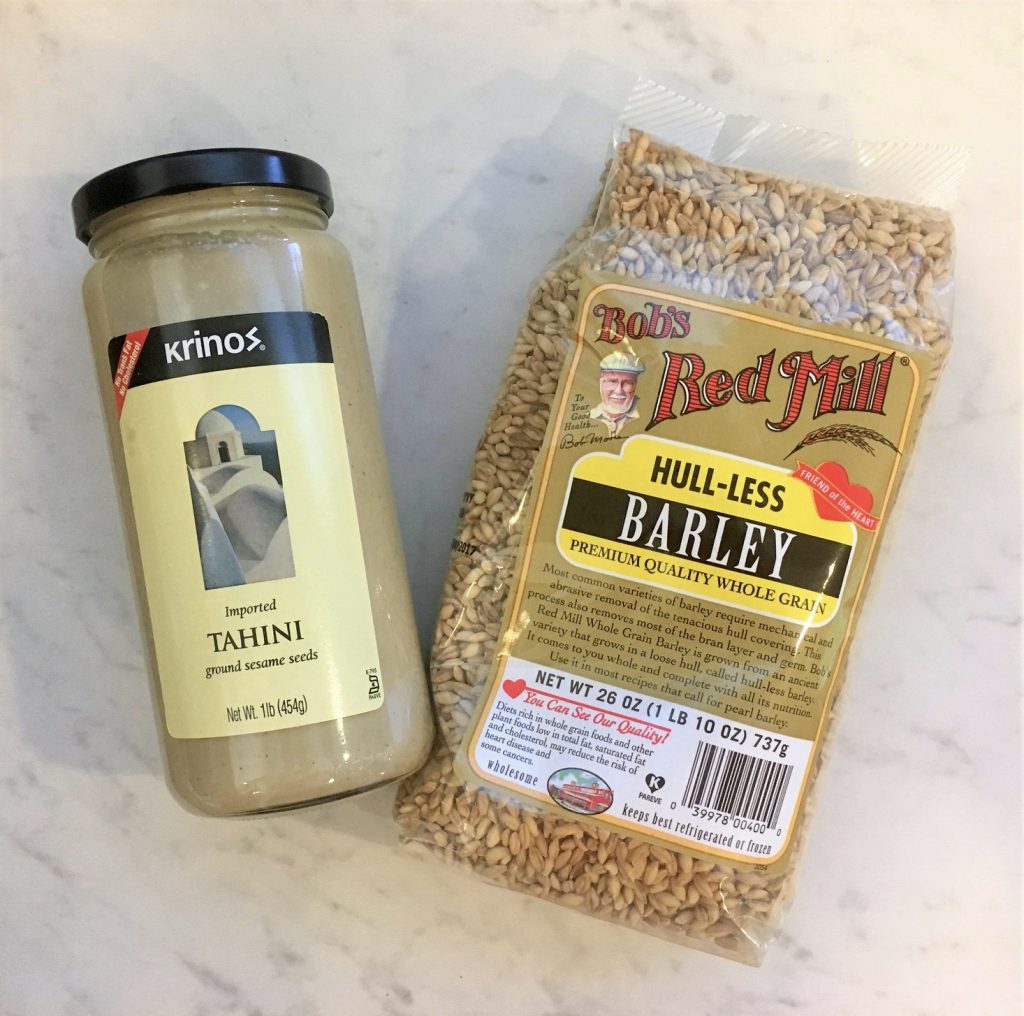 Barley:
Barley is the king of fiber among whole-grains. Unlike most other grains, barley has fiber in all of its layers, not just the outermost bran.  It's beneficial for blood sugar, blood pressure, and cholesterol levels. Bonus: it also helps promote satiety!
Pearled barley is common, but most of its beneficial bran layer has been removed. Look for hulled or hull-less barley to make sure you're getting the whole grain. Many regular grocery stores carry this variety, but it may be in the health food aisle instead of next to other grains.
Hull-less barley takes longer to cook, but the rest of the components come together quickly. They can be prepped while the barley simmers away. If you want to make a big batch of barley, the leftovers can be added to soups or swapped out for your morning oatmeal (try reheating the barley with a splash of milk and topping with fruit, nuts, and a drizzle of honey!).
You can read more about the health benefits of barley here and here.
As a side-note: If you're working on increasing the amount of fiber you eat, do so gradually and make sure you're also drinking enough fluid.
Tahini:
Every time I eat tahini sauce, I wonder why I don't have it more often. What's not to love about a creamy sauce packed with healthy fat?! Tahini also provides thiamin, magnesium, phosphorus, iron, and calcium.
Tahini is simply ground sesame seeds. You've had it before even if you don't know it… it's one of the main ingredients in hummus! Here, we mix it with olive oil, lemon juice, spices, and water to make a magical sauce that you'll want to drizzle on everything. It also makes a great veggie dip. You easily can find it at Trader Joes or in the "international" aisle in most grocery stores.
You can read more about the health benefits of tahini here.
Now that we've gone over the base (barley) and finishing touch (tahini sauce) of these bowls, let's talk about what else they've got!
Roasting chickpeas makes them deliciously crunchy, and a sprinkle of spices while they're hot makes it hard to resist eating them all straight off the pan.
When my last name changed to Metropulos, I quickly learned there's no such thing as too much feta. Or Kalamata olives, for that matter. These bowls are topped with both, along with cool and refreshing chopped veggies. However, if you're vegan or dairy-free, the feta can be left off and the bowls will still be delicious (thank you very much, tahini sauce).
You'll be glad you gave this ancient grain a try! Want more ideas for bowls you can prep ahead of time and pack for lunch?
Bow Thai Pasta Salad
Spinach-Pesto Salad with Farro
Quinoa Buddha Bowl
Two Grain Southwest Salad
Mason Jar Lentil Salad
Greek Barley Bowls
Makes 3 bowls
1 ½ cups cooked barley (I used Bob's Red Mill Hull-less Barley)
Spiced chickpeas (recipe below)
¾ cup diced tomato
¾ cup diced cucumber
¼ cup + 2 tablespoons diced red onion
¼ cup + 2 tablespoons crumbled feta cheese
3 tablespoons chopped Kalamata olives
Lemon tahini sauce (recipe below)
Spiced chickpeas
1 (16 ounce) can reduced sodium chickpeas, drained and rinsed
½ tablespoon extra-virgin olive oil
1 teaspoon Greek spice (recipe below)
Lemon tahini sauce
1/3 cup tahini
1 tablespoon olive oil
1 tablespoon lemon juice
1 teaspoon minced fresh garlic
1 teaspoon Greek spice (recipe below)
3 tablespoons warm water
Greek spice
1 teaspoon coarse sea salt
1 teaspoon garlic powder
½ teaspoon black pepper
½ teaspoon dried oregano
½ teaspoon dried basil
½ teaspoon dried dill
To make the barley:
Prepare barley according to package instructions. If using Bob's Red Mill Hull-less Barley, combine ½ cup uncooked barley and 1 ¾ cup water in a medium saucepan. Bring to a boil, then reduce heat and simmer for about 40 minutes. Set aside to cool.
To make the Greek spice:
Combine all ingredients in a small bowl and mix well.
To make the spiced chickpeas:
Preheat oven to 400 degrees Fahrenheit. Dry the chickpeas very well after they have been drained and rinsed. Spread chickpeas on a rimmed baking sheet lined with aluminum foil. Bake for 20-30 minutes, stirring every 10 minutes. Toss warm chickpeas with ½ tablespoon olive oil and 1 teaspoon Greek spice.
To make the lemon tahini sauce:
Combine all ingredients in a small bowl and mix well. Add additional warm water as needed to thin sauce to desired consistency.
To assemble the bowls:
Place ½ cup cooked barley in the bottom of each bowl. Evenly distribute chickpeas among bowls, about 1/3 cup each. Top each bowl with ¼ cup tomato, ¼ cup cucumber, 2 tablespoons red onion, 2 tablespoons feta cheese, and 1 tablespoon olives. Drizzle each bowl with 1-2 tablespoons tahini sauce.
References:
http://www.medicalnewstoday.com/articles/295268.php
http://www.medicalnewstoday.com/articles/298585.php
https://wholegrainscouncil.org/whole-grains-101/easy-ways-enjoy-whole-grains/grain-month-calendar/barley-%E2%80%93-february-grain-month
https://wholegrainscouncil.org/whole-grains-101/whole-grains-101-orphan-pages-found/health-benefits-barley