---
Looking for a cozy, healthy fall recipe this season?
Look no further!
This plant-heavy chicken bake pairs well with your need for comfort food while complying to your healthy eating goals. It's the perfect fall recipe that takes less than 15 minutes to throw together (even faster if you meal prep the ingredients ahead of time) & will please your whole family.
Bonus?
The leftovers heat up really well the next day!
If I hadn't forgotten to pick up of gruyere cheese at the store, I would have topped the bake with some melty, dairy goodness.
However, I kept it high class this time around and tore up a piece of sliced provolone instead- LOL. It wasn't bad, but it also wasn't blog-worthy. Just bein' honest.
Need 1:1 accountability for your healthy eating & weight loss goals?
Apply to our virtual Daily Accountability Program (DAP) today!
The Recipe:
Ingredients:
1 cup tri-color quinoa, rinsed
2 cups chicken broth
12 ounces butternut squash, diced
1/2 sweet onion, diced
5 cups raw kale
3 apple chicken link sausages, chopped
Garlic powder, salt, & pepper to taste
Optional: gruyere cheese
Instructions:
Preheat oven to 350 F. Combine quinoa and chicken broth in 9 x 13 in pan.
Add in diced butternut squash & raw onion.
Top with kale and chicken sausage. Add garlic powder, salt, and pepper to taste
Bake for 42-50 minutes or until quinoa is cooked.
Optional: top with gruyere cheese and broil on high for 2-3 minutes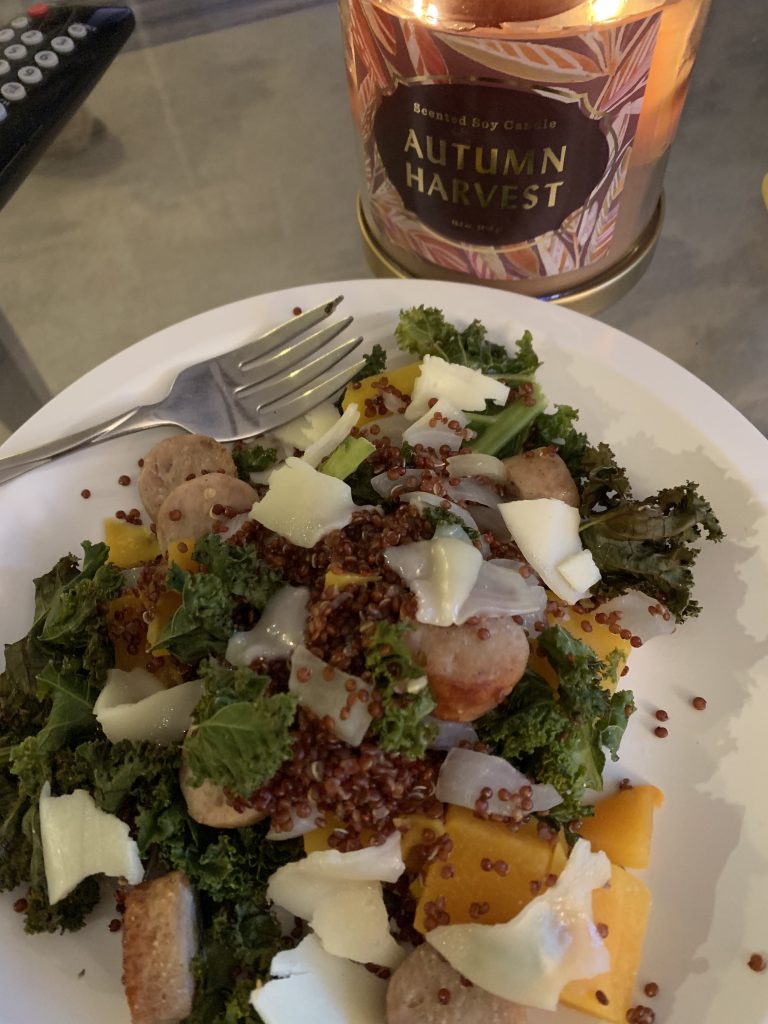 There are a lot of yummy swaps you can make with this recipe. If you don't have a squash, swap in a diced sweet potato.
Make it vegan or vegetarian by using vegetable broth, omitting chicken sausage and mixing in beans or using Beyond Meat Plant-Based Sausage.
If you make this healthy fall recipe, be sure to show off your dish & tag us on Instagram!
Craving more healthy comfort recipes?
Try..
Tuscan Chicken Chili
Pumpin Pie Protein Bites
Crockpot Beef Stew
Kait Richardson is a registered dietitian nutritionist in Orlando, FL. She is a partner at a private practice, Nutrition Awareness, where she helps frustrated yo-yo dieters reach their health goals using 1:1 nutrition coaching. She is the co-host of the Nutrition Awareness Podcast.