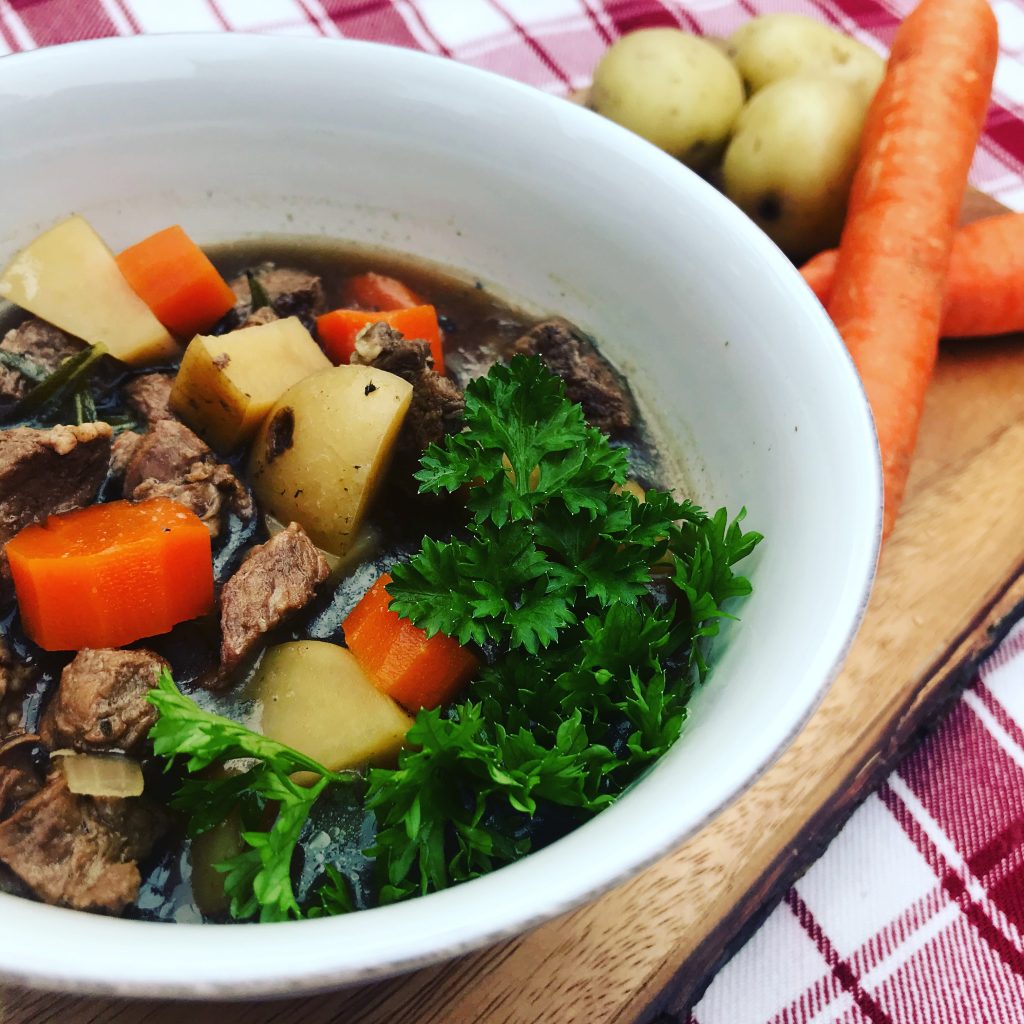 ---
True life: I have no patience for "food styling" and I do not have an eye for photography.
I just want to make my food then EAT it, not take 100 photos of it trying to get the right angle with the right background and the right props.
But I understand that we eat with our eyes and I do want to share healthy recipes ideas with you guys! I know that even if I PROMISE you that this beef stew tastes amazing but the photo looks like ?, you probably aren't going to try it.
It's pretty rare that I'm able to get time to make dinner while there's still enough natural light outside, but I'll keep trying to improve my photo skills as long as you keep trying my recipes!
I'll also save you all the typical blog talk that you have to scroll through and take you straight to the recipe:

Healthy and Hearty Crockpot Beef Stew
Ingredients:
1 tablespoon extra virgin olive oil or avocado oil
2 pounds cubed steak or cubed roast
salt and pepper to taste
1 onion, diced
2 cloves garlic, minced
1 pound small yellow potatoes, quartered
4 carrots, sliced into 1 inch chunks
4-6 cups of water (depending on how much broth you like
4-6 teaspoons beef bouillon (I use Better Than Bouillon)
5 springs of rosemary
2 tablespoons dried thyme
1 bay leaf
Fresh parsley, for garnish
Directions:
Heat the olive oil in a large pan over medium high heat. Season the stew meat generously with salt and pepper.
Cook the meat in a single layer for 4-5 minutes on each side or until seared.
Place the meat in a slow cooker along with all of the rest of the ingredients except the fresh parsley.
Cover and cook on LOW for 7 hours or HIGH for 4 hours.
Garnish with parsley and serve.
Still struggling with prepping your meals ahead of time? Meet with one of our registered dietitians to develop an individualized game plan to meeting your nutrition, diet, or weight loss goals.
Schedule your initial consult here or call 407-720-8636 to book an appointment.
Post by Megan Ware, RDN, LD. Read more about the dietitians at Nutrition Awareness here.
Disclosure: We were not paid to write any of the reviews or recommendations above. This post may contain one or more affiliate links. All opinions are our own.