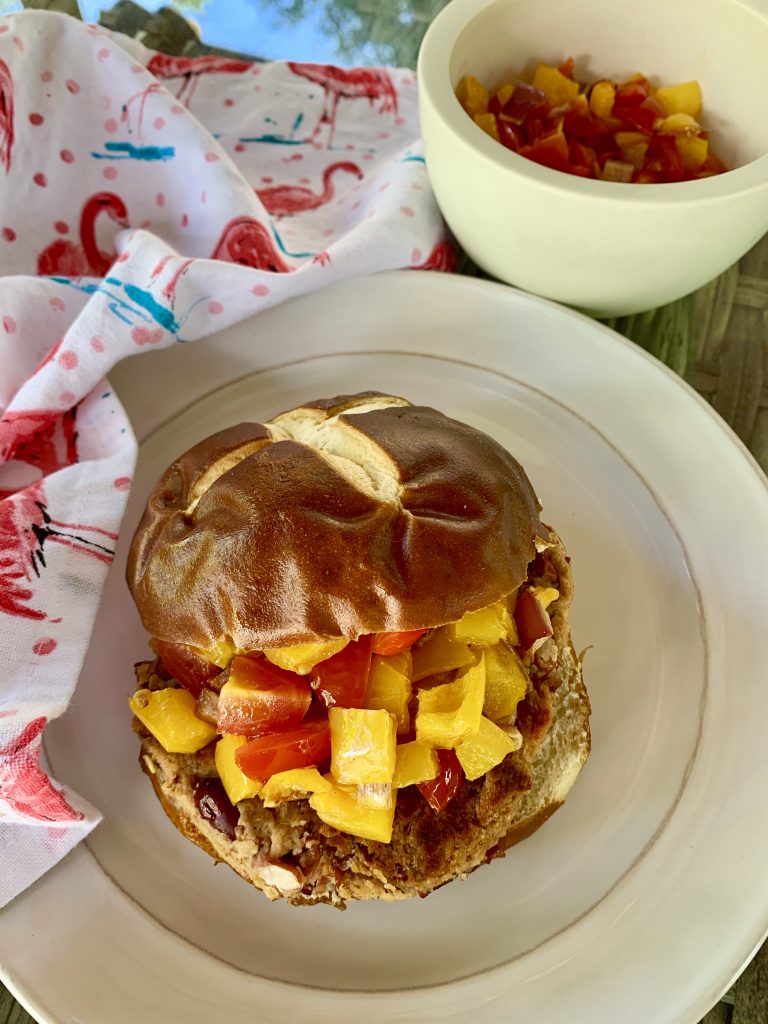 ---
Because a black bean burger is SO last decade. Get with the program and try some veggie burgs with alternative legumes like kidney beans, lentils, and chickpeas!
Bean burgers are super versatile. For any recipe, you just need a combo of smashed beans + egg + bread crumbs + spices.
Red Bean Burger with Roasted Red Pepper Salsa
Makes 4-5 burgers
1 red pepper, diced
1 yellow pepper, diced
1/2 cup onion, diced
2 tablespoons extra virgin olive oil
2 cups grape tomatoes, halved
2 cans of kidney beans, rinsed and drained
1/2 cup breadcrumbs
1 egg
1 tablespoon sriracha or chipotle sauce
1 lime, zest and juice
1/2 teaspoon ground chipotle seasoning
Burger buns
Leaf lettuce for topping
Salt and pepper to taste
1. Preheat oven to 350 degrees F. Place the diced peppers and onions on a baking tray and drizzle with one tablespoon of olive oil. Roast for 15 minutes. Add the tomatoes then roast for another 15 minutes.
2. Meanwhile, smash the kidney beans with a potato masher or fork. They do not have to all be completely mashed. Add breadcrumbs, sriracha, egg, 1/2 of lime juice and zest, and spices. Form 4 burgers. Heat the remaining olive oil in a large skillet and cook each burger for 5 minutes on medium heat until golden.
3. Toss the roasted peppers and tomatoes with the remaining lime juice and zest, salt and pepper. Toast the buns and serve with a handful of salsa and lettuce atop the burger.
Want to try our other meatless recipes? Our Black Bean and Butternut Squash Enchiladas are a HIT and our Protein-Packed Vegan Pesto Pasta is oh-la-la!