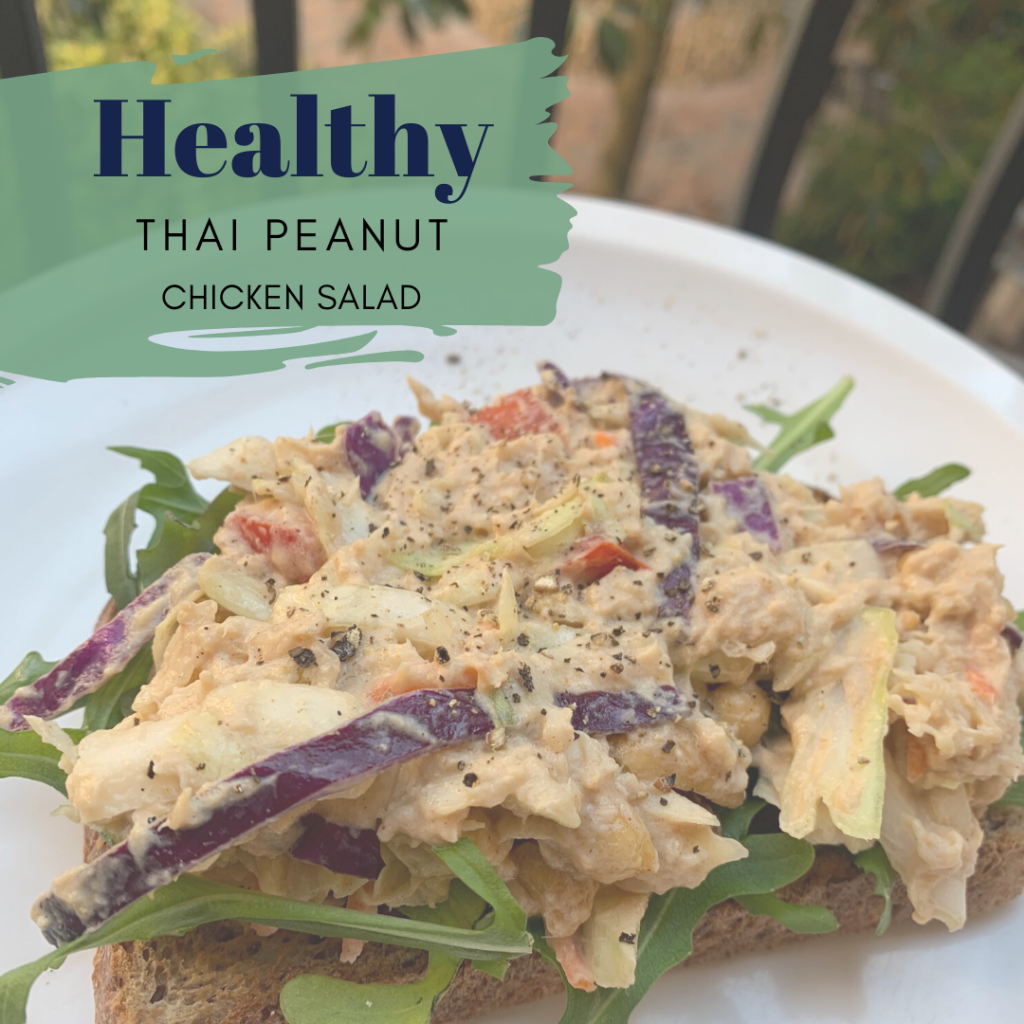 ---
Goin' on a picnic? Pic-dis Healthy Chicken Salad 🙂
It's officially picnic weather!! And in the spirit of social distancing, why not pack up a healthy lunch and eat it by a lake, in a park, or by the ocean?
This Healthy Thai Chicken Salad is super easy to make, is packed with protein and veggies, and is great for make-ahead lunches.
Eat it over leafy greens as a salad or smother it over a piece of sprouted grain toast. I bet it's be tasty with flaxseed crackers, too!
Can't get enough Thai peanut goodness? Try this Protein-Packed Thai Peanut Pasta Salad (it's vegan!)
Need 1:1 accountability for your healthy eating & weight loss goals?
Apply to our virtual Daily Accountability Program (DAP) today!
Healthy Thai Chicken Salad
Serves: 6-8
Time: 15 minutes
Ingredients:
Salad:
1 lb chicken breast
1 cup shredded green cabbage
1 cup shredded carrot
1 cup shredded purple cabbage
1 red bell pepper, diced
1/2 cup peanuts, chopped
Optional: green scallions
Peanut Sauce:
3/4 cup plain Greek yogurt (I used 2% fat)
1/3 cup natural peanut butter, creamy
3 tbsp coconut aminos (can swap for soy sauce)
1 tbsp natural honey
2 tsp ground ginger
1/2 lemon, squeeze
salt to taste
*water, per desired consistency
Instructions
Cook and shred chicken. I like to throw my chicken breasts in a slow cooker with some chicken stock and garlic salt. It shreds easily and retains moisture. If you don't have time to slow cook, you can bake chicken breasts at 350′ F for 25-30 minutes and shred with a fork.
Set chicken aside in fridge to chill.
Meanwhile, combine and stir ingredients for peanut sauce. If the sauce is too thick to your liking, you can add water 1-2 tbsp at a time.
Combine salad ingredients. Stir in sauce until well combined.
Best served chilled over a bed of greens and/or sprouted grain bread or flaxseed crackers.
This is a great meal prep recipe. You can easily make it vegan by swapping the chicken for 1 can of rinsed and drained chickpeas & using plain coconut yogurt for the sauce. If you don't eat honey, agave works well.
Lazy Chef Hack: Save time with the Trader Joe's Shredded Green & Purple Cabbage with Orange Carrots mix.
If you make this recipe, share and tag us on Instagram @nutrition.awareness!
Kait Richardson is a registered dietitian nutritionist in Orlando, FL. She is a partner at a private practice, Nutrition Awareness, where she helps frustrated yo-yo dieters reach their health goals using 1:1 nutrition coaching. She is the co-host of the Nutrition Awareness Podcast.