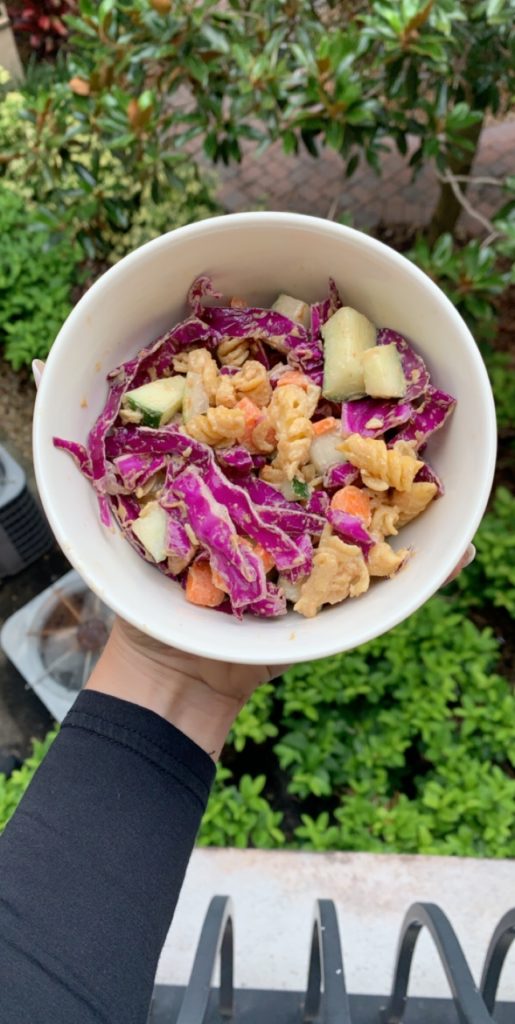 ---
Looking for a high-protein, plant-based recipe to meal prep for lunches or bring to your next summer BBQ? If so, you have come to the right food blog!
This Thai Peanut Pasta Salad is so yummy even routine meat-eaters won't notice it's vegan friendly. Bonus? The trifecta of chickpea pasta, homemade peanut sauce, and veggies pack a lot of protein and fiber in a single serving, so you'll stay full & satisfied for hours.
The key is to use a pasta made from a plant protein like Banza. One serving has 25 grams of protein and 13 grams of fiber! For this recipe, I used the Banza Rotini noodles, but the penne or shell noodles would have worked just as well.

This is a great dish if you're short on time- I whipped this dish up in less than 20 minutes. Since it happens to be dairy-free, gluten-free, and vegan, the Thai Peanut Pasta Salad is the perfect side to bring to a potluck where people have food restrictions.
Know someone with a tree nut allergy? Swap the peanut butter for delicious Sunbutter!
Need 1:1 accountability for your healthy eating & weight loss goals?
Apply to our virtual Daily Accountability Program (DAP) today!
---
Ingredients:
Pasta Salad:
1 box of Banza Pasta, cooked
½ small head of purple cabbage, chopped
1 small cucumber
2 carrots, chopped OR 1 cup carrots shredded
Optional: peanuts, scallions for garnish
---
Thai Peanut Sauce:
½ cup natural peanut butter*
½ tablespoon ground ginger
3 cloves garlic
2 tablespoon liquid aminos
1 tablespoon rice wine vinegar**
5-10 drops liquid Stevia
¼ cup water
Optional: red pepper flakes to taste for spice
---
Instructions:
Cook Banza pasta per instructions on box. I recommend 7 minutes as chickpea pasta can get mushy if it cooks too long. Set aside to cool.
Meanwhile, chop cabbage, cucumber, and carrots. Combine and set aside.
For sauce, combine ingredients in blender or food processor. Add half water and let blend for 30 seconds. Continue to add water until sauce is at desired consistency.
Once pasta has cooled, combine the noodles with veggies. Stir in peanut sauce and garnish with chopped peanuts and scallions.
If there are leftovers, keep the peanut sauce in a separate container to prevent the veggies and noodles from getting soggy.

And that's it! Simple and easy. If you enjoy this recipe, post it and tag us on Instagram @nutrition.awareness so we can see your creation!

---
*Make nut-free by subbing equal amounts of Natural Sunbutter
**can sub lemon juice
Disclosure: This post may contain one or more affiliate links. All opinions are our own. We were not paid by any of the companies mentioned above to write this post.
Kait Richardson is a registered dietitian nutritionist in Orlando, FL. She is a partner at a private practice, Nutrition Awareness, where she helps frustrated yo-yo dieters reach their health goals using 1:1 nutrition coaching. She is the co-host of the Nutrition Awareness Podcast.