---
Your summertime breakfast game needs a facelift…
…consider this recipe your plastic surgeon.
Seriously, these tropical breakfast papaya boats will not only wow anyone you serve them too, but leave you feeling refreshed and energized for hours!
Depending on how you dress your breakfast papaya boat, you can pack in a ton of nutrition with different flavor and textures.
The papaya itself is fun to eat, and is packed with vitamin C and fiber.
To get the most bang for your breakfast, be sure to include a good source of protein. I used 3/4th cup of plain 2% Greek Yogurt for 17 grams of satiating protein.

If dairy isn't your jam, include plant-based protein toppings such as nuts and seeds. You can also fill your boat with a blended, plant-based protein smoothie.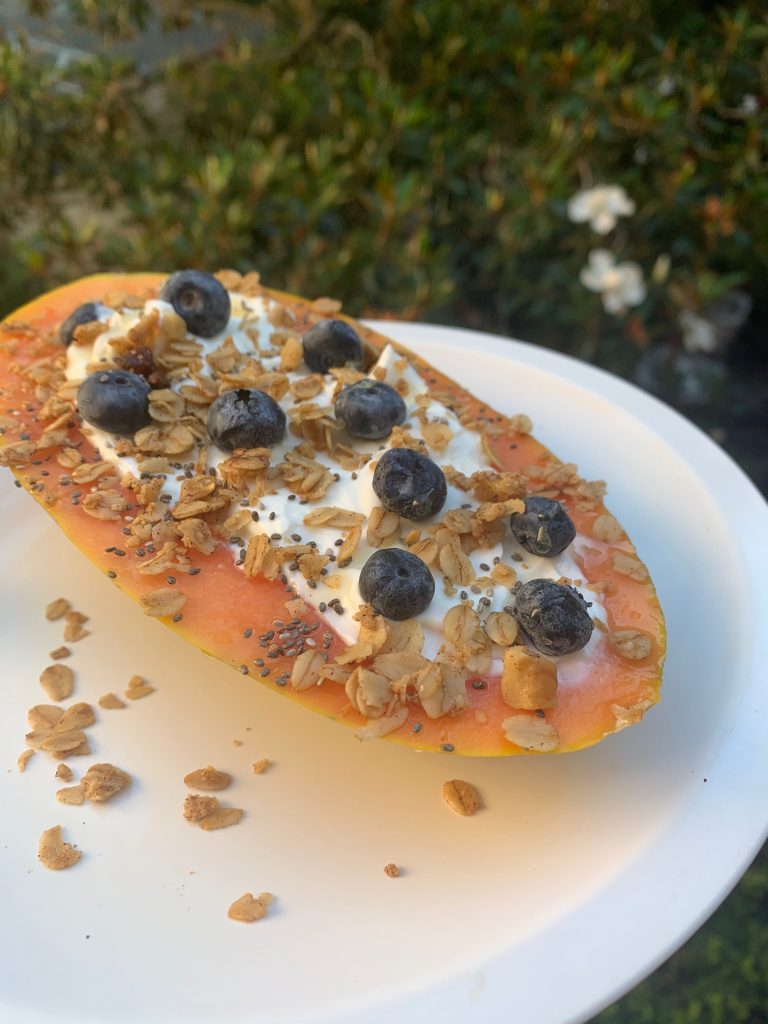 Tropical Breakfast Papaya Boats
Serves: 2
Time: 5-10 Minutes
Ingredients:
1 whole papaya
1 1/2 cup plain, full fat Greek Yogurt (I recommend Fage or Chobani)
1/2 cup low-sugar granola (I used this homemade recipe but left out the pumpkin & swapped pumpkin pie spice for cinnamon)
1/2 cup blueberries
1 tbsp chia seeds
Drizzle of honey
Instructions:
Slice papaya in half, long ways.
Scoop out seeds and discard.
Fill papaya with yogurt.
Top each with equal parts granola, berries, and chia seeds. Drizzle each with honey or agave nectar.
Want more topping ideas?
Swap berries for sliced banana, kiwi, melon balls, or mango.
Skip the granola and add crunch with unsweetened coconut shreds, chopped nuts, or cacao nibs.
Fill your boat with blended frozen fruit with protein powder instead of yogurt (great vegan alternative).
If you make this recipe, snap a photo and tag us on your Instagram stories! Our handle is @nutrition.awareness.
Kait Richardson is a registered dietitian nutritionist in Orlando, FL. She is a partner at a private practice, Nutrition Awareness, where she helps frustrated yo-yo dieters reach their health goals using 1:1 nutrition coaching. She is the co-host of the Nutrition Awareness Podcast.