---
Recipe post by Megan Metropulos, MS, RD, LDN
Has fall been officially renamed to pumpkin spice season yet? 
One of the things I miss most about living up north is the cooler temperatures and changing leaves that Fall brings. We only get an occasional taste of fall weather in Florida, but I don't let that stop me from enjoying allll the pumpkin things!
Granola is one of my breakfast staples. Lately, I've been loving Purely Elizabeth granola, but I decided it was time to make my own. My mom and I have made a Spiced Pumpkin and Brown Sugar Granola Recipe that we found in Oprah Magazine for years. Our family and friends go crazy for it!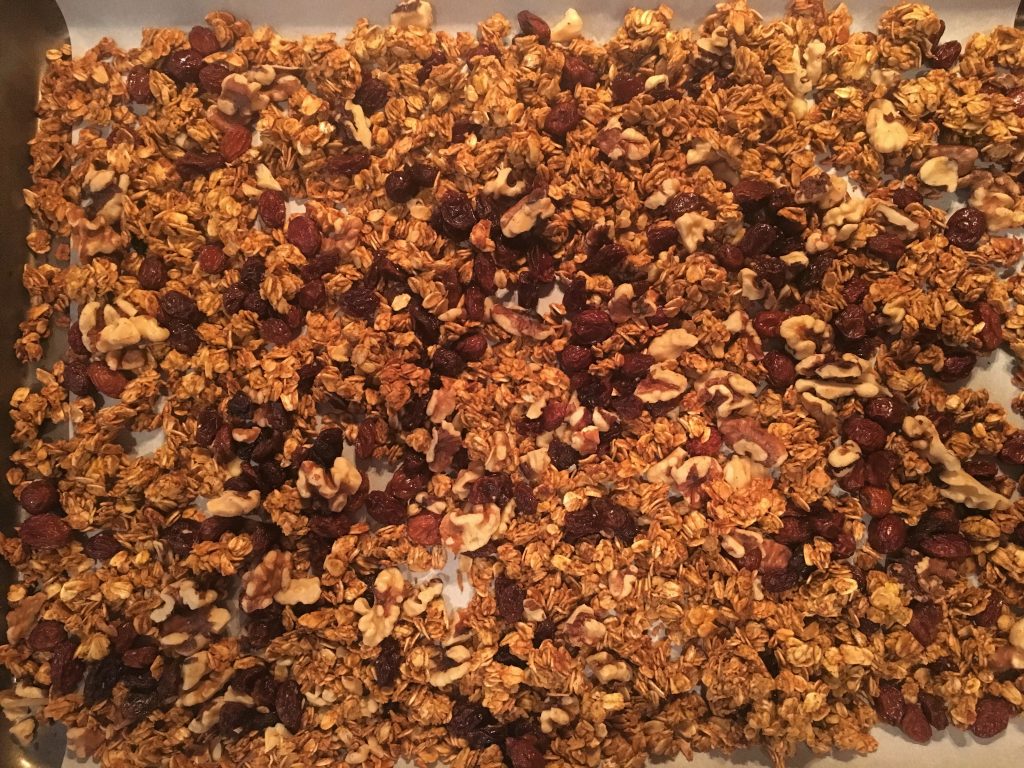 I decided to tweak my favorite recipe and love how it turned out! This granola has warm flavors from the pumpkin pie spice blend (I used Penzeys). It's slightly sweet from the maple syrup and raisins, while toasty walnuts add crunch.  
This granola also has real pumpkin! Make sure you use pumpkin puree, not pumpkin pie filling. Aside from tasting great, pumpkin also provides beta-carotene, fiber, and potassium. Read more about the health benefits of pumpkin here.
I can't wait to enjoy this granola on top of yogurt, smoothie bowls, oatmeal, ice cream, and just as-is. I've also decided that everything tastes better when eaten out of a pumpkin-shaped bowl.
Bring on the beta-carotene glow!
Pumpkin Spice Granola
½ cup pumpkin puree
¼ cup pure maple syrup
2 tablespoons coconut oil, melted
½ tablespoon vanilla extract
2 teaspoons pumpkin pie spice
1 teaspoon ground cinnamon
½ teaspoon salt
3 cups old-fashioned rolled oats
1 cup walnuts, roughly chopped
1 cup raisins
Preheat oven to 325 degrees Fahrenheit. In a large bowl, stir together pumpkin, maple syrup, coconut oil, and vanilla extract. Add in spices, salt, and oats. Mix until thoroughly combined.
Spread the oat mixture onto a large rimmed baking sheet lined with parchment paper. Bake for 15 minutes, stir, and then continue baking for another 15 minutes. Add the raisins and walnuts to the oat mixture and bake for 10-15 more minutes, until the walnuts are toasted.
Remove the pan from the oven and allow the granola to cool completely. Once cool, store the granola in an airtight container.
Looking for more healthy ways to use the extra pumpkin? Try out these recipes:
Pumpkin Spiced Steel Cut Oats
Pumpkin Pie Power Smoothie
Blueberry Pumpkin Oat Muffins