---
This is the one of the best soups I've ever made! Plus– it's good for you. It is high in nutrients and packs major flavor. With a trio of mushrooms, the savory flavor is similar to miso soup (the popular starter at Japanese steakhouses) and I added a little kick with the jalapeno. The orrechietti pasta along with the spaghetti squash gave it a fun look and texture. I'm so glad I made enough for leftovers!
If spaghetti squash is a new ingredient to your kitchen, it is basically a vegetable substitute for noodles, with half the calories and carbs as pasta. Bonus if you have kids and can get them to help– they'll love peeling back the layers of "spaghetti!" Try my Spaghetti Squash Marinara recipe for a more traditional way to use this versatile vegetable.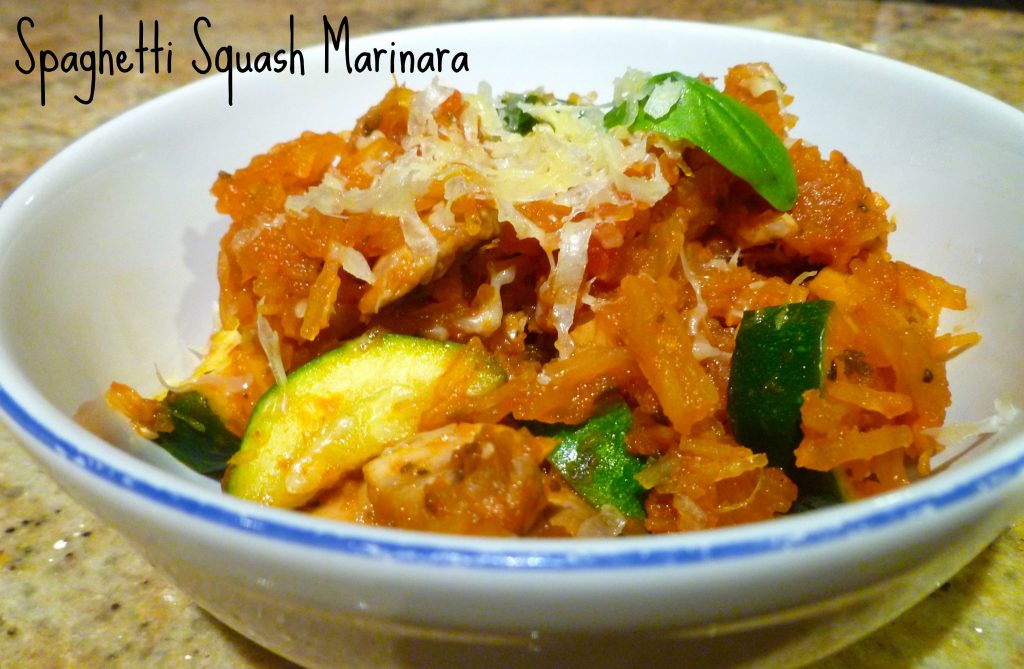 Spaghetti Squash Orecchietti Mushroom Soup
Makes 6- 8 servings
1 spaghetti squash
3 tablespoons extra virgin olive oil
Freshly ground pepper
1 medium onion, finely chopped
3 garlic cloves, minced
8 ounces white button mushrooms, chopped
10 ounces cremini mushrooms, chopped
3.5 ounces shiitake mushrooms, stems removed and diced
1 small jalapeno, minced, seeds discarded
2 quarts water
3 tablespoons vegetable bouillon
1 and 1/2 cup orecchietti pasta
Freshly grated Parmesan cheese (optional)
Fresh parsley (optional)
1. Preheat the oven to 350 degrees. Cut spaghetti squash in half. Discard the seeds and rub the insides of the squash with one tablespoon of the olive oil and season with ground pepper. Place the squash cut side down on a baking sheet or pizza stone and roast for 30 minutes or until squash strands scrape easily with a fork.
2. While the squash is baking, add the remaining 2 tablespoons of oil to a large pot over medium heat. Add the chopped onion and cook 2-3 minutes until softened. Add the garlic and cook an additional minute. Toss in the jalapeno, stir, then add the chopped mushrooms.
3. Add the water and vegetable base and bring to a boil. Add the pasta and cook until al dente.
4. Add the spaghetti squash strands. Ladle the soup over the squash and serve with grated cheese and fresh parsley.