---
Whether you're new to Orlando, are looking for ways to improve your diet, or just want to get out of your current food rut, this is your complete guide to scoring healthy bites here in O-town.
Clemon's Produce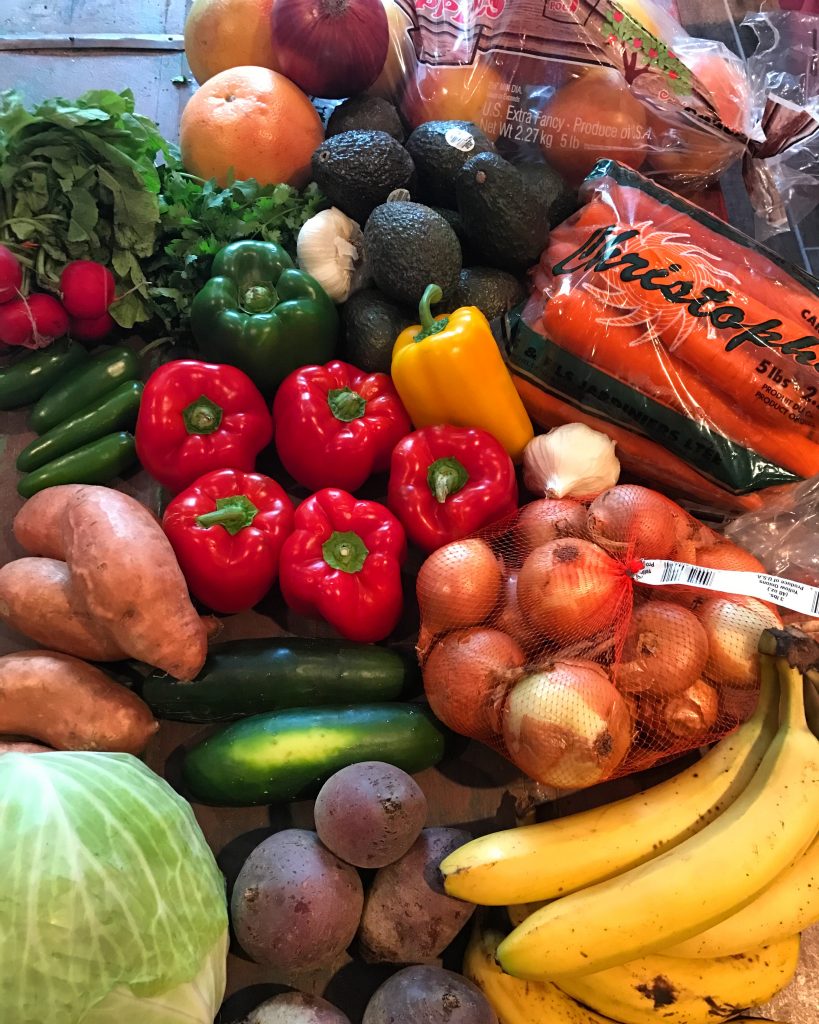 When I moved to Orlando from Texas, I cried on my way home from the grocery store. I broke down in tears in my car from the lack of fresh local produce and vegetarian options. Dramatic, I know, but I had no idea how lucky I once was to be able to walk into one store in Texas and get everything I needed, relatively cheap. If I wanted to eat the same way here, Publix and Whole Foods were going to break the bank. I felt like I had gone back in time 10 years. Thankfully, one of my dietitian friends recommended Clemson's Produce. Clemons is an indoor farmers market open daily with an emphasis on in-season, local vegetables and fruit. An entire store dedicated to produce! They are super affordable, offer a superior product, and label where everything comes from. They have an Amish deli, dried beans, nuts, seeds, and local pasture-raised eggs from Lake Meadows Farms. Everything in the photo above was $29. I'm pretty sure I couldn't even get all those avocados at Publix for $29!
Clemons Produce – 3325 Curry Ford Rd, Orlando
Good for: fresh, local, and affordable produce, eggs, pantry staples
Dandelion Communitea Cafe
Dandelion makes it super easy to make a healthy choice. They provide local, organic, vegetarian, vegan and gluten-free options and make all of their sauces and dressings in house. You know the food is good when you see a group of businessmen in suits having their lunch meeting at a vegetarian place! Don't miss the famous $5 Giddy Up Mondays where you get their homemade hearty chili as a salad or a wrap, topped with dairy or vegan cheese, crumbled blue corn chips, scallions, and tomatoes – for just $5!
Dandelion Communitea Cafe – 618 N Thornton Ave, Orlando, FL 32803
Good for: vegans, vegetarians, quick lunch, casual
Skyebird Juice Bar and Experimental Kitchen

Skyebird Juice Bar & Experimental Kitchen is a cozy little place at East End Market, the hub for local grub in Orlando. Grab a salad and a green juice and post up at the "bar" with your laptop for a working lunch, or head outside into the courtyard on a cool day. You HAVE to try the Carrot Cake Smoothie (seriously, tastes just like Carrot Cake)! Plus, they serve everything in glass mason jars that you can keep OR bring back for a discount on your next purchase.

Skyebird Juice Bar and Experimental Kitchen at East End Market – 3201 Corinne Dr, Orlando
Good for: fresh juices, on-the-go salads, good-for-you smoothies that taste like dessert
New Moon Market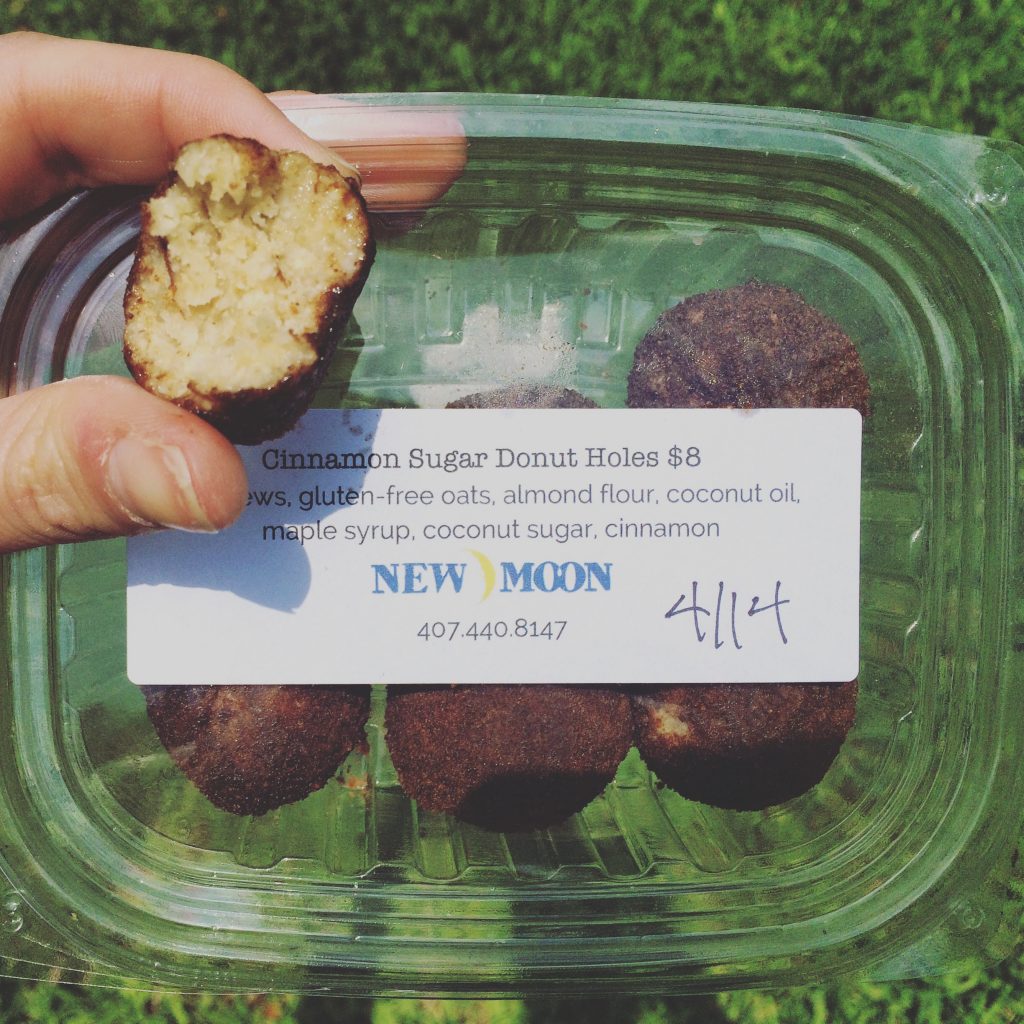 Just walking into New Moon Market puts a little pep in your step and makes you feel healthier before you even order. New Moon has the best fresh pressed juices in town, kombucha on tap, overnight oats, soups, salads, and energy bites. Rumor has it they will be opening a second location soon!
New Moon Market – 2314 Edgewater Dr, Orlando
Good for: juice, light bites, healthy-ish desserts
Infusion Tea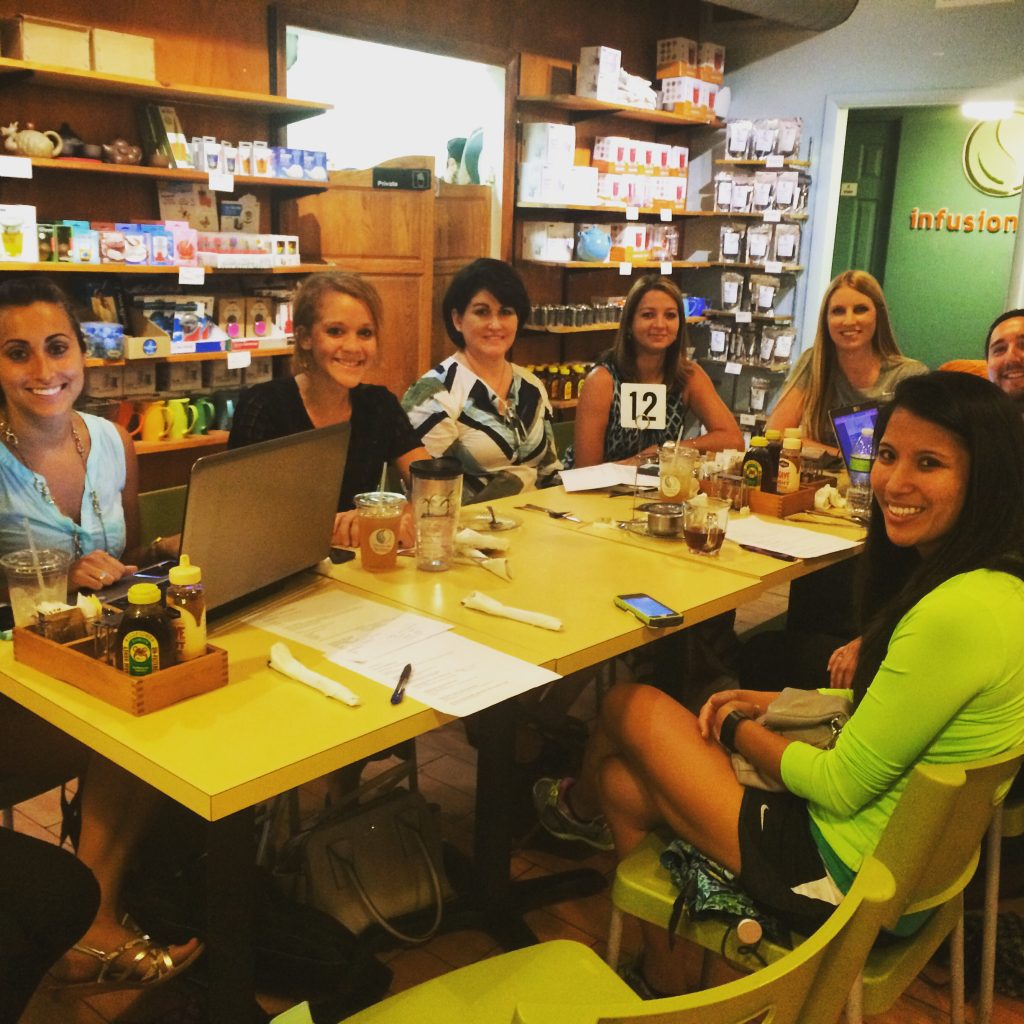 Not only do they have a million loose-leaf organic tea options, Infusion Tea also does vegetarian food right. I love their lunch combo: you can pick 2 from any ½ salad, soup, sandwich or wrap and get the tea of the day for $8.95. All of their salads are awesome and the Cauliflower Chickpea Tacos are another favorite of mine. Plus, Uber Eats delivers!
Infusion Tea – 1600 Edgewater Dr, Orlando, FL 32804, Orlando
Good for: working lunch, organic teas, groups, vegetarian
Fitlife Foods
Here's a question I get almost daily: "How can I eat healthy if I don't like/have time to cook?" A few years ago I would have said suck it up, make your health a priority, and get in the damn kitchen. While I still think that's the best option, now there are ways to make your life a whole lot easier if you want to stay on track but can't find the time to cook. Fitlife Foods is a Florida-based company that will prep your meals for you. Breakfasts, lunch, dinner, and snacks are made fresh daily for you to grab and go. You can pick one meal or ten meals, there's no obligatory weekly or daily plan. I like Fitlife so much better than all of the other pre-made meal delivery options in the area because honestly, I've tried them all and they all suck (except the one below!). Fitlife also has different size meals depending on your calorie needs (or hunger).
Fitlife Foods – 110 S. Orlando Avenue, Winter Park – 7341 W. Sand Lake Rd, Orlando
Good for: ready to eat meals, meal prep, busy weeks
Farm & Haus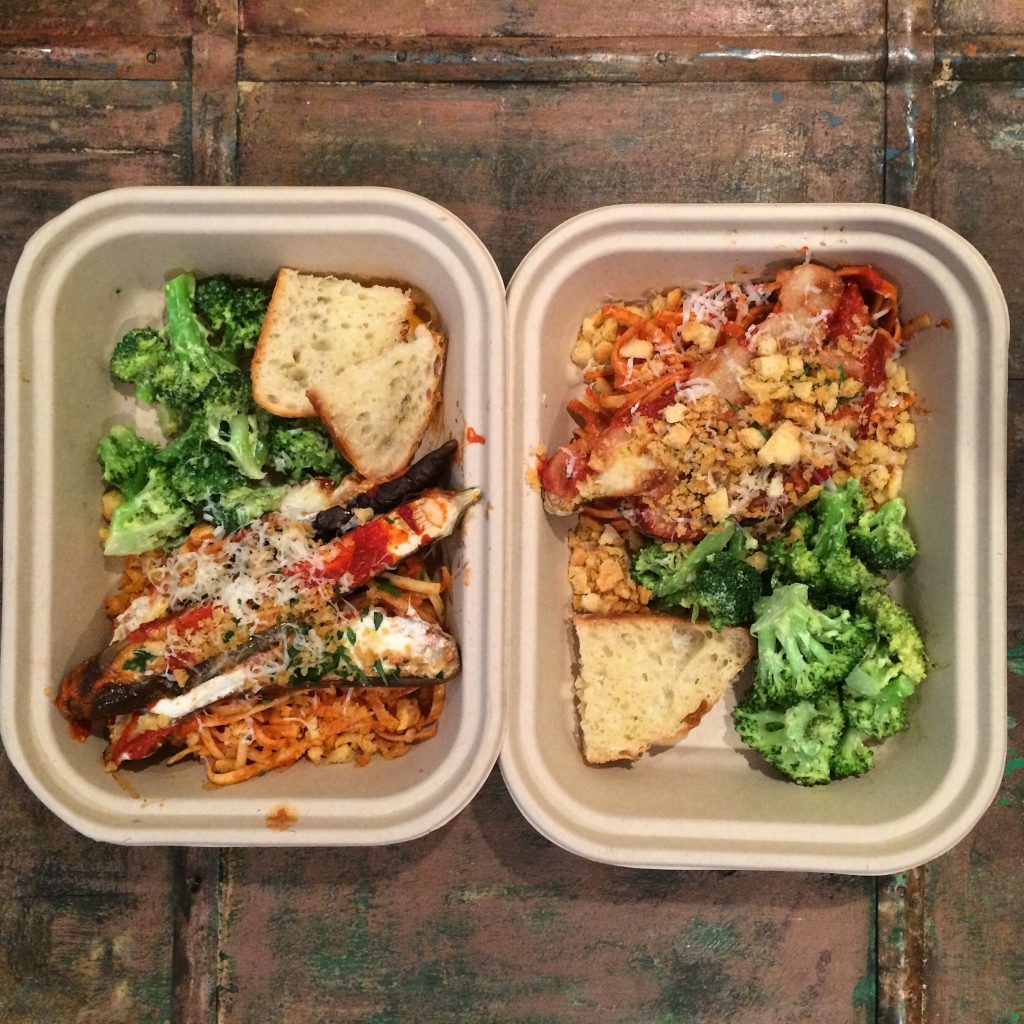 Another great option when cooking yourself just isn't going to happen is Farm & Haus nightly dinner delivery service. They offer chef-made, nourishing dinners that change daily that you can get delivered to your door or order ahead and pick up. These meals are seriously good and made-from-scratch with fresh, seasonal ingredients.
Farm & Haus at East End Market – 3201 Corinne Dr, Orlando
Good for: home-cooked meals (much better than I can cook), meal delivery
Create Your Nature
If you haven't had an acai bowl yet, now's your chance. Not sure what an acai bowl even is? Think smoothie you can eat with a spoon, packed with superfoods and topped with your favorite fruits, nuts, seeds, or granola. Create Your Nature also offers savory oat options like the Good Luck Parm with parmesan cheese, olive oil, granulated honey, sea salt, and cracked black pepper. Time to try something new!
Create Your Nature – 1284 Orange Ave, Winter Park
Good for: breakfast, brunch
The Farmacy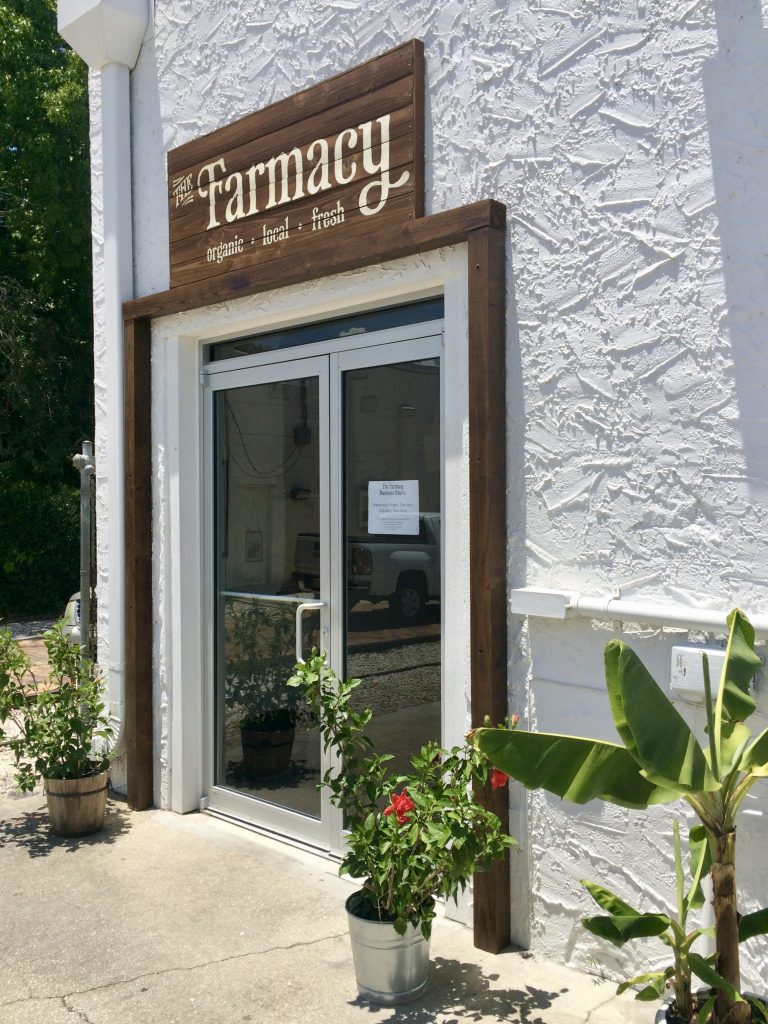 The Farmacy is your go-to gourmet grocery store for local meats, produce, raw milks and cheeses. They have weekly in-season specials and support local Orlando farmers. They have 2 locations, one in Winter Garden and a new location in the North Quarter.
The Farmacy – 885 N Orange Ave, Orlando – 18 E Joiner St, Winter Garden
Good for: gourmet groceries, raw milk, eggs
Also check out our Round 2 post, The Healthiest Casual Restaurants in Orlando.