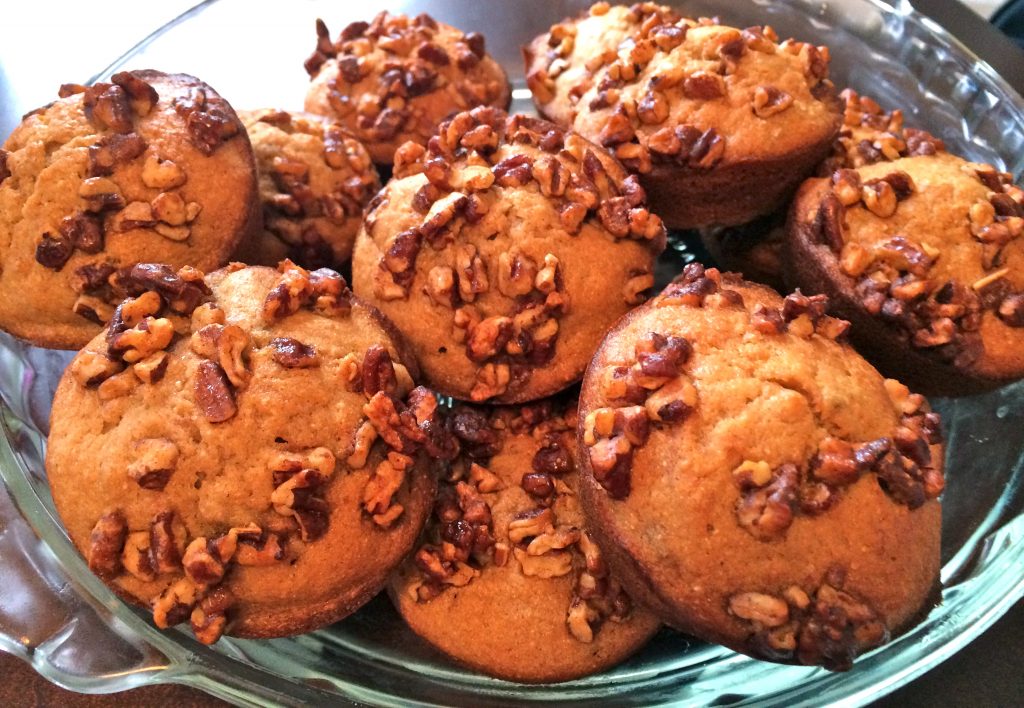 ---
I made these delicious banana protein muffins as a treat for the ladies at Breathe Pilates Studio to snack on after a tough workout. I promised them I would share the recipe so here it is! These babies are only 180 calories per muffin with 5 grams of protein! There's no reason you can't have a post-workout snack that satisfies your sweet tooth AND helps your muscles repair. Make sure to pair it with a glass of milk (WITH protein if you're doing a plant-based milk) for optimal recovery. Although almond milk tastes great, most brands have very little protein.
I used one of my favorite protein powders in this recipe, Tera's Whey Organic Bourbon Vanilla. Tera's has none of the artificial crap that most protein powders contain. They get their whey from local cheese plants in Wisconsin that get their milk from small family farms. The Bourbon Vanilla has only four ingredients and doesn't contain any sucralose or artificial sweeteners (score!). Check out my post on The Best Protein Powders for other options, including plant-based powders.
Banana Nut & Honey Protein Muffins (Makes 16 muffins)
Prep time: 10 minutes Cook time: 25 minutes
Total time: 35 minutes
1/2 cup chopped walnuts
1/3 cup plus 1 tablespoon honey, divided 1 teaspoon cinnamon
1 1⁄2 cups whole wheat flour
1 1⁄2 teaspoons baking powder
1⁄2 teaspoon salt
1 stick unsalted grass-fed butter, softened or melted
2/3 cup vanilla protein powder
2 large eggs
2 overripe bananas, mashed 1 teaspoon vanilla extract
Preheat the oven to 350°. Spray two muffin tins with non-stick cooking spray or line with paper liners. In a small bowl, toss the nuts with 1 tablespoon of the honey and cinnamon until evenly coated and set aside.
In a medium bowl, whisk together the flour, baking powder and salt. Set aside.
In a large bowl, using a fork, beat the butter with the protein powder and remaining honey until mixed well. Add the eggs, banana, vanilla and milk and continue to beat (batter will be lumpy). Slowly beat in the dry ingredients until wet. Do not over-mix.
Spoon the batter into the muffin tins and sprinkle with the nut topping. Bake the muffins until the tops are golden and a toothpick inserted in the center comes out clean, about 25 minutes.
Nutrition Facts:
Serving Size: 1 banana protein muffin
Calories: 179
Total fat: 9.1g
Saturated fat: 4.1g
Cholesterol: 43mg
Sodium: 137mg
Potassium: 166mg
Total Carbohydrates: 20.6g
Fiber: 1.1g
Sugars: 9.3g
Protein: 5.1g
For more tips on what to eat before a workout, read this.