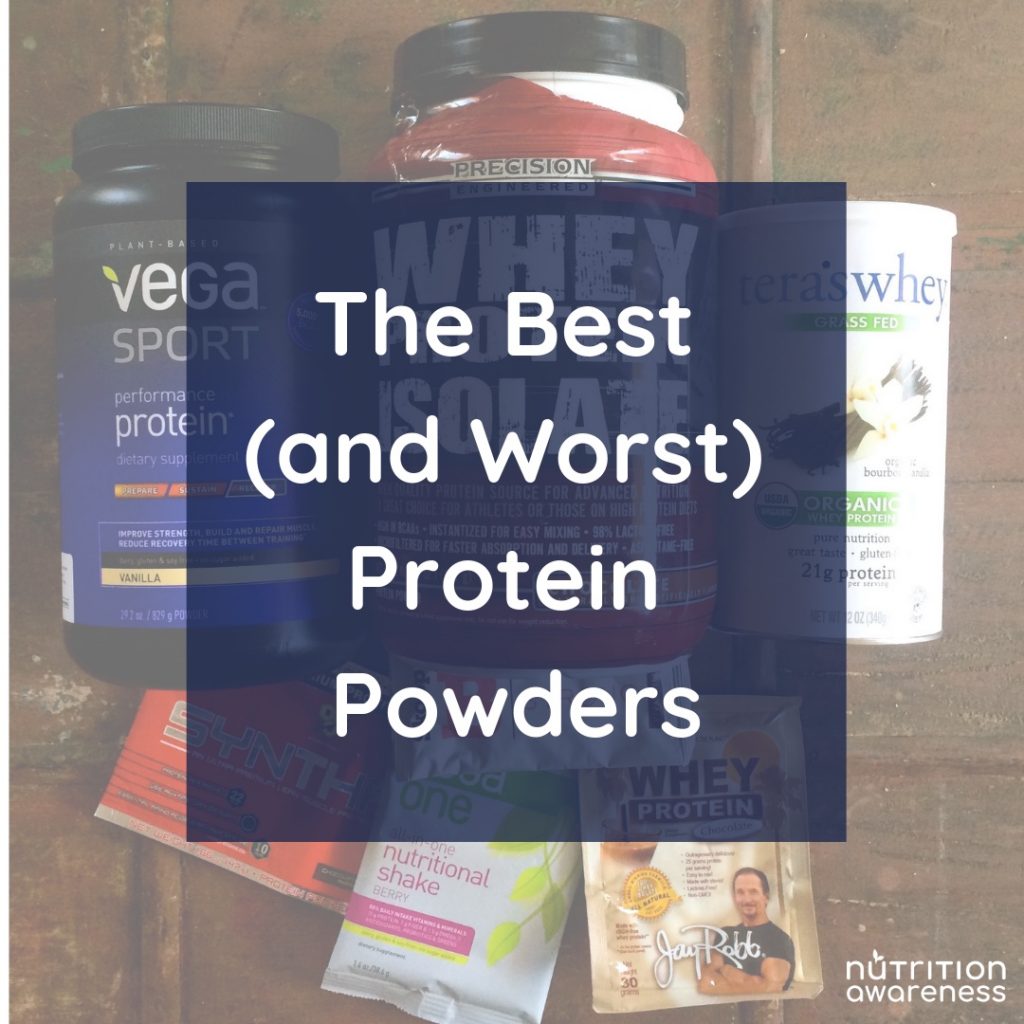 ---
Updated 6/10/21
Even dietitians need to do some pretty extensive research to find a great tasting protein powder without unnecessary additives. There are so many products and brands it's impossible to choose the perfect one right from the start. So many protein powders just taste horrible or have a chalky consistency. But, lucky you, I did all the sampling for you and weeded out what to skip and what's worth the money.
Why protein powder?
In my post about What to Eat After a Workout, I mentioned that you ideally need at least 20-30 grams of protein (depending on your size) after a hard workout to refuel and start to rebuild muscle. It's not always possible to consume a meal right after a workout or maybe you just don't have an appetite after intense exercise. Eating real food is ideal, but in a pinch it's perfectly OK to grab something easy like a bar or smoothie/shake with protein powder. Once you settle on an optimal powder, check out my Easy Post-Workout Shake formula here. I also like to add a little protein powder to my yogurt, oatmeal and baked goods like these Banana Nut Protein Muffins to give them a boost.
This list is separated into two categories:
1) Whey-based protein powder
2) Plant-based protein powder
Whey-based powders get most of their protein power from milk and plant-based powders use a variety of things depending on the brand, like peas, nuts, rice, hemp, etc.
Even though most whey proteins claim they are lactose free, some people have a hard time digesting them (this is what the bodybuilding community likes to call protein farts). If you've got a lactose intolerance or milk protein digestion issue and whey doesn't agree with you or you would just rather avoid animal products, go for the plant-based protein.
The first thing I looked at when searching for the perfect protein was the ingredient list. I'm assuming people looking for protein powder want to fuel their body in the best and most natural way possible. Filling it with unnecessary chemicals and additives defeats the purpose. This was honestly the hardest hurdle. Most of the protein powders in the grocery store and at the supplement shops are filled with artificial sweeteners and unnecessary chemicals and additives. I want to be able to read the label of any protein powder and recognize each ingredient as food (bonus points for organic and non-GMO ingredients). The next parameter was taste. I thoroughly enjoy eating and drinking and I don't want waste my time or taste buds consuming things that I don't enjoy. I also took price into consideration.
1) Whey-based protein powders (In order of best to worst):
I'm skipping right over the popular brands like Syntha-6, EAS, AMP and Muscle Milk because they all have BS ingredients in them like carrageenan, corn syrup solids, artificial flavoring and sucralose. Don't buy that crap.
Naked Nutrition A+
When they say Naked, they mean it. The only ingredient in these powders is whey from grass-fed cows from small California farms. They add no artificial flavors, sweeteners or colors. Their products are soy, gluten and GMO-free. I like mixing a scoop with a cup of Elmhurst almond milk and some frozen raspberries (I need some flavor). The downside is the price, but if you're willing to invest in a high quality, well-sourced product, you get a huge tub that lasts forever. If you don't want to go completely "naked" they offer Less Naked Whey with natural strawberry, vanilla, and chocolate.
BiPro A
BiPro is a clean protein without artificial ingredients, sugars, artificial sweeteners, or unnecessary fillers. Major bonus points because they have a limited addition Cafe Latte flavor that I hope never goes away. BiPro is also NSF Certified for Sport®, and tested by a third party to ensure that it contains no banned substances.The only downside is that you can only find it online, but they're offering readers free shipping with the code AWARE1617.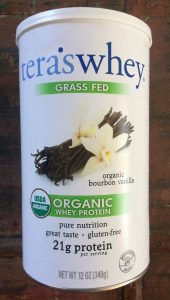 Tera's Whey A
Tera's Whey was the first protein powder I tried that I actually enjoyed the taste of and it's still my go-to that I always have around. It blends well in smoothies and has only four ingredients, all of which are non-GMO and organic. The whey is sourced from grass-fed cows and I have no problems digesting it. They have awesome flavors like Fair-Trade Dark Chocolate, Bourbon Vanilla, and Wild Blueberry. You can find Tera's in many local grocers like HEB, Target, Whole Foods, Fresh Market, and Publix. They use stevia as a sweetener.
Designer Whey A
Designer Whey is a cheap, easy to find option that I picked up at Trader Joe's for less than 20 bucks. The chocolate flavor tastes just like Swiss Miss hot cocoa packets I used to drink as a kid. It has added B-vitamins, pre and probiotics, electrolytes, and vitamin D. It is sweetened with stevia and monk fruit.
Jay Robb's Whey Protein B
I first picked this up because it only had 7 ingredients. The nutrition facts passed with flying colors: 110 calories, 25 grams of protein and 0 grams of sugar in one scoop. Of course zero grams of sugar means it's sweetened with something, but in this case they used stevia. No sucralose, GMOs or artificial colors/flavors. Both the chocolate and strawberry flavors were delicious mixed in shakes and yogurt. The label says it's lactose free but my stomach said otherwise. I don't like that they make the claim on the front that it's made with rBGH (hormone)-free whey protein, but then there's an asterisk on the back of the package that states that there is only a limited supply of rBGH-free whey protein and there are times when "the world supply runs short" so they must use something else. Sounds like a cop-out to use a claim for marketing purposes then not have to make good on it because of the disclaimer.
I won't waste my time reviewing all the popular, cheap "bro" powders (basically everything GNC makes) with artificial sweeteners and dyes. You can do better!
2) Plant-based protein powders (in order of best to worst):
Let me start by saying that after trying at least 20 different plant-based protein powders, most of them are absolutely revolting. I wish they tasted better, but it's hard to get pea protein to taste like chocolate.
Aloha A
After pretty much writing off all plant-based powders, one of my clients convinced me to try Aloha and brought me a few packets. I first blended it into a smoothie… not bad! Then the real test, just shaking it up in almond milk. It actually blended, wasn't gritty, and didn't taste like dirt. You can find it in Target (reasonably priced) and buy a single packet before you invest in a whole tub or use the packets for travel. Finally, a good vegan protein powder!
Vega Sport Protein A
I tried a few Vega powders that I didn't like before they came out with this one. The protein is sourced from peas,pumpkin seeds, and alfalfa with some added recovery benefits from tart cherry powder and turmeric. It's sweetened with stevia and has some added probiotics. You can find it in Target and most health food stores.
MRM Veggie Elite Performance Protein A
MRM is the go-to that I always have in my pantry. The Chocolate Mocha is my jam! You can get the 1.22 lb tubs on Amazon for under $20.
Epic Plant-Based Protein A
The ingredients are spot-on and chocked full of organic superfoods. I mixed the Green Kingdom flavor with organic soy milk and frozen nectarine slices and it was delicious. I fully expected this powder to taste like dirt, but I was pleasantly surprised. That said, I did not enjoy the Original or Vanilla Lucuma flavors. As far as I know it's only available online.
Nuzest Clean Lean Protein A I love being able to get a protein powder in a flavor other than boring chocolate and vanilla without any artificial ingredients!!! I'm a big fan of the coffee flavor, vanilla matcha, and wild strawberry. Nuzest dissolves well in a blender with no gritty aftertaste.
Steer clear of:
RAW by Garden of Life (Chocolate) F
I started with this plant-based powder because it's organic and non-GMO certified with no artificial flavors, sweeteners or synthetic ingredients. Seemed like the best of the best as far as ingredients go. However, it tastes like a mouthful of dirt. I'm not picky when it comes to food. In general, I enjoy eating really healthy-tasting things that other people would turn up their nose at. This protein powder is not one of those things. I tried it in several different shake recipes, mixed it in my yogurt, mixed it in my oatmeal… and threw all of it away. It's that bad. I ended up taking the rest back to the store for a refund. For those of you mixing this with water and chugging it down– you are a warrior.
Perfect Fit Protein F
I really really wanted to like this. It's primarily made from organic sprouted whole grain brown rice and branded by the girls from Tone It Up. First of all, the powder doesn't even blend. It just stays in a powdery, chalk-like consistency even when using a high-powered blender. I can't imagine what it would be like if you just tried to shake it by hand. It also tasted quite dirt-like and is the color of sand. Unless you enjoy drinking liquified chalk, stay away.
Sun Warrior (Vanilla) F
It was chalky, gritty and had not even a hint of vanilla flavor. I tried adding strawberries, mango, vanilla extract, and then peanut butter as a last resort and I still couldn't choke it down. What a waste of fresh fruit! It's vegan, gluten free, soy free and dairy free but I don't really care because it was disgusting.
Spirutein F
I tried the vanilla, chocolate AND strawberry. They were all disgusting and did not blend well.
Hate ALL protein powders?
Try powdered peanut butter! Its just dehydrated peanuts with the fat removed to lower the calories. PB2 is my favorite brand. I like to mix it in a shake with almond milk, yogurt, and frozen strawberries– it's like a PB&J milkshake!
About the author: Megan (Ware) Poczekaj is a registered dietitian nutritionist in Orlando, FL. She owns the private practice, Nutrition Awareness, where teaches other entrepreneurs how to optimize their productivity and performance with nutrition. She is the author of the book The Optimized Life: A Nutrition Guide for Entrepreneurs.
Disclosure: I was not paid by any of the companies above to review their products. One or more links are affiliate links. All opinions are my own.