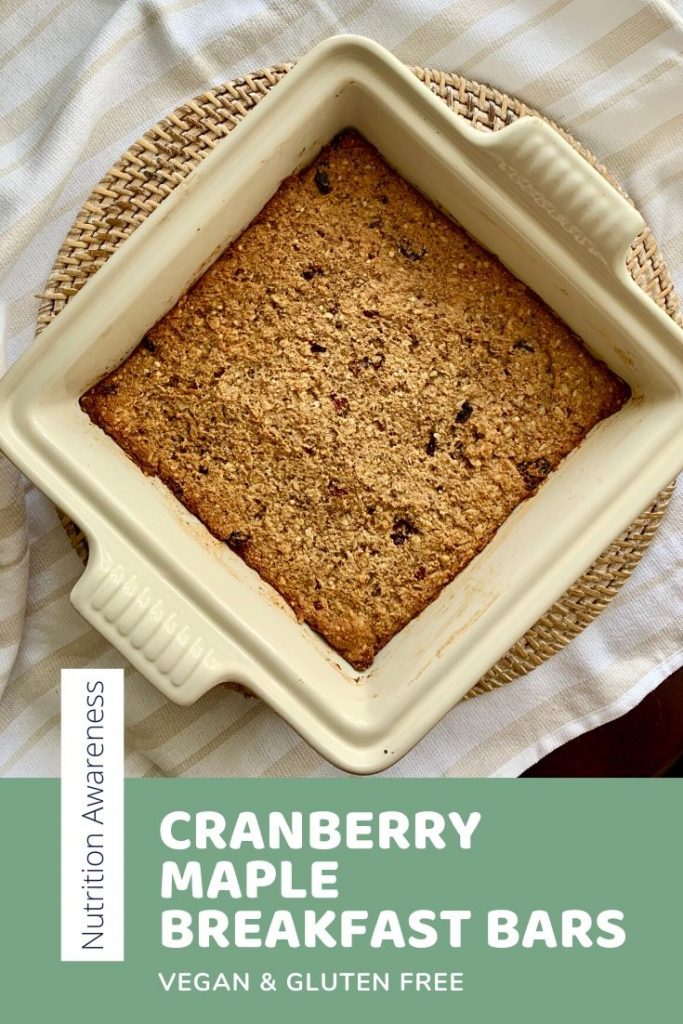 ---
Made without refined sugar, these Cranberry Maple Breakfast Bars are full of fiber and natural protein to get you through your busy morning.
Did you know that most syrups like Aunt Jemima's and Log Cabin have no actual maple syrup in them at all? They are actually made from sweetened corn syrup and artificial colors and flavoring. Gross!
Real maple syrup comes from a maple tree, which is tapped during the winter months to collect its sap. The sap, which is clear with only a slightly sweet flavor, is boiled down to remove most of the water and create a more concentrated syrup-like consistency. It takes about 50 gallons of sap to make one gallon of real maple syrup! It's a lot of work, so that's why it's more expensive than Aunt Jemima.
Not only does it provide a more natural source of sweetness, maple syrup also has added nutrients like potassium, manganese, thiamine, calcium, iron, zinc, magnesium, and riboflavin.
I'm not a fan of artificial sweeteners, so I use maple syrup as a sweetener in everything from baked goods to yogurt, oatmeal, and tea.
Cranberry Maple Breakfast Bars
1 tablespoon chia seeds
¼ cup water
1 cup almond flour
1 cup old-fashioned oats (gluten free if that's your thing)
¼ cup hemp hearts
1 teaspoon cinnamon
½ teaspoon baking soda
¼ cup almond butter
½ cup smashed banana (overripe) or canned pumpkin
1/8 cup natural maple syrup
½ teaspoon vanilla
1/3 cup chopped pecans (Optional bonus: roast them in the oven for 10 minutes prior to mixing in for added flavor)
1/3 cup dried cranberries (unsweetened)
Stir together the chia seeds and water in a small bowl and set aside. The chia seeds will soak up water as they sit.
Preheat oven to 375 degrees. Drizzle the bottom of an 8×8 inch baking pan with sunflower oil, avocado oil, or a non-stick cooking spray. Wipe off any excess.
Combine almond flour, oats, hemp, cinnamon and baking soda in a large bowl and mix well. In a separate bowl, use a mixer to combine almond butter, smashed banana, maple syrup, vanilla, and chia. Stir the wet mixture into dry, then fold in the pecans and cranberries.
Pour mixture into pan and pat down lightly with a spatula. Bake uncovered for 30 minutes or until golden brown on top.
Want more recipes like this? Try our Cranberry Dark Chocolate Cookies (vegan) or our 100 Calorie Cranberry Dark Chocolate Muffins.