---
This Easy Caprese Quinoa Casserole works great as a vegetarian option or with ground turkey or sausage added. I've used venison sausage, ground turkey, and no meat at all in this recipe and loved it each time.
Summer for me means eating fresh tomatoes on a daily basis so there are always an abundance of them in my house. Do NOT store your tomatoes in the fridge (they lose all of their flavor)! A little sprinkle of sea salt, with some avocado on fresh sourdough bread… that's my jam.
This casserole is a great way to showcase those bright red beefsteak or heirloom tomatoes you've been growing over the past few months.
A quick hack to make this recipe even easier is to buy the quick-cooking 90 second microwaveable packs of quinoa (by the rice).
The best thing about this quinoa casserole is that it'll last you for a few meals!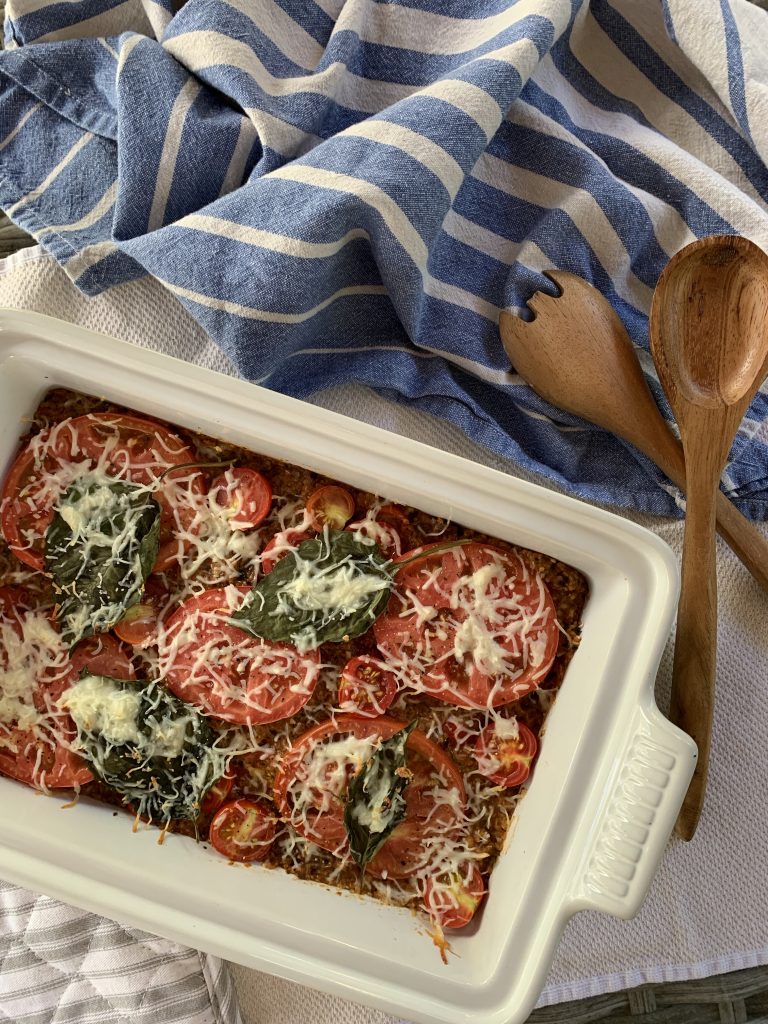 Easy Caprese Quinoa Casserole
1 lb ground turkey or ground sausage (optional)
1.5 cups dry quinoa (3 cups cooked)
1 1/4 cup tomato-basil pasta sauce (I used Newman's Own. Rao's is another favorite)
1/3 cup whole milk
2/3 cup pesto
1 1/2 cups shredded mozzarella cheese
1 cup cherry tomatoes, halved
1-2 heirloom tomatoes
Handful fresh basil leaves
If using, sautéed the ground turkey or sausage.
Cook quinoa according to package directions.
Preheat oven to 350 degrees Fahrenheit. Lightly coat a 13×9 rectangular pan with olive oil or non-stick spray.
In a large bowl, combine quinoa, ground meat, pasta sauce, milk, pesto, half the cheese, and the cherry tomatoes. Season with salt and pepper if desired.
Spoon the mixture into the pan, then layer the heirloom tomato slices, fresh basil, and cheese on top.
Bake for 20 minutes until heated through.
This recipe is adapted from the Caprese Quinoa Bake in the book Half Baked Harvest by Tieghan Gerard.