---
Winner of our blueberry recipe contest, submitted by Neely Whetsell (healthy-ished by me)
I was going to keep the recipe original but there were too many opportunities to tweak it without sacrificing flavor and enjoyment.
When it comes to "healthy" baking, I'm usually against substitutes. Do NOT put black beans in my brownies or chickpeas in my cookies.
But easy subs like Greek yogurt for butter or decreasing the sugar? Count me in to try it.
Will (my husband) is always my guinea pig for taste testing. He will tell me if something tastes "too healthy." These blueberry crumb bars passed with flying colors.
They might even be healthy enough to pass for breakfast (at least they have for me).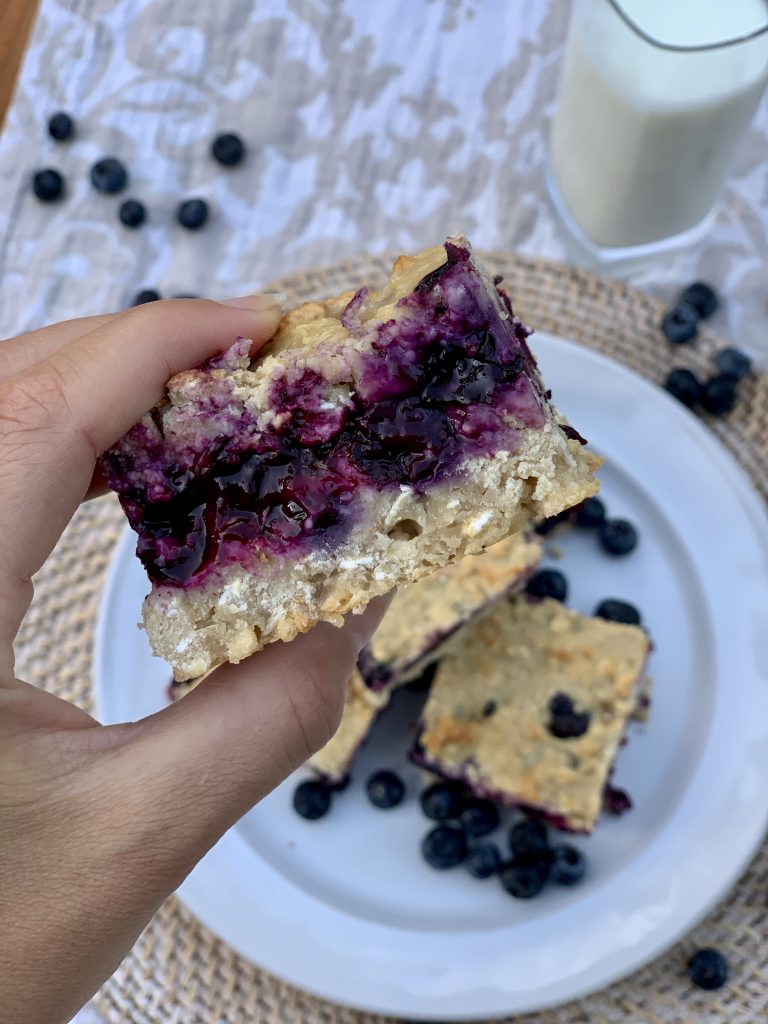 Blueberry Crumb Bars (Healthy-ish)
Crumb:
2 cups all purpose flour
1 cup old-fashioned oats
1/3 cup granulated sugar
1/2 cup brown sugar
1 teaspoon baking powder
1/4 teaspoon salt
1 large egg
1 1/2 teaspoon vanilla
1 cup whole milk Greek yogurt
Filling:
1 tablespoon cornstarch
2 tablespoons granulated sugar
1 tablespoon lemon juice
1 pint blueberries
Butter or spray an 8X8 inch baking dish. Preheat the oven to 375 degrees F.
In a large bowl, which together the flour, oats, sugars, baking powder, and salt.
In a small bowl, whisk egg together egg and vanilla.
Pour the egg/vanilla mixture and Greek yogurt into the bowl with the dry ingredients. Mix until well blended (will be thick and dense).
Spread half of the mixture with your hands or a spatula into the 8×8 pan and press down to set.
In a separate bowl you used for the egg, whisk together the corn starch, sugar, and lemon juice. Add blueberries and toss until coated.
Pour blueberries over crust, then top with remaining half of crumb mixture.
Bake for 35- 35 minutes until lightly browned. Let cool for 20-30 minutes before cutting.