---
Lasagna without the noodles. Taco casserole. Enchilada pie. Whatever you want to call it, this Veggie Mexican Lasagna is the perfect thing to whip up on a Sunday when you don't feel like meal prepping. You only need one pan, a can opener, and an oven. It makes a ton of food and feels indulgent but it's really full of a ton of veggies and enough fiber to fill you up without eating a huge portion.
If you haven't been able to tell already, I'm always kind of "winging it" in my recipes. I don't think I've ever actually followed a recipe without throwing something else in or swapping something else out. So, please feel free to add your own spin here. If you don't like salsa verde, throw in some regular red salsa or use enchilada sauce instead. Toss in some ground beef seasoned with cumin and chili powder if you can't bear the thought of a meatless meal.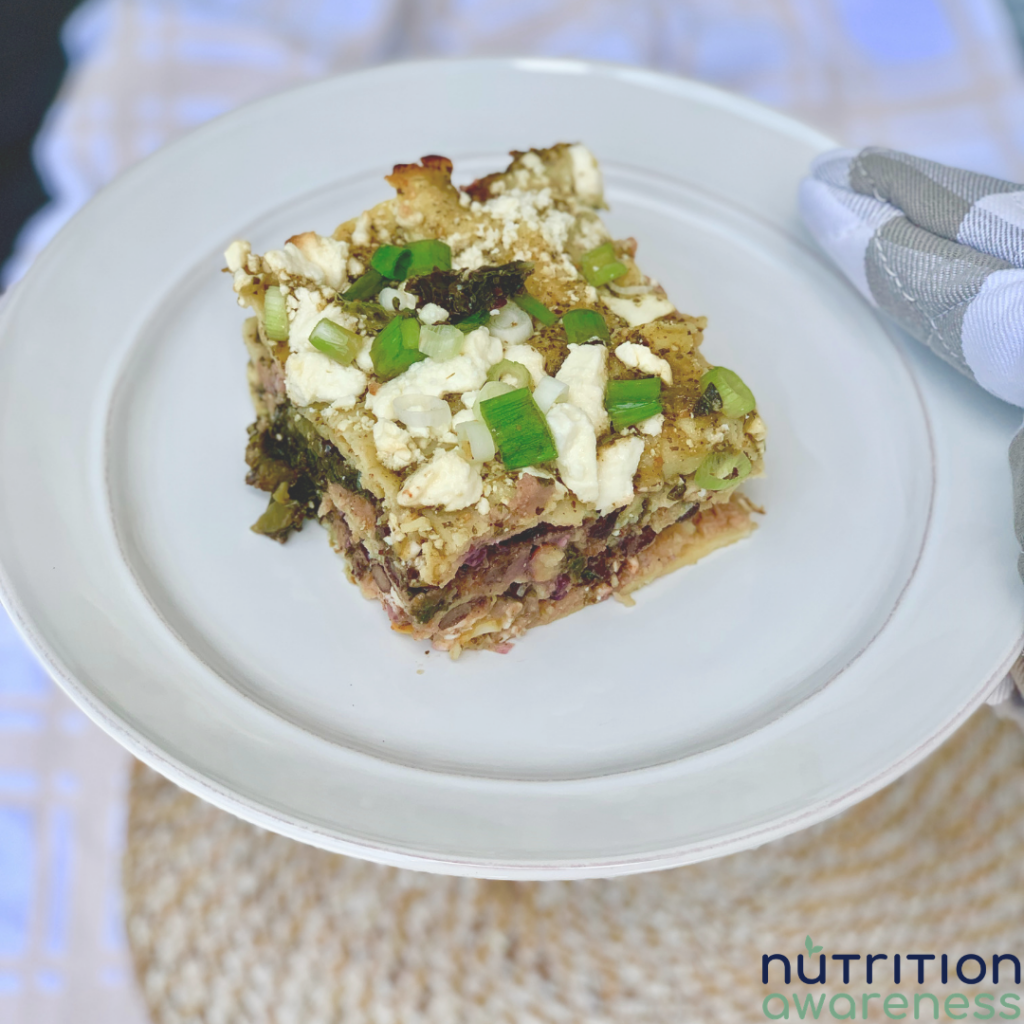 Veggie Mexican Lasagna Recipe
Makes 8 portions in 1 hour
1 bag of corn tortillas (the amount you use will depend on the size of the tortillas and the size of your pan- I used about 15 for a 9×12 pan)
1 container of salsa verde
1 can of refried beans (I used Lucky's brand)
1 can of black beans (I used Lucky's brand spicy black beans)
1 10 ounce bag of frozen kale
2-3 cups of corn (I used frozen tri-color corn, even better if you can find fire-roasted corn)
6 ounces of cotija cheese (can substitute feta if you can't find cotija)
Green onions for garnish
Preheat the oven to 375 degrees Fahrenheit.
Pour a little salsa in the pan to coat the bottom. Start your first layer by lining the pan with tortillas, just as you would noodles when making a lasagna.
Layer on half of the refried beans, black beans, kale, corn, 1/3 of the cheese, and top with 1/3 of the remaining salsa.
Repeat 2nd layer with tortillas first.
Top your 2nd layer with another layer of tortillas, spread with the remaining salsa and top with cheese.
Bake for 30-45 minutes. Nothing here really needs cooked, so you just want to give your "lasagna" time to get hot and melty and mesh together. So scientific right?
Recipe by Megan Ware, RDN, LD. If you want to know more about me, click here.