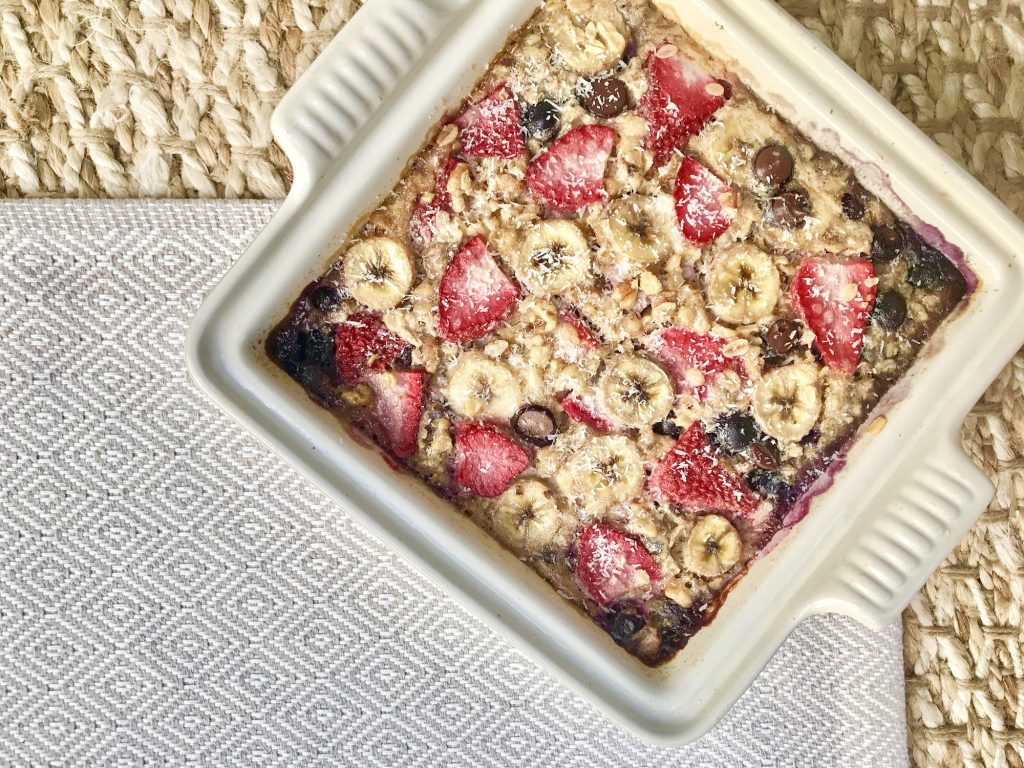 ---
Traditional bread pudding is made with cubed white bread drenched in custard and sugar. I love the texture of bread pudding so I decided to play around with creating a similar dessert with more wholesome and nutritious ingredients.
This Berry Simple Bread Pudding combines a few of my favorite things: oats, berries, and dark chocolate. It's a super simple recipe (you only need one bowl and one pan– you don't even have to get out the mixer!). I honestly couldn't believe how delicious this was. It's not one of those "healthy tasting" desserts you might be embarrassed to share.
I like it best served warm right out of the oven but it was great served cold the next day as well, it just depends on your preference.
Berry Simple Bread Pudding Recipe
Ingredients
1½ cups old fashioned oats
½ teaspoon salt
1 teaspoon baking powder
1 teaspoon cinnamon
1/3 cup brown sugar
½ cup walnuts
1 cup sliced strawberries
1 cup blueberries
1/3 cup dark chocolate chips
1¾ cups milk
1 egg
3 tablespoons butter, melted
1 teaspoon vanilla extract
½ banana, sliced
Optional: 1 tbsp unsweetened coconut to sprinkle on top
1. Preheat oven to 375 degrees. Spray an 8×8 baking dish with non-stick cooking spray.
2. Combine oats, salt, baking powder, cinnamon, brown sugar, half the walnuts (¼ cup), half the strawberries (½ cup), and all of the blueberries in a large bowl.
3. Pour the mixture into baking dish. Sprinkle on the remaining walnuts, strawberries and chocolate. Arrange the banana slices overtop.
4. In another bowl, whisk together the milk, egg, butter, and vanilla extract. Pour the liquid mixture into the baking dish over the oats mixture. Gently shake the dish to help the mix throughout the oats.
5. Bake for 50-60 minutes or until the liquid has set and top becomes golden brown. Enjoy!
Looking for more healthy dessert recipes? Try our Pumpkin Pie No Bake Protein Bites or Chocolate Cherry Almond Butter Bites.
Recipe and post by Megan Ware, RDN, LD. Learn more about us here.