---
Updated: 6/10/21
In today's world, convenience is king. We all want quick, healthy, on-the go options to keep us fueled throughout the day without having to spend hours in the kitchen. As a result, the number of ready to drink shakes on the market has exploded in recent years. Let's get one thing straight first: just because a company markets itself as a protein or nutrition shake does not mean it's good for you. Most are full of sugars or artificial sweeteners, refined oils, artificial colors, flavorings and other ingredients that are not real food.
The absolute best shake is one that you make yourself, using a simple protein powder and my easy shake recipe. When it's not possible to make your own, it's good to know which grab and go shakes to reach for and which ones to avoid. I tried a ton of shakes and evaluated them based on ingredients, nutrients, taste, consistency, and price, then picked the best of the best to share in this post. Please keep in mind that none of these shakes are perfect and that real food wins over a ready-to-drink shake every time.
Read on to find the best plant based protein shake for you and see if your go-to makes the cut.
I love these! You can get a little caffeine boost along with your 12g of protein (organic and plant based). Rebbl offers an added nutrition boost from ashwaganda and maca extracts plus some healthy fats from coconut milk. There's no weird artificial sweetener aftertaste or slimy texture from added gums or thickeners.
If you're not a fan of coffee, Rebbl also has other options with protein like the Dark Chocolate, Banana Nut, or Vanilla Spice. However, they have significantly more sugar than the cold brew (10g vs 17g). Rebbl products are harder to find and are mostly stocked by specialty stores like Whole Foods or Fresh Market. It is also on the expensive end so I'll only buy one at a time in a pinch, as opposed to keeping them stocked in case of emergency.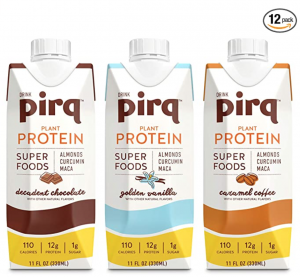 Great, simple ingredients for a ready to drink shake. My only qualm is that I wish it didn't have erythritol (a sugar alcohol). 12 grams of protein for 110 cals is pretty great, but probably not enough for a meal on the go for me. Would be better as a snack or add a handful of nuts and fruit for a quick lunch in the car.
Evolve is dairy, soy, and gluten free, non-GMO, vegan, and uses no artificial sweeteners. I'm really not sure how they made it taste good under all those restrictions but this one was one of my absolute favorites. The Toasted Almond flavor is a perfect substitute for almond milk (since most almond milks do not contain protein). You could use it as a protein boost for your oats in the morning or as a base for a smoothie.
Evolve has a thinner consistency than some of the other shakes which makes it easy to drink. Target usually carries a good variety of flavors.
Vega rocks it with 20g of protein per shake, plus added veggies and greens. The protein comes from a blend of hemp, pea, and pumpkin seeds. There are no artificial sweeteners or colors.
Orgain makes a few different types of protein shakes with either plant based proteins or grass fed whey. The Orgain shakes don't have that filmy consistency (like Muscle Milk or Atkins shakes). The vegan versions have 16g of protein coming from pea protein and chia seeds. They are easy to find in most grocery stores, which is why I usually keep a pack stocked in my fridge at work.
About the author: Megan Poczekaj, RDN, LD, is a registered dietitian nutritionist in Orlando, FL. She owns the private practice, Nutrition Awareness, where she teaches other entrepreneurs how to maximize their productivity and performance with nutrition. She is the author of the book The Optimized Life: A Nutrition Guide for Entrepreneurs and co-host of the Nutrition Awareness Podcast.
Disclosure: I was not paid by any of the companies above to review their products. One or more links are affiliate links. All opinions are my own.