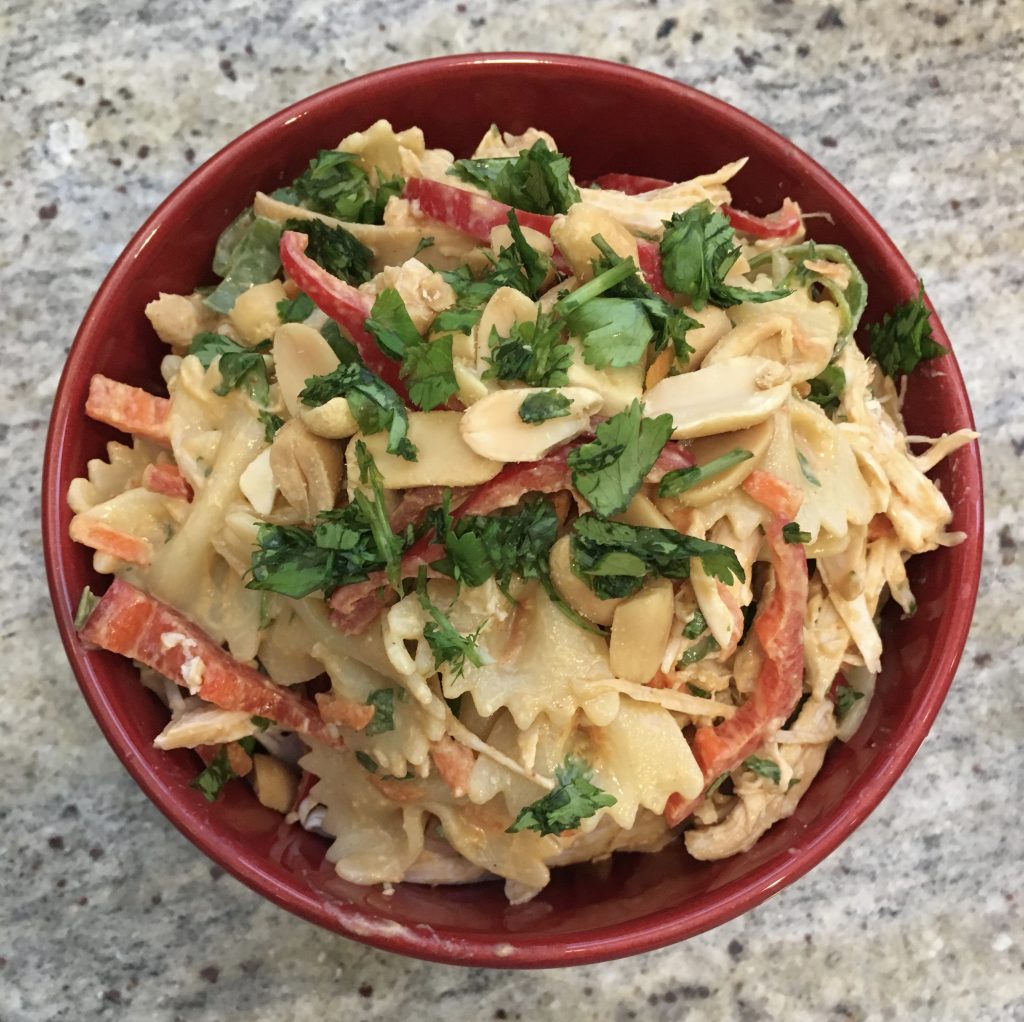 ---
Recipe Post by Megan Metropulos, MS, RD, LDN
When I started my first job after grad school, I'd pack my lunch for the next day every night before I went to bed. As much as I love cooking, packing my lunch was one of the last things I wanted to do at 9:30pm every night.
One day in the office, as I was eating said packed lunch, a coworker asked me if I made my lunch every night. I replied "yes," and she said "why don't you just pack them all on Sundays so you only have to do it once?" Aha! Genius. I'm not sure why I hadn't thought of that myself, but I guess those were the days before meal-prepping was a "thing."
Even my husband has gotten in on the Sunday night lunch packing party. I have to admit I've had some serious lunch envy when I see what he's made. He's the king of grain and pasta bowls, and his ideas are pretty creative (not to mention tasty). He's made Caribbean, BBQ, Greek, and Asian themed bowls.
This recipe is actually inspired by him. He's Greek, but he worked at an Asian restaurant while he was in high school. His love for a good stir fry might just rival his love for lamb. I'm pretty sure 90% of our date nights involve sushi or Thai food.
I love cold noodle salads in the summer, and they were made for prepping ahead of time. This Thai peanut pasta salad is perfect to have on hand for a few days' worth of lunches or dinners. Feel free to switch up the veggies or protein. I think it would also be delicious with tofu. Give it a try and let me know what you think!
Bow Thai Pasta Salad
For the sauce:
¼ cup + 1 tablespoon natural peanut butter
½ cup unsalted chicken broth (or veggie broth or water)
1 tablespoon fish sauce (you can use extra soy sauce if you don't have fish sauce)
1 tablespoon low-sodium soy sauce
2 tablespoons rice vinegar
1 tablespoon Sriracha hot chili sauce (we like spicy foods, use less if it's not your thing)
1 tablespoon honey
½ teaspoon lime zest
Juice of ½ lime
1 teaspoon chopped garlic
½ teaspoon ground ginger
For the pasta salad:
1 (12 ounce) box bow tie pasta (or pasta of choice)
½ cup shredded carrot
2 bunches green onion, thinly sliced, (approximately ½ cup)
½ cup chopped cilantro
½ cup thinly sliced red bell pepper

3 cups shredded rotisserie chicken
Garnish:
Chopped peanuts, cilantro, and lime wedges
1. Cook pasta until al dente, according to package instructions. Rinse with cool water and set aside.
2. Whisk all of the sauce ingredients together until thoroughly combined.
3. In a large bowl, add the cooked pasta and all other salad ingredients.
4. Pour the peanut sauce over the pasta salad and toss until all ingredients are evenly coated.
5. Refrigerate until chilled and serve cold.