---
If you're like me, you've seen the photos and videos of Havasupai Falls (Havasu Falls, for short) in your Instagram feeds or on Facebook in the past few years and thought "there's no way that's not photoshopped." Huge red canyon walls surrounded by bright blue-green water that almost looks like it's glowing? There's got to be a few filters. Even so, after reading about how tough it is to get there (a 10-mile hike in with 2400 feet in elevation change), hiking in with all your water and gear, and camping in the Grand Canyon, I felt like it would be an awesome challenge and the perfect way to celebrate my 30th birthday.
Now to start the travel research….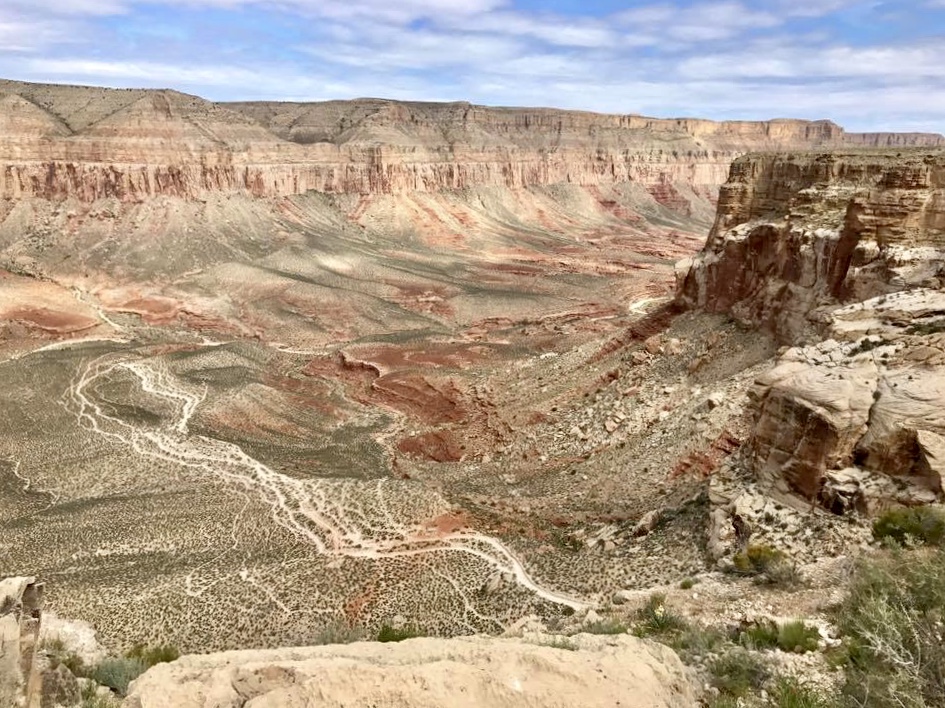 Havasu Falls is located on the Havasupai Indian Reservation within The Grand Canyon National Park. There's no convenient place to fly into when you're trying to get to Havasu. The closest airport is Las Vegas (4 hours) or Flagstaff (3 hours). Camping reservations are extremely difficult to get because the Havasupai tribe only allows a certain number of people onto their land per day to maintain and protect the integrity of their land. The best online advice we could find said to call the Havasupai tribe starting February 1st when this years' reservations opened up. Many sources said it could take days or weeks to get an answer, but to just keep hitting redial.
My boyfriend, my best friend, and I called hundreds of times (zero exaggeration) with no luck getting through for the first few days of February. Then by a chance Facebook post of a friend of a friend, we found out that the tribe had quietly launched a website where you could make online reservations. We tried to book online but found that reservations were completely booked for the rest of 2017. There is a minimalistic lodge you can stay in at the village about 2 miles from the falls, but those reservations were booked up too.
Our only other option was to book through a guide company that has a relationship with the tribe and is granted a certain number of passes for their trips. The downside was the cost (on our own it was $148.50 per person for 3 nights for camping and entrance fees plus $242 for a horse or a mule to help with carrying gear versus $1300 for a four-day trip with a guide company). The upside was that we wouldn't have to buy any gear like packs, lightweight tents or sleeping bags/pads, a stove, utensils, food, pillows, etc. That was all included. We also wouldn't have to worry about the logistics of getting to the trailhead (pick up and drop off from Flagstaff was included too). We decided to bite the bullet and pay for the trip because we figured reservations would be just as hard to get next year and we all had our hearts set on going (some more than others, I would find out later).
Our home for 4 days
Wildland Trekking had availability and good online reviews, so we booked through them. I can't even express how happy I am that we made that decision. Wildland took care of all of our gear, first aid, and meals. All we had to pack in is what needed for the hike (at least 3L of water, snacks, hat, sunglasses, camera). Our guides, Dara and Pete, went above and beyond in making sure that everyone was well fed, hydrated, and having a great time. Can you believe we had meals like chicken curry, blueberry walnut pancakes, a taco bar, pad thai, coffee and hot tea on demand, and nightly desserts while camping in the middle of nowhere? I expected trail mix, PB&Js and MREs.
So was the hike as bad as everyone says? We were pretty nervous about it living in Florida with no elevation to train in. The way in wasn't bad at all, at least not while carrying a day pack. The first mile and a half was a steep downgrade and the rest was relatively flat. We stopped halfway in and sat in the shade for lunch, then continued on another 3 miles or so to the Havasupai village. The village was essentially like a third-world country with a few stores, a school, and a few other buildings. There are no motor vehicles and the only way in and out of the village is by foot, horse, or helicopter. The Havasupai prefer for travelers to be respectful and not take photos of them or the village. Then we were off for another 2 miles or so to the main falls and the campground. The hike back out was definitely more difficult. As long as you are in decent shape, break in your boots, and put some time in on the stairmaster if you don't have elevation, you'll be fine.
It was around 4:30pm when we reached the main falls. We had some chill time and put our feet in the water while our guides set up camp and started dinner.
On day 2, we hiked another 7 miles roundtrip to Mooney Falls and Beaver Falls. First, we actually had to climb 90 feet straight down Mooney falls to get to the creek below. Half of the hike was in sandals through the creek and the other half was in boots through the woods.
By the time we got to Beaver Falls, everyone was ready to jump in the water to cool off. After a quick swim, Will asked me to get a photo with him at the edge of the falls. What happened next was a complete surprise…
My life is forever changed because *I said yes,* and entered a new decade of my life, but it also changed in several other ways. It got me back into group travel, which I had written off a long time ago. I met some amazing people from all over the country, had four solid days without cell service, and proved to myself that I could sleep outside for 3 nights without makeup or a shower. Having a chunk of time without internet, TV, or any connection to the outside world is so rare. It felt like a total reset.
Four days without email, social media, podcasts, Netflix, texts, or even a Kindle book might sound like a nightmare but being in that majestic of a place deserves your full attention. Not being able to call friends or family or share our engagement via social media for a few days made it feel even more special and we were able to enjoy it to the fullest without any distractions.
On the third day, our guides took it easy on us in preparation for the big hike out the next morning. We got to soak up some sun and explore some of the smaller, lesser visited (but equally as beautiful) falls. The wind picked up and made it too chilly for me to swim, but some of our group swam under a waterfall into a secret cave that Dara showed them (another pro of having a guide).
Going on a trip with Wildland Trekking inspired me to get outside more and just "be". To experience life without snap chatting every single exciting moment. To take a walk around the lake without filling my ears with music or a podcast. I realized that moments still count even when they're not captured. You can learn a lot (or at least laugh a lot) with complete strangers that end up becoming friends.
Remember what I said about thinking all the photos of Havasu are photoshopped? None of these photos have filters and they don't even come close to what you experience in person.
On the last morning, we woke up before sunrise to get all of our gear packed up and get an early start out. The first 8 miles or so went by quick before the elevation really kicked in. By the time we made it to the top, everyone was exhausted and ready for a hot shower and a beer but overall feeling happy and accomplished. According to my FitBit, we had done 40+ miles in 4 days!
This trip really showed me that there's a lot of the U.S. that I haven't seen that's worth exploring and that I don't necessarily have to travel internationally to get a cultural and out-of-the-box experience. We are already looking into our next adventure with Wildland, a 5-day hiking trip in Yellowstone. Who's in?