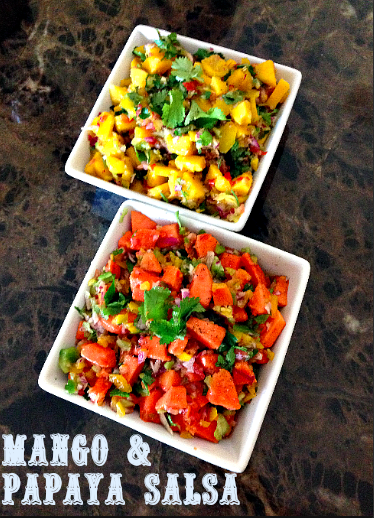 ---
Post and recipe by Arianna Soto, Nutrition Awareness Intern
Summer is the season of papaya, mangos, and melons. I stock up and eat them fresh as much as possible but I also like to work them into recipes. Salsas are super refreshing and are perfect to take to barbecues or to top a fish taco or salad. What better way to freshen up a plate with a mix of mango and papaya salsas!
Lately I've been shopping at Sedano's because they are selling their fruits and veggies for so cheap! I got 15 limes for 99 cents!
At work we had a potluck and so I decided to use all my cheap fruit finds and give a mango salsa a test run. Everyone loved it and asked for more, so the next week I I used papaya for a twist.
Have you ever tried a papaya salsa? Like all my recipes, its only a few short steps and super easy to make. I would usually chop up everything by hand, but this time went the easy route and used a food processor. Using the food processor will make the salsa a little more juicy, chopping will make it more chunky.
Both salsas share the exact same ingredients except for the actual fruit used. In the spring I would try this with strawberries. I hope you all fall in love with this recipe as much as I did and share it with your family and friends while the summer fruits are still ripe!
Mango Salsa/ Papaya Salsa
2 Mangoes or ½ Papaya

¼ cup of Jalapeno

⅓ cup of red and yellow bell peppers

1 medium tomato

½ cup of fresh cilantro

2 limes

½ cup of red onion

Dash of salt and pepper (to taste)
Roughly chop and combine all ingredients or process until desired consistency.
If you need help losing weight, improving your performance or increasing your energy, contact me at megan@orlandodietitian.tin or schedule your appointment here. Not in Orlando but still need some nutrition tips? We also do online or over the phone consultations.