---
This post is part of the Orlando Small Business Series, a feature highlighting entrepreneurs in Orlando doing their part to make our community a happier, healthier place. 
Ben Graves is the owner of My House Fitness, a top notch personal training studio in College Park (celebrating their 4th anniversary this month!). I've had the pleasure (or pain?) of working out with several of the trainers at My House and they kicked my butt! In 4 weeks of working with the trainers twice per week plus 2-3 of my own workouts, I saw a decrease in body fat % and a huge increase in strength (especially squats and bench press). 
Ben, how did you get into the fitness industry?
I'm kind of an unlikely fitness enthusiast.  I was obese as a child and young adult.  Although I was active and involved in sports, I always struggled with my weight. I just consumed WAY too many calories.  I was an accomplished weightlifter and football player, so carrying extra weight was not really bad for me in my chosen sports. After high school, I lost about 100 lbs. by establishing goals, tracking my weight, and cutting out binge eating. I learned more about food later when I, ironically, was diagnosed with late-onset Type1 diabetes in my mid-twenties. I've been able to manage the disease really well since I was already disciplined to my diet and exercise.
An opportunity for a career change came my way in 2012 and I had the choice to move out of state or stay in Orlando and find a new job.  I chose neither and decided to go into business for myself.
What influenced you to take the leap from having an interest to making it into a career?
My decision to make fitness a career was as a result of a process of elimination once I decided to go into business for myself.  As with weighing my options in previous jobs I'd taken, finding time to hit the gym and also have an appropriate work-life balance were big influencers.  I never wanted to take a job that would afford me financial success in spite of my wellness.  After considering so many options , from landscaping to carpet service, tax preparation to auto resale, I was left with only options that would compromise my time with my family and/or time to exercise.  Upon voicing my frustration to a friend of mine, he simply responded, "why don't you open a gym?"  The process was not as simple as the answer, but it's clearly been worth it. I started helping people with only a basic knowledge of fitness and my own success story.  I've learned so much as a student of exercise science and nutrition with the trust of many clients on their own journey of transformation to a more healthful lifestyle.
What did you want to be "when you grew up?" Did you ever think you would be an entrepreneur?
I always hoped I'd be an entrepreneur; for as long as I can remember anyhow. I think I wanted to be a comedian or truck driver when I was very little.  I'm not funny enough or patient enough for either of those. When I graduated college, I figured I would work for a company for a long time and retire with a pension and a big 401k, like my parents and grandparents before me.  I found that times have changed, however, and I had to move from company to company in order to progress in my career.  I have no entrepreneurs in my family, but I always really felt the itch and was kind of waiting for the opportunity to avail itself.  The career shift at my last job left me frustrated but also gave me the nudge I had been waiting for. It's certainly the best thing that's ever happened in my professional life.
What does your weekday morning routine like?
My weekday mornings vary now and they have changed over the years. When I first opened in College Park, I lived in Winter Springs and trained a LOT of my own clients.  I was up at 4am to be at the studio training and running classes by just after 5am.  I've since moved back to College Park and that affords me time to eat breakfast and start a little later. I have two children (1yr and 14yr) who often require some attention in the morning.  I have clients starting at 6:30am or 7am and I train those until late morning and then I get my own workout in. I don't like to work out first-thing if I can help it.  Now that the business is established, client relations and business-to-business communication is a big part of every day.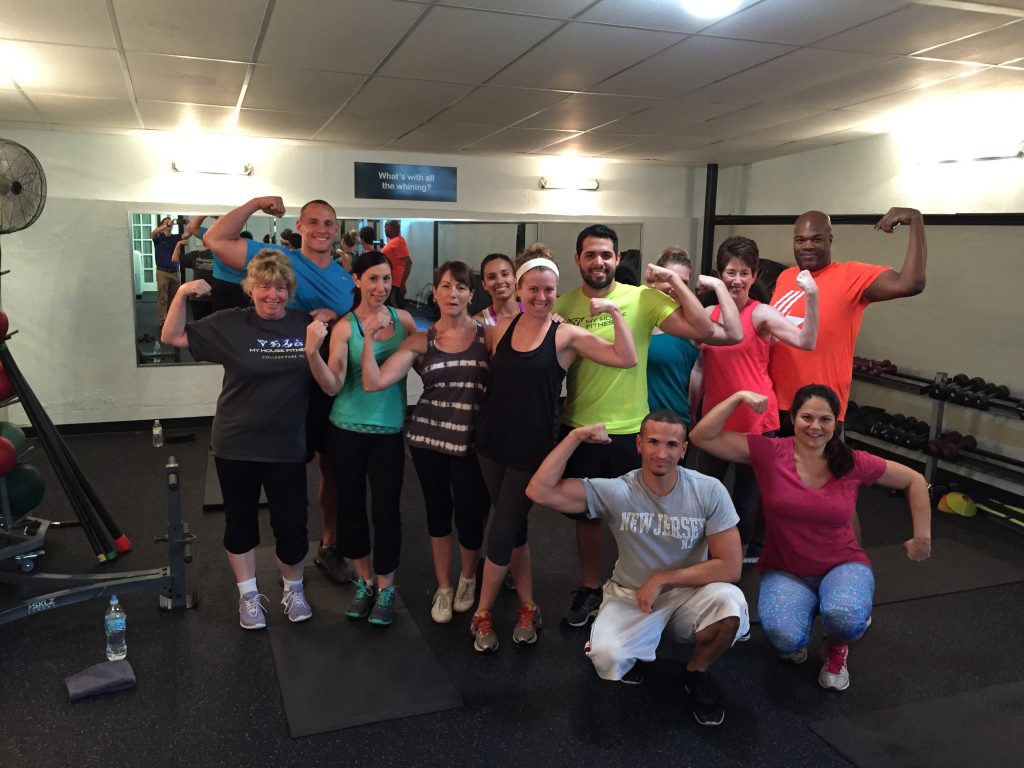 What's the best new (or just new to you) restaurant you've tried in the area?
There are so many great restaurants close by.  I don't eat out much, but when I do, I try to keep it pretty local and not a chain restaurant if I can help it.  Nova (Ivanhoe District) is the newest restaurant for me.  I've eaten there 3 times in 2 months, which is a lot for me. They treat their Ahi Tuna very well and they have some awesome more hearty dishes; like the 1409 burger, made with short rib and a poached egg.  If I plan ahead and make the calories fit, that burger is the way to go!
Do you have your own specific workout or physical activity routine?
I think I do.  I have been into fitness for so long and have worked toward lots of different goals. I've been a competitive power lifter and also a competitive endurance athlete. I was even a CrossFit enthusiast for some years. The extreme nature of each of those sports led me to various injuries and overuse conditions.  I've found that a balance of strength training, high-intensity cardio, and calisthenics works best for me now.  I try to listen to my body: lift and train heavy when I can and back off if I need to. Food really dictates body composition more than anything.  I get to eat more when I'm training harder. So, that's always motivating. I still like to eat.
Do you follow any certain diet?
Since I'm diabetic, I need to be conscious of my carbohydrate intake.  I follow a macronutrient diet. So, I establish my calorie needs based on my current weight and body fat percentage and make adjustments according to my goals. It's pretty simple math and it has worked well for me as a diabetic and as an athlete of sorts. I probably eat a ratio of more protein and less carbs than most people because carbs have such an impact.
What is your favorite book or documentary?
I'm a big Stephan King fan, so all of his works. However, my favorite single book is A Land Remembered by Patrick Smith. I have read that book several times and I think it's the only book I've ever read more than once. It's a simple read, first as a high-school book assignment, but as a Floridian, I think it's fascinating. It's historical fiction that takes place over 3 generations of early Florida up to the early 20th century. I guess I recommend it.
What was your most recent purchase of $100 or less that has the most significant impact on your life?
Shoes. I buy a pair of shoes every year that I wear every day to work. I switched to a minimus-style shoe years ago and they are great for the type of cross-training I enjoy. They provide a great foundation for squat and deadlift and are a good profile and weight for sprinting.
Who do you look up to and why?
I look up to my wife. She is an example of determined balance in all things. She's more pleasant and patient than I could ever hope to be. She's rooted in her faith and an unwaveringly loving parent to our daughter and my son (from a previous marriage). She is disciplined in fitness and work and her demeanor would suggest she's on vacation every day. She really inspires me to work hard, play hard, pray hard and smile.
What's the worst job you've ever had?
I worked nights as a food-safety auditor and pest control specialist (same job). That was the worst job for me. It was a fine company, but I'm not built for working nights and I HATE rats.
What is one thing you do or believe that other people think is crazy?
Since I'm really routine-oriented and kind of quirky, I probably do a lot of things that other people think are crazy, between workout and diet obsessions.  Most notably, however, I number my socks. I get the most feedback about that I guess. I want them to wear evenly over time and I buy really expensive socks that last years to over a decade. So, a 1 year old sock is going to be significantly different from a 7 year old sock.  They need to match, you see.
What advice would you give yourself at 18?
I'd tell myself to wait. I had to do everything right away. I was very anxious. I think it's because I was kind of lazy as a teenager, I was trying to make up for lost time and I still had my whole life ahead of me.
Any My House specials you would like to mention to readers?
Something that sets our studio apart from the many other fitness is our Comprehensive Wellness Evaluation. This is a 1½ hour initial session where we establish the client's baseline for body composition, strength, cardiovascular endurance, flexibility and the goals for progress going forward.  I'd like to offer this $99 Comprehensive Wellness Evaluation as a complimentary (FREE) initial service to any of your readers who would like to start training with us at My House Fitness of College Park.
I can personally vouch for the Comprehensive Wellness Evaluation. It showed me my weak points and what I needed to work on and I loved seeing how much progress I made during my reevaluation.
Thank you Ben for being a part of the Orlando Small Business series and working to make Orlando a healthier city!