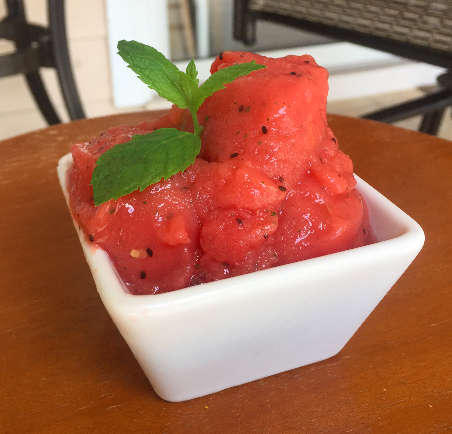 ---
If you guys haven't noticed yet, it's been a very hot summer! Time to bring in some refreshing recipes to our tables! I just made a delicious all-natural Watermelon Kiwi Sorbet with mint– doesn't it just make you want to say "ahhh"?
I recently wrote an article about mint and some unexpected health benefits it has. Mint has vitamins and minerals such as potassium, calcium, and vitamin A. While mint alone is great as a flavor enhancer, adding it to other fruits can create an explosion of fresh new flavors!
Something magical happens when watermelons and kiwis join forces. Not only are they full of antioxidants, they are super hydrating. Add some mint and you get the taste of summer!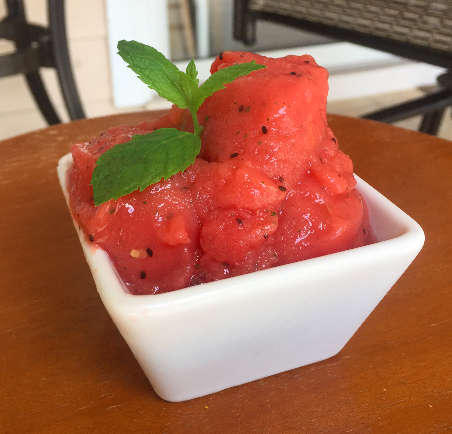 Watermelon Kiwi Sorbet
2 thick watermelon slices
2 kiwis
5 fresh mint leaves
⅓ cup of almond milk (we recommend Elmhurst)
Cut 2 thick slices of watermelon and use a spoon to scoop out only the red part. For the kiwi, cut both ends of the kiwi and use a spoon to scoop out the inside, removing the skin.
Place the watermelon and kiwi in a bowl and freeze for about 5 hours or overnight.
Add the frozen fruit and mint leaves to a blender or food processor ( I used the ninja blender) and blend until smooth.
Separate into 2 bowls and freeze until desired thickness (about 2 hours).