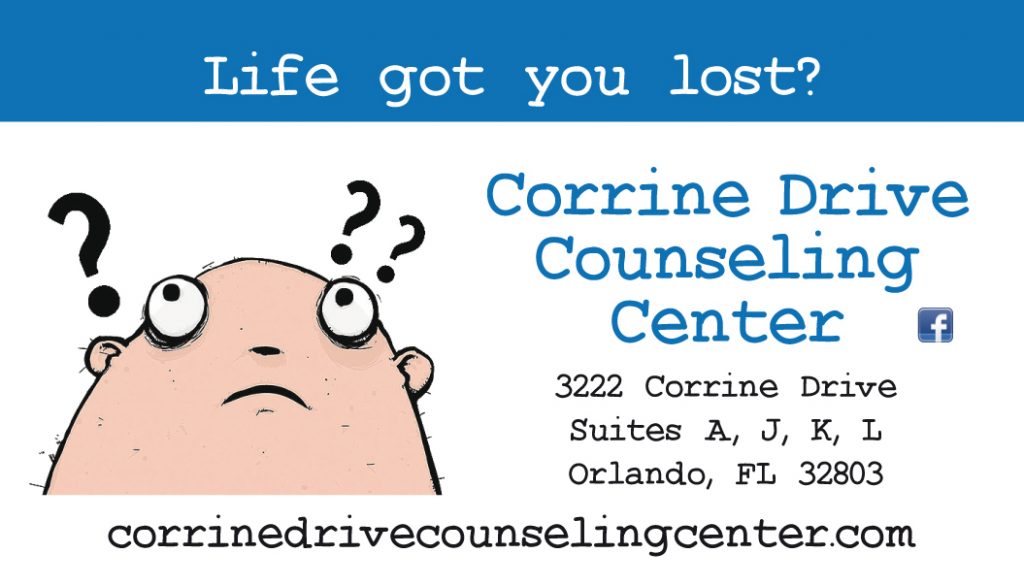 ---
Last month I launched the new Orlando Small Business Series, a monthly feature highlighting entrepreneurs in Orlando who are doing their part to make our community a happier, healthier place. This month I interviewed Joe Salg, a certified sex therapist and licensed mental health counselor.
Joe has been in private practice in Central Florida for the past 16 years and started the Corrine Drive Counseling Center (CDCC) in 2009. He works predominantly with ages 18-65 addressing sexual dysfunction, mood disorders (depression, anxiety, bipolar), conflict resolution, relationship and communication skills, family changes, self-esteem issues and sexual orientation/sexuality.
I can personally vouch for the awesomeness that is CDCC because I've been a part of it for the past year now (can't believe it's been a year already!) With starting CDCC, Joe has given other counselors/entrepreneurs the opportunity to rent space and start or grow their own businesses, collaborate with each other and form a team environment. CDCC is in a great location in Audubon Park (right across from East End Market) and brings together a variety of counselors specializing in everything from grief and trauma to career counseling.
Joe, why did you start CDCC?
Working in a private setting can be somewhat isolating… so I started CDCC for two main reasons: 1) to surround myself with peers, 2) to reduce the costs of running a business as a single person.  What's unique about CDCC is that the counseling center is comprised of individual practitioners who are independent contractors, each responsible for their own practice… so I don't have employees… we are a group of providers working under one roof together in name and mission.
What exactly is a mental health counselor?
A therapist must meet/exceed the requirements set forth by the Florida Board:  Mental Health Counselors are required to have obtained at least a Master's Degree in the field of psychology, mental health or related field.  A licensed counselor has worked in the field for at least two years full-time after graduation and has passed the state licensure exam.  A non-licensed counselor must work under the supervision of a licensed counselor until post-graduation hours are fulfilled.
A counselor works in the trenches with a client dealing with the daily stressors and details of their most secret struggles… in attempts to move the person to a better place emotionally, personally or relationally.
What kind of clients do you see and what is a common reason to seek out a mental health counselor?  A very common reason is relationship crisis.  Thankfully I enjoy working with couples in various stages of relationship.  My specialty is LGBT individuals/couples and more recently sex therapy.
What made you take the leap from having a career in mental health to starting your own business?
I made the decision to be an entrepreneur after working for the public school system… lots of hours and not enough money.  I survived 3 years as a guidance counselor for Orange County Public Schools before taking the risk of going out on my own.
What did you want to be "when you grew up?" Did you ever think you would be an entrepreneur?
As a child, I wanted to be a robot scientist… as a teen, I wanted to be a singer… never did I think I would be a counselor!!  I made the decision to pursue my current career after entering therapy at age 19
What's the worst job you've ever had?  Burger King… I only made it two days before quitting.
What's the best part of owning your own business?  The flexibility!: hours, days, vacations… and the ability to make executive business decisions.
What is your favorite book or documentary?  The Missing Piece Meets The Big O by Shel Silverstein… a cute metaphor about healthy relationships
What was your most recent purchase of $100 or less that has the most significant impact on your life?  
Coffee… and paper towels.  Two staples that I can't live without.
What's your favorite restaurant in Orlando?  Hillstone in Winter Park b/c of the beautiful lake-front drinks before dinner!
Do you follow a specific workout or physical activity routine?  Until recently, no.  My sedentary job and my great-cook-of-a-spouse has forced me to hire a personal trainer two days per week 😉
What advice would you give yourself at 18?  Do it NOW instead of planning on doing it later.
Thank you Joe for being a part of the Orlando Small Business Series and doing your part to make Orlando a better community!
Be sure to check out last month's featured entrepreneur, Elsie Blass.