---
After trying HelloFresh (read my review here), I decided to give Blue Apron a go. They are the same price, about $59 a week for 3 vegetarian or pescatarian meals for 2, but that's really where the similarities ended.
Instead of organizing the ingredients by recipe, Blue Apron lumps everything together. The good part about that is that it cut way down on the packaging compared to HelloFresh. My order was delayed by one day "because of snow." I live in Florida, so that gave me a clue as to how far the food was traveling.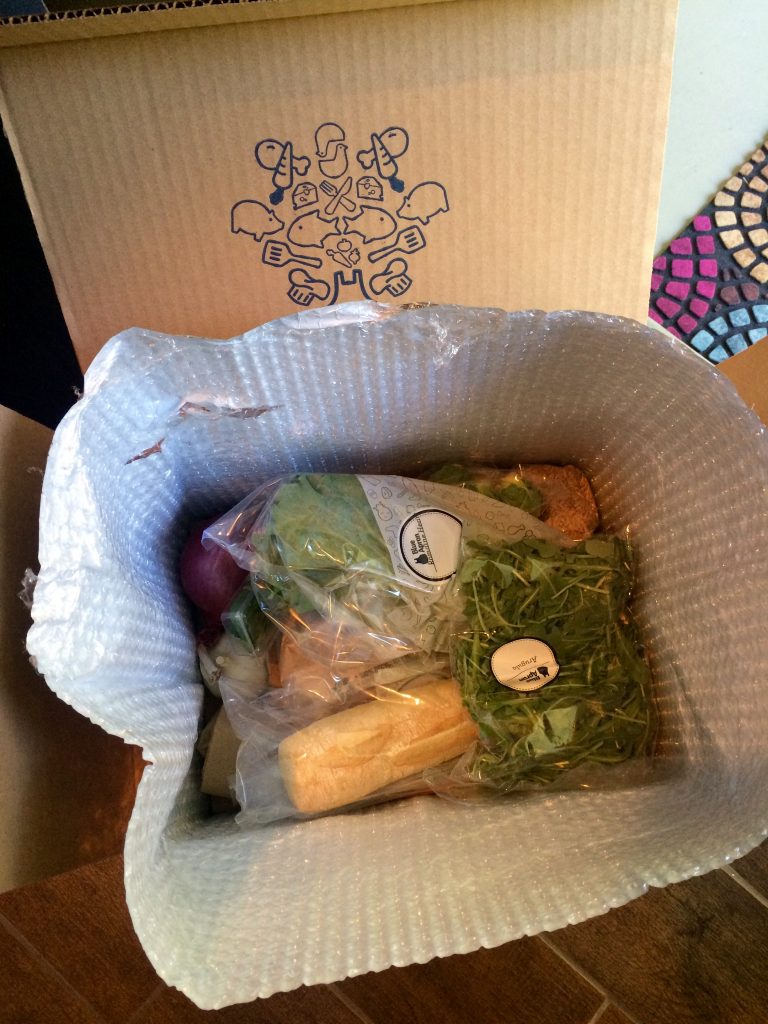 The recipes I received definitely seemed more "gourmet." While HelloFresh was simple and straightforward, the Blue Apron recipes were more exciting and adventurous. My delivery included Cod & Potato Brandade with Watermelon Radish Salads & Garlic Toast, White Pizza with Baked Eggs & Arugula-Brussels Sprout Salad and an Heirloom Carrot & Toasted Farro Salad with Labneh Cheese & Pickled Dates. I hadn't ever heard of watermelon radishes or labneh cheese so I was super excited to try out these new recipes.
Each recipe is broken down into 6 steps with photos. Sounds easy right? The problem is that each step is broken down into another 5-10 steps within. For the first recipe I made (the Heirloom Carrot & Farro Salad), I needed 3 separate pans, a chefs knife, a cutting board, a peeler, a spatula, a spoon and a baking pan. A lot of the steps started overlapping each other and I burned the carrots while the almonds were toasting and the farro (an ancient grain) was boiling. It was not a relaxing or enjoyable experience like I had with HelloFresh. The dish turned out horrible and it wasn't worth the 670 calories per serving. I turned it into 3 portions instead of 2, but I didn't even finish mine. It was just was not a good flavor combo.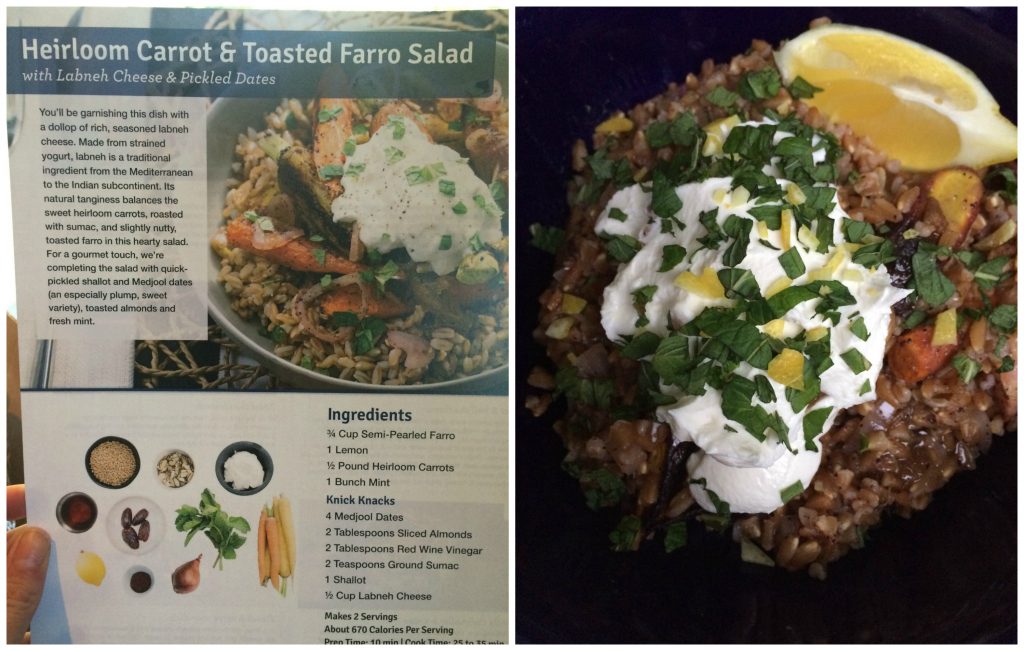 The pizza was a little less labor-intensive and turned out gorgeous as well as delicious. Probably one of the best pizzas I've made at home and it had me re-thinking this whole Blue Apron thing. Making the cod recipe was a similar experience to the first, with a lot of dirty pans and utensils and a lot going on at once. The estimated cooking time of 25-35 minutes was way underestimated. The end product was decent and was again worth about 3 portions instead of 2.
Over all, with time and labor-intensive recipes, a very dirty kitchen and a high calorie dinner at the end of the day multiple days in a row, I felt exhausted by Blue Apron and was only really impressed by 1 out of the 3 dishes. However, I forgot to cancel my subscription in time, so I ended up getting another delivery the next week. This time I got a Tuscan Ribollita Soup with Soft-Boiled Eggs & Lacinto Kale, Shrimp & Pineapple Fried Rice with Toasted Cashews & Sambal Olek, and Creamy Lemon Linguine with Caramelized Onion, Chard & Walnuts. I ended up liking all of the finished products but it wasn't enough to make me want to order again.
The portion sizes were consistently larger and in turn so were the calories. Hellofresh provided enough for a strict 2-meal portion with no leftovers and seemed to place more of an emphasis on health, although both provided "real" unprocessed ingredients. The larger portion sizes could be a pro or a con. Depending on how disciplined you are, you'll either end up with a bonus lunch the next day or just eating too much the night before. HelloFresh also seemed to do a little more of the prep work for you (ex: already diced butternut squash).
Blue Apron seems to cater to someone wanting a more "elevated" meal, already has experience in the kitchen, and doesn't mind putting in a little more effort. I get Food & Wine magazine in the mail monthly, but I only actually make one of their recipes about once a month because they either require some crazy ingredient you can't find, buying a kitchen gadget that I'll never use again, purchasing 25 ingredients I don't already have or a 3-hour prep time. Blue Apron was kind of like that– it sounds exciting and looks good, but it's not worth the effort 3 nights a week when you don't end up with leftovers for the next few meals. I like simple, I like relaxing, and easy so I think HelloFresh is more my style.
Next up for a review: GreenChef, who focuses on organic, sustainable ingredients.