---
This is my 3rd year being part of the Great Food Blogger Cookie Swap. If I'm being honest, every year I contemplate not doing it. I'm not a very good baker. I've gone through the phase of trying to mask black beans in brownies, chickpeas in cookies, decrease the sugar, sub out the oil for applesauce and all the other things dietitians do to try to make dessert a little healthier. Not many of those recipes made it to the blog because if I'm being honest, most of them sucked. I've figured out that if I want dessert, I want it to be GOOD. I want it to be worth the time and effort in the kitchen. I don't want this flat-as-a-pancake cookie with an itty bitty hint of hummus taste that I end up having to eat all by myself because everyone is eating the real thing. It's like fat-free cheese. You end up using twice as much as you normally would trying to get the same taste and texture of the real thing, so in the end you're just less satisfied than if you would have had a smaller portion of the good stuff.
So I've given up on "healthifying" cookies. With that being said, I'm pretty sure I hit the jackpot with these Double Dark Chocolate Expresso Cookies. Don't shy away if you don't like coffee. Putting expresso in chocolate-based recipes just intensifies the chocolate flavor, it doesn't make the cookies taste like coffee at all. Chocolate expresso brownies, chocolate expresso cheesecake, chocolate expresso truffles… you can't go wrong. And the sea salt on top? Like icing on the cake.
So what is this cookie swap? Basically, it's a Secret Santa for food bloggers that benefits Cookies for Kids' Cancer, an organization that helps raise funds for treating pediatric cancer. You bake three dozen cookies from an original recipe and send them to 3 bloggers around the country that you've been matched with and you get 3 dozen surprise cookies back. You only have to make one kind of cookie, but you end up with 3 different kinds. Score. And of course they're all awesome because these are all food bloggers we're talking about.
I always suspect the other bloggers are a bit bummed when they open their box and see cookies from a dietitian but I promise there will never be any applesauce, Greek yogurt or broccoli hiding in your treats.  This year I received Vanilla Chai Shortbread Cookies from Rebecca at Sugar and Soul Co, personalized soft gingerbread molasses cookies from April at Mama Loves Food and swedish-style Christmas cookies from Julie at Bread Booze Bacon. It's pretty great getting a dozen new cookies every week during this time of year.
I've come to this conclusion when it comes to desserts: you can have your cake and eat it too. And it doesn't have to be low calorie or sugar free or paleo cake, because living a healthy lifestyle means indulging on occasion. Swearing off certain foods or food groups and choosing to forgo the one time a year you get to have grandma's gingerbread isn't sustainable. Stay active, eat your veggies and cook or assemble most of your meals at home and there'll be room for your favorite Christmas cookie. Choose the things that you really want and skip the mushy fruitcake or obligatory candy cane. Tis the season!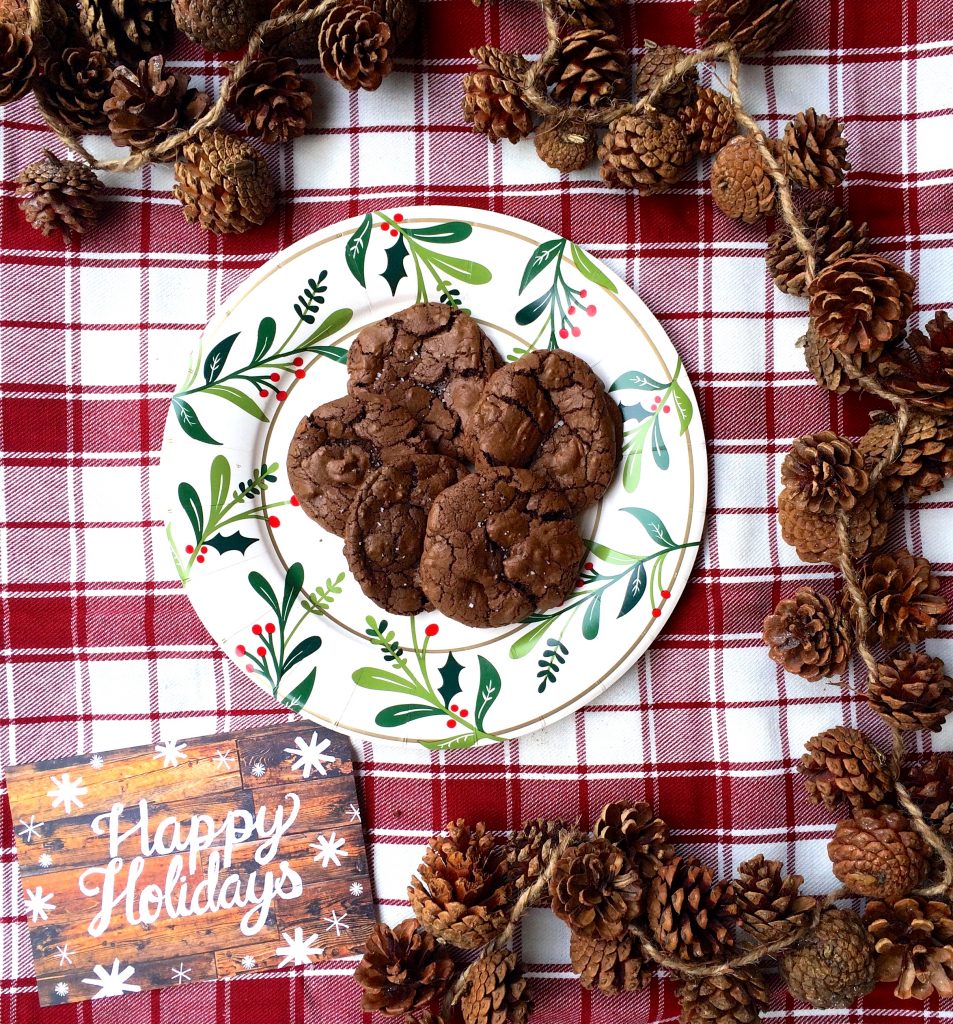 Double Dark Chocolate Salted Espresso Cookies
Ingredients
1 cup all-purpose flour
½ cup cocoa powder
1 tsp baking soda
1 tsp cinnamon
1 stick butter, room temperature
1½ cups sugar
2 large eggs, room temperature
1 tsp vanilla extract
1 tbsp ground espresso
8 ounces dark chocolate chips, 4 ounces melted
Instructions
Preheat oven to 350 degrees, with racks in upper and lower thirds. In a medium bowl, whisk together flour, cocoa, baking powder, and salt; set aside.
Using an electric mixer, beat butter and sugar until light and fluffy. Add eggs, one at a time, beating well after each addition; mix in vanilla. Combine espresso powder and melted chocolate; beat into butter mixture. With mixer on low, gradually add flour mixture; mix just until combined. Fold in chopped chocolate.
Drop dough by two heaping tablespoons, 3 inches apart, onto two baking sheets. Bake until edges are dry, 14 to 15 minutes, rotating sheets halfway through. Transfer cookies to a wire rack to cool completely.