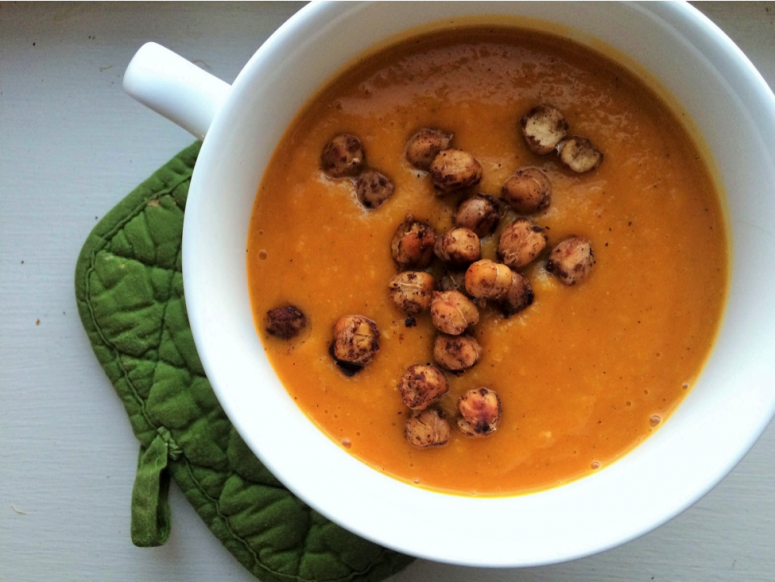 ---
Post by Mary Curnutte, Nutrition Awareness Intern
The holidays are starting to come around. For me that means wanting to consume alllll the fall flavors. Spiced apple desserts, pumpkin everything… lots of comfort food. The business of the season, colder temperatures and shorter days makes it easier to excuse snacking on sugary fall treats instead of wholesome, nutritious foods.
But the best thing about fall is that it brings some of the best produce into season as well. Pomegranates, butternut squash, beets, cranberries and sweet potatoes make whipping up something easy, healthy, and fall flavored a cinch. This soup is as easy as it gets with minimal ingredients, minimal time,and delicious flavors. Pair this with any leftover protein and a good slice of whole wheat bread and you have a hearty, healthy, fall meal.
Round out your soup with fun chickpea toppers for an extra crunch, blast of cinnamon and a little extra protein. You can also top it with pumpkin seeds, sunflower seeds, or homemade whole grain croutons.
Simple Butternut Squash Soup
Ingredients
For soup:
1 butternut squash
4 cloves garlic
2 cups vegetable stock
1 tablespoon olive oil
1 tablespoon maple syrup
½ tablespoon salt
½ tablespoon pepper
For optional chickpea topper:
1 can chickpeas
Olive oil spray
1 tablespoon cinnamon
½ tablespoon nutmeg
½ tablespoon clove
Salt and pepper
Directions:
1. Preheat the oven to 400*F.
2. Peel and core the butternut squash. Dice into pieces about an inch wide.
3. Place the diced squash and garlic cloves on a pan and roast in the oven until the squash is fork tender, about 25 minutes. In the meantime, start the chickpea toppers.
4. Place the hot, roasted butternut squash, garlic, and the rest of the soup ingredients in a blender or food processor. Blend to smooth. If needed, place in a pot on the stove at low to medium heat and simmer until heated through.
Top with chickpeas or any nuts and seeds.
To make chickpea toppers:
1. Drain and rinse the can of chickpeas. Place on a pan.
2. Spray with oil, then sprinkle with the seasonings. Feel free to use any seasonings you want.
3. Place in the oven until crispy, stirring occasionally, for about 25 minutes. If you are making these right after the squash goes in the oven they should be done about the same time the soup is done.