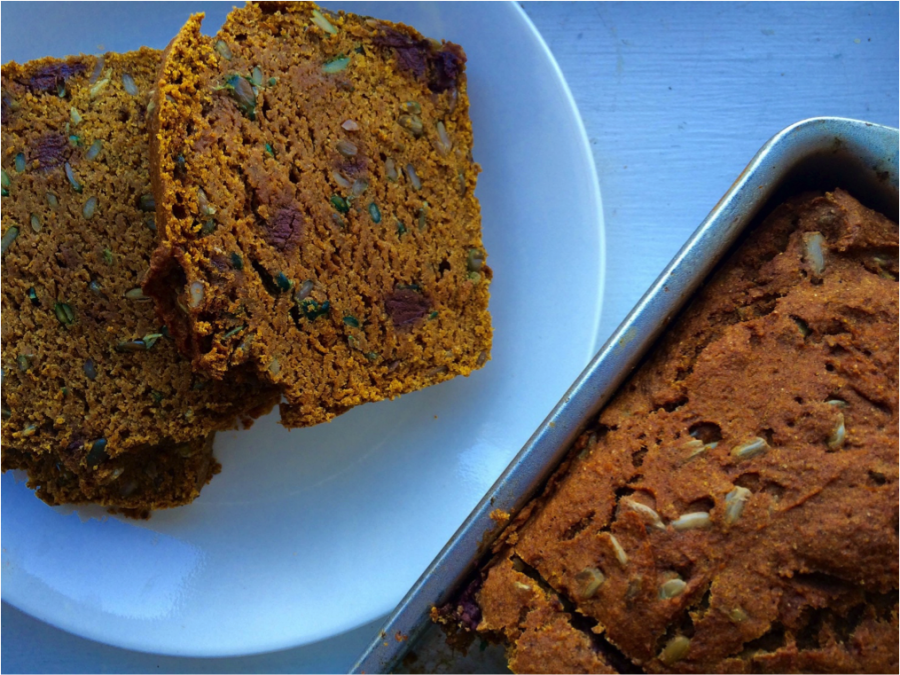 ---
Post by Mary Curnutte, Nutrition Awareness Intern
You need a game plan for a filling breakfast over your holiday break. DO NOT skip breakfast in anticipation of a big meal later, you'll only end up getting overly hungry and eating more in the long run. Trick your family into thinking they're getting a treat for Thanksgiving breakfast with this healthy pumpkin bread! You're probably tired of having to refrain from eating the massive amounts of pumpkin treats available everywhere, so give yourself a break and indulge in this veggie-filled, nutrient-dense, breakfast bread.
Bread itself is not your enemy, however the refined white flour that most breads are made from have most of the vitamins and minerals removed and are digested quickly, leaving you hungry soon after eating. Whole grain flours on the other hand are high in B vitamins, minerals such as iron, zinc, copper and magnesium and are packing with filling fiber. The fiber and complexity of whole grains are digested slower and will keep you full longer. Carbohydrates are also a necessary form of energy for our bodies to function. Without them, we will be hungry, cranky, and low in energy.
Bonus: This recipe is only four steps, is made with clean ingredients and won't leave you with that post-cupcake/muffin/cookie coma feeling. It has healthy fats and extra nutrients from the pumpkin and seeds (you are putting a vegetable in this bread after all).
Offer this to the fam for breakfast this week and no one will even realize you're giving out something healthy (you're sooo sneaky!). Or, make it when you're craving a pumpkin treat at home and put a little almond butter on it for a hearty snack.
Ingredients:
¼ cup milk (I used soymilk)
½ cup olive oil
½ cup maple syrup
1 tbsp. vanilla extract
1 can pumpkin puree *Be sure not to get pumpkin pie filling, the only ingredient should be pumpkin
2 cups whole wheat flour
1 tsp. baking soda
1 tsp. baking powder
2 tsp. ground cinnamon
1 tsp. clove
1 tsp. allspice
½ tsp. nutmeg
½ tsp. salt
1 cup chopped walnuts, pepitas, sunflower seeds, or any mixture of nuts or seeds you want
1/3 cup dark chocolate chips, optional but delicious
Directions:
Preheat the oven to 350*F. Spray or grease a loaf pan.
Put the milk, oil, maple syrup, vanilla extract, and pumpkin in a blender and blend until smooth.
In a large bowl, combine the rest of the ingredients. Pour the mixture from the blender into this bowl and combine using as few strokes as possible.
Pour batter into a loaf pan, smooth the top, and place in the oven for about 1 hour. When the loaf is done, a toothpick will come out of the loaf clean. Transfer to a plate to cool.
For 1/12th of the loaf: Cal 226 Fat 11g (0g trans fat and 2g sat fat) Carbs 29g Protein 5g