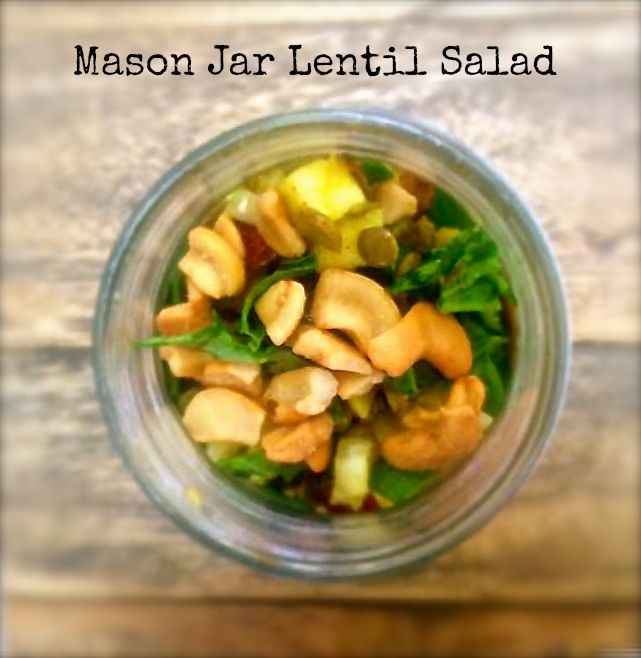 ---
Recipe and post by Mary Curnette, Nutrition Awareness Intern
Mason jar salads are all the rage! It's only the coolest way to get your veggies in… duh! You can layer the greens on the bottom, add the crunchier veggies, then the protein and the salad dressing last. Wait to shake and mix the dressing until you're ready to eat it. It's a great way to pack a salad on the go without it getting all mushy and slimy.
And please tell me you've tried lentils. If not, you need to get to it. They're like little baby beans of awesomeness. They are packed full of protein, fiber, folate, and iron and are part of the legume family.
What is a legume anyway? Basically it's any veggie with a seed or pod. Think peas, beans, chickpeas, soybeans, and peanuts.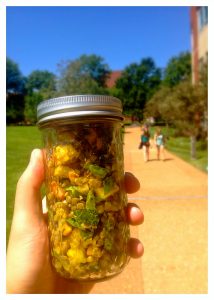 In this mason jar salad, the flavors of the dressing with the lentils can get even better with a day or two in the fridge. The other great thing about this recipe is its versatility. Clean out your fridge and add in whatever needs used up! Plus, the homemade vinaigrette recipe can be doubled or tripled to use on green salads throughout the week.
Everything is better in a mason jar right?
Salad base:
2 cups dry lentils
2 red apples, diced
1 medium onion, diced
Vinaigrette:
1/3 cup extra virgin olive oil
¼ cup apple cider vinegar
1 tbsp maple syrup
1 tbsp mustard
2 tsp salt
2 tsp pepper
2 tsp cumin
1 tsp turmeric
1 tsp ground coriander
1 tsp cinnamon
½ tsp nutmeg
½ tsp cayenne pepper
Add-ins:
Shredded spinach, arugula, or any other leafy green
Walnuts, cashews, sunflower seeds, or any other nut or seed
Fresh herbs
Sprouts
Chopped crispy veggies
Directions:
1. Rinse and drain lentils. Place in a pot, cover with water, bring to a boil, reduce to simmer. Check the lentils around 15 minutes, but they may need 20 minutes of simmering. Air on the side of undercooked rather than overcooked as this salad is better when the lentils are still left a little crunchier.
2. While the lentils are cooking, make the vinaigrette by combining all the ingredients and whisking to combine. The oil and vinegar don't mix well so you will need to whisk this dressing before pouring it over the lentils.
3. Small dice the apples and onion.
4. When the lentils are done, rinse with cool water. Place in a bowl along with diced apples and onion. Add vinaigrette and mix.
If eating immediately, mix in any additional add-ins. If saving for later, place in an airtight container in the refrigerator. Add the other extras right before serving, or layer on top of the lentils in a mason jar.
Now take this purdy salad in a jar to your next lunch meeting and embrace the food envy of your coworkers across the table.
If you're looking for more cool ways to use lentils, try Megan's Spaghetti & Lentil Meatballs, Anne from Fannetastic Food's Sweet Potato and Lentil Chili, or the Lean Green Bean's Lentil Banana Muffins.