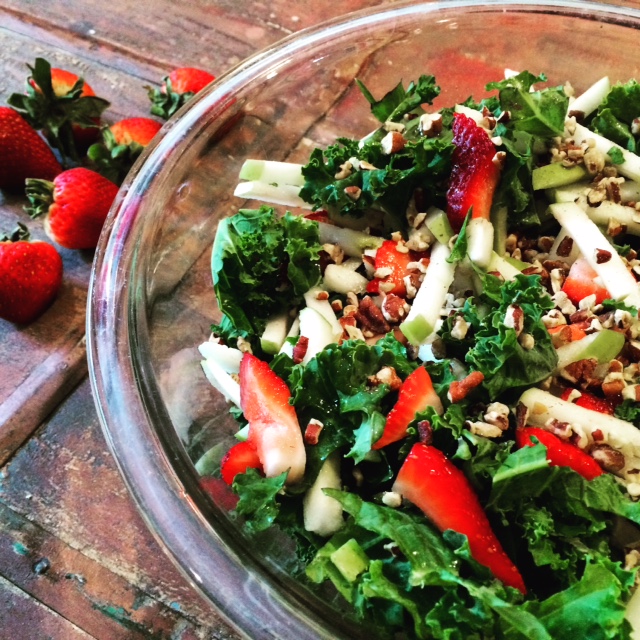 ---
Is it ever so hot outside that you just can't imagine eating a hot lunch? When all you want is something juicy and refreshing? That's how I've been feeling lately (95 degrees plus every day in Orlando, not that I'm complaining!) and where the inspiration from this Sweet Summer Salad comes from.
Summer typically equals more salads, but I'm just not your typical run-of-the-mill salad eater. A house salad with a few shreds of carrot and a lonely cherry tomato rolling around on top a bed of wilted iceberg lettuce is just as much my nightmare as it is yours. Shocking, I know. A salad's gotta have the good stuff for me to want it. This is the good stuff.
Plus:
You can utilize those freshly picked in-season summer strawberries.
You get tons of nutrients and fiber.
You can make a big batch ahead of time to take to a picnic or divide into individual serving sizes for lunch.
It works as a side or as a main.
It fits in with your new "beach-body" aspirations.
With only 5 ingredients and minimal prep time, it's ready in 10 minutes or less– no oven or stovetop needed.
If you want some added protein and staying power, throw on a baked chicken breast or a piece of salmon.
In case you're still not convinced, I even have proof that it's delicious from my certified recipe taster:
Sweet Summer Salad
Prep Time: 10 minutes
Yield: 4 salads
Ingredients
1 6 oz. bag of kale, baby kale or spinach
1 large granny smith apple, julienned
3/4 cup of strawberries, diced longways
4 tablespoons chopped pecans
2 tablespoons pure maple syrup
Instructions
Combine all ingredients in a large bowl with a lid, then shake to coat evenly.
Notes
Or, you could combine the apples, spinach and strawberries in 4 separate containers then top each salad evenly with 1 tablespoon of pecans and 1/2 tablespoon of maple syrup.