---
Let me preface this by saying that I've never wanted to go to Iceland. There are many, many countries on my list of future trips but Iceland didn't make that list. I usually think visiting cold places are a waste of a vacation. I could live in a jungle, never see another snowflake again and be perfectly happy (ecstatic really). So how the heck did I end up in Iceland?
I was looking for flights to England and saw some good prices through Iceland Air on a third party website. I decided to go straight to Iceland Air's site to see if I could get a better deal, when I came across an option to stopover in Reykjavik (the capital of Iceland) on the way to London for anywhere from 1-7 days for no extra charge. I was going to have to stop there if I flew Iceland Air either way, so why not? I literally googled "things to do in Iceland," looked at the images and booked my flight 20 minutes later.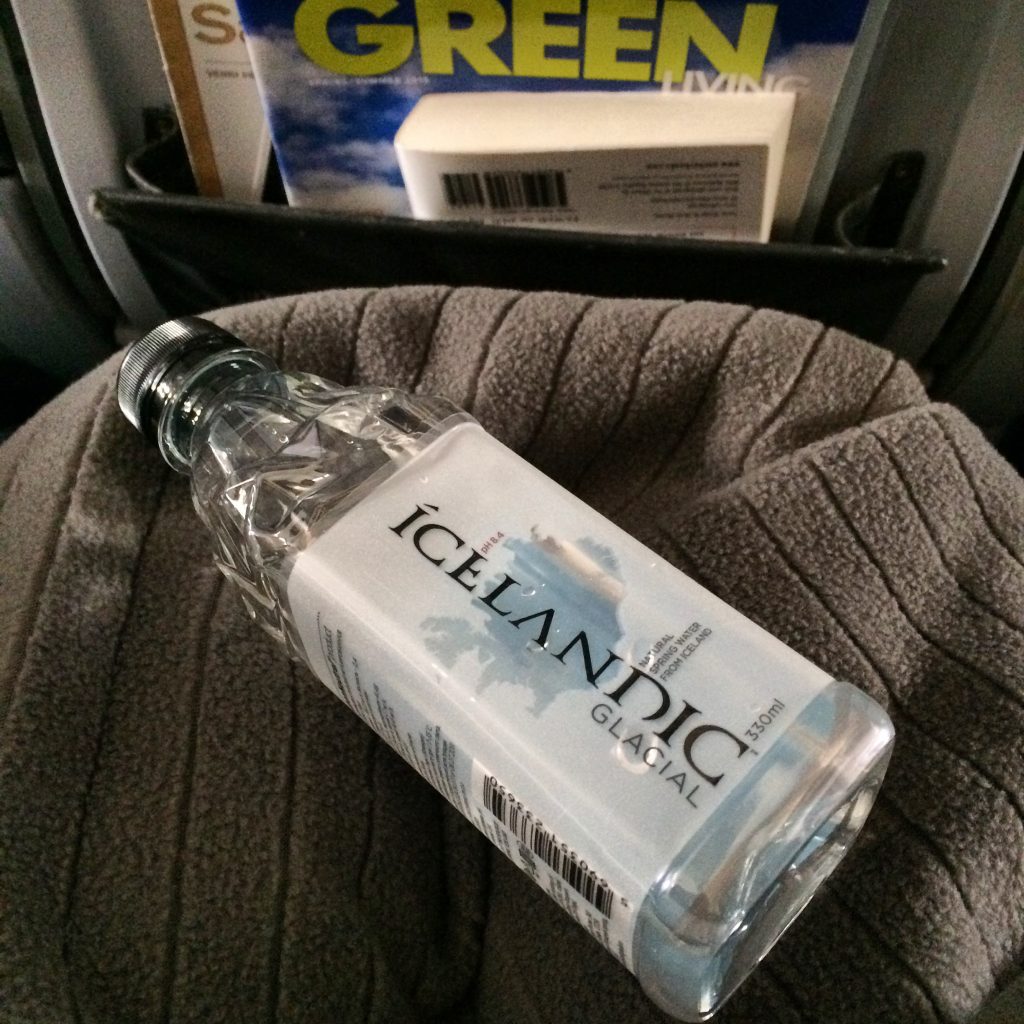 When I arrived, I didn't really have any expectations, mostly because I hadn't ever given much thought to Iceland. I'd heard the whole naming mishap "Greenland is actually all ice and Iceland is mostly green" thing but that's about as far as my knowledge of that area went. When my flight landed at 11pm, it was still daylight. I got the Flybus shuttle (super convenient) from the Keflavik airport straight to Loft Hostel in the center of Reykjavik as the sun was setting around midnight. The hostel was in the perfect area, had a rooftop patio, free wifi, a nice little bar and cafe with happy hour specials and a cozy reading nook.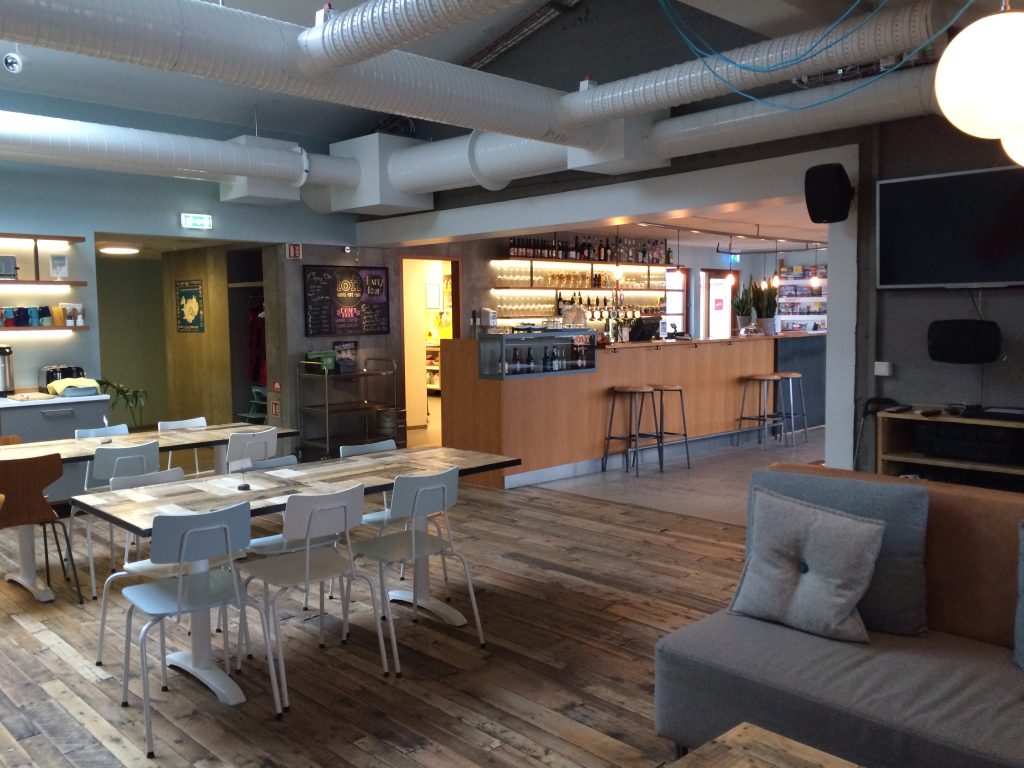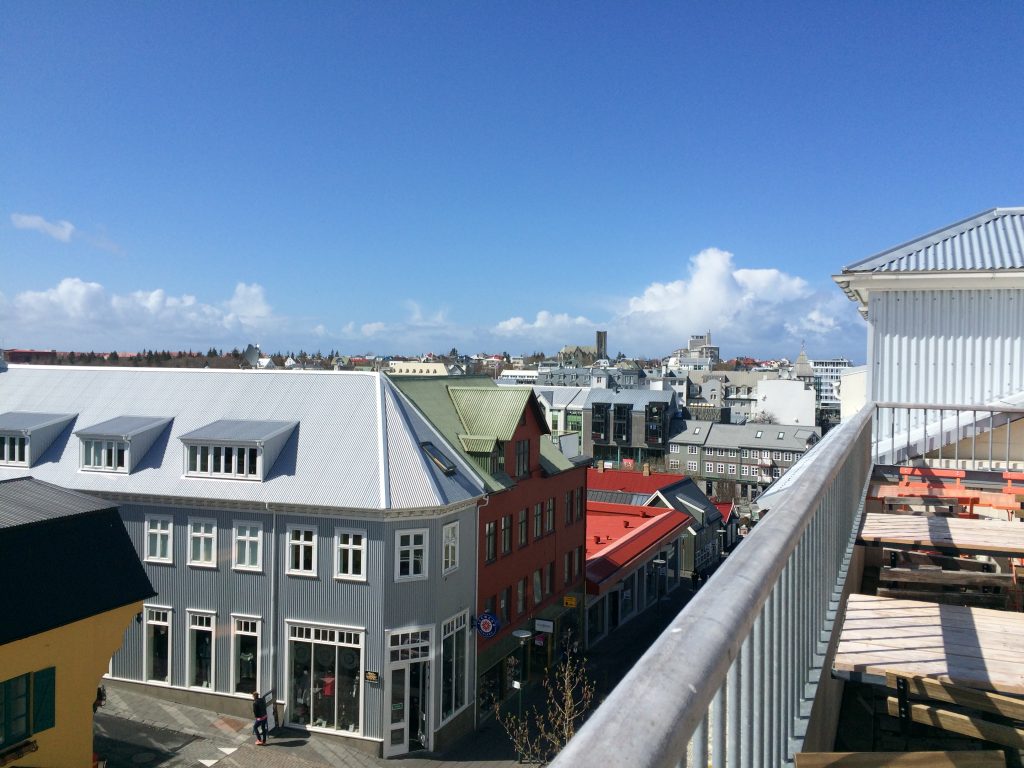 Most importantly, it was warm and toasty in the hostel! I was so terrified of being cold the entire time I was there and you never know about hostels. Loft was one of the best I've ever stayed in, hands down. I settled in and tried to get some sleep but when the sun rose around 4:00am, I was ready to get out and see what Iceland was all about. I bundled up and tentatively headed out the door, not sure what 4:00am in this foreign city had in store.
The first thing I noticed about Reykjavik was how clean it was. There was no trash in the streets, no smog in the air and no dirty city stench. There weren't any drunks stumbling around or people sleeping on sidewalks. Actually, there wasn't anyone around. Not even cars. The city was so quiet I could hear (as well as see) my own breath. All the buildings were small and quaint. There were no skyscrapers or huge, modern-looking office buildings to be seen. Most of the business looked like little white houses with bright blue or red roofs.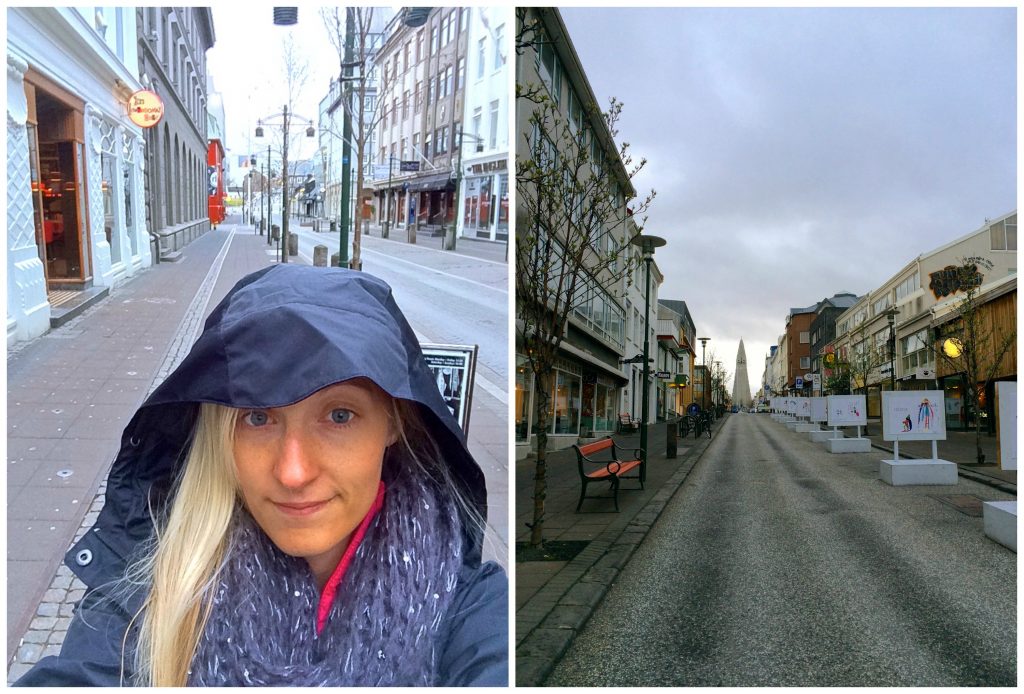 This was the biggest city in Iceland? Awesome. Home to only 120,000 people (the entire country only has about 320,000), Reykjavik is the northernmost capital of any sovereign state. I started strolling up and down the streets, checking out all the still-closed, cozy looking cafes and shops. I found my way up to Hallgrimskirja, a huge tower of a church at the top of a hill and one of the most popular landmarks of Reykjavik.
The official language is Icelandic, so I had no idea how to pronounce any of the street names or signs, but despite that it still was an extremely easy city to navigate on foot. Not to mention, everyone speaks English and it's such a small place that anyone would be able to point you in the right direction if you lost your way.
By 6:30am, I felt like I had already seen much of the sleepy city and definitely worked up an appetite. I searched for Bakari Sandholt, a cafe/bakery famous for their freshly baked breads, pastries and sandwiches, and after a little backtracking found it hidden from view, tucked in behind some street construction. The smell of fresh bread was intoxicating. I took off all my rain and cold gear and settled in with a great cup of coffee and some of the best sourdough I've ever eaten topped with fresh salmon and cream cheese. I think I could eat that every morning for breakfast forever. I even nixed the other breakfast spot on my list to go back to Bakari the next day for the same thing, but they were already out of the salmon.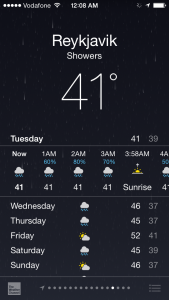 So the weather… you would think it would be pretty much freezing all the time in Iceland, right? Well the cool thing about Reykjavik is that it's very mild compared to everywhere else that far north because of the Gulf Stream. It pretty much stays between 34 and 54 degrees year round. While I definitely saw my fair share of rain while I was there, having a proper rain jacket, scarf, headband and gloves made all the difference. With the right gear, I didn't even mind the cold or rain. Iceland is famous for its wool and I wanted to buy a sweater, mittens and a hat, snuggle up in it and sit outside a cafe with a coffee every morning for the next week. Unfortunately, Reykjavik is not a cheap city. A wool sweater runs you upwards of $200, so needless to say I skipped out on the wool wears that would probably sit at the bottom of my closet in sunny Florida. But for someone that hates cold weather, I wasn't bothered by it here at all. It just felt right. The sun being out for 20 hours a day didn't hurt either.
After breakfast, it was time to venture out of Reykjavik and see what else Iceland had to offer. I booked a small group tour of The Golden Circle with IG Tours and they came to pick me up outside of the hostel at 8:30am in a mini bus. I had read that if you have limited time in Iceland, The Golden Circle is your best bet for seeing the best that Iceland has to offer. Just a few minutes outside of the city, I realized my eyes were going to be glued out of the window the entire day. This was definitely unlike anywhere I've been before. One of the first main stops was the Gullfoss waterfall.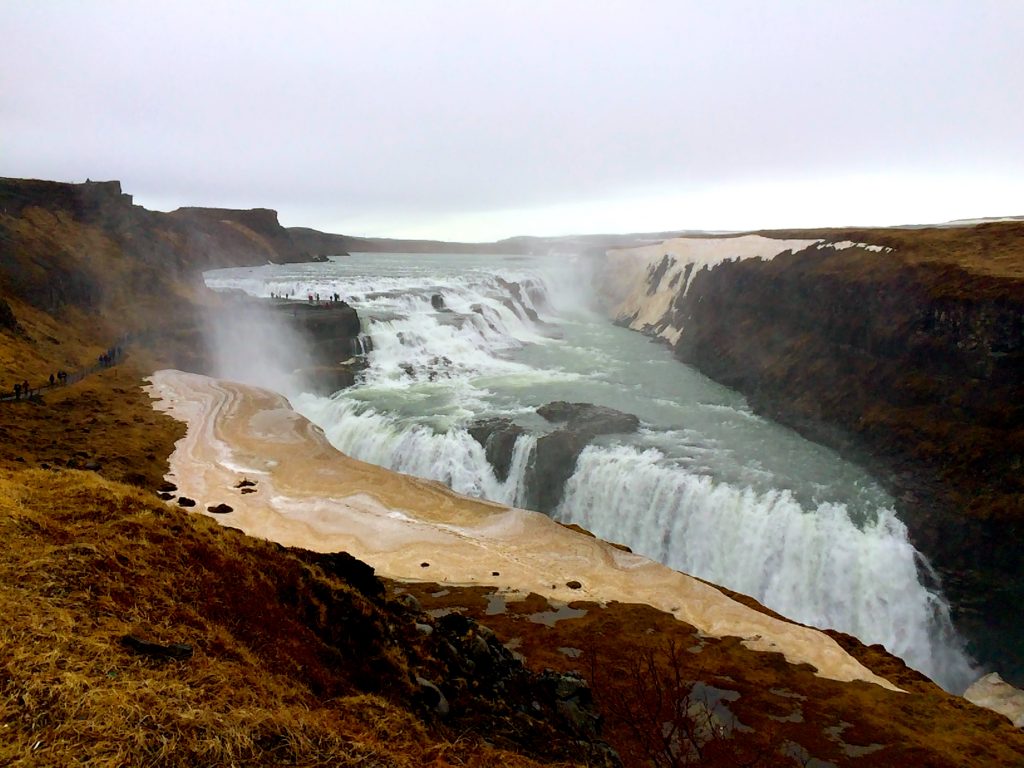 Next up was the geothermally active valley of Haukadalur. This was my favorite stop. I've never seen an active geysir, let alone steam just coming out of the earth in every direction. Iceland is nicknamed the Land of Fire and Ice because it is an island of extremes. Look to the left and see volcanic mountains and a hot spring fueled by underground lava flows. Look to the right and see the Europe's largest glacier, a half-mile deep and covering about 3,000 square miles. Iceland itself was formed by volcanic eruptions and still has 2 dozen active volcanoes that continue to change the countries landscape (remember the 2010 eruptions of Eyjafjallajökull that completely stopped air travel across Europe for an entire week?).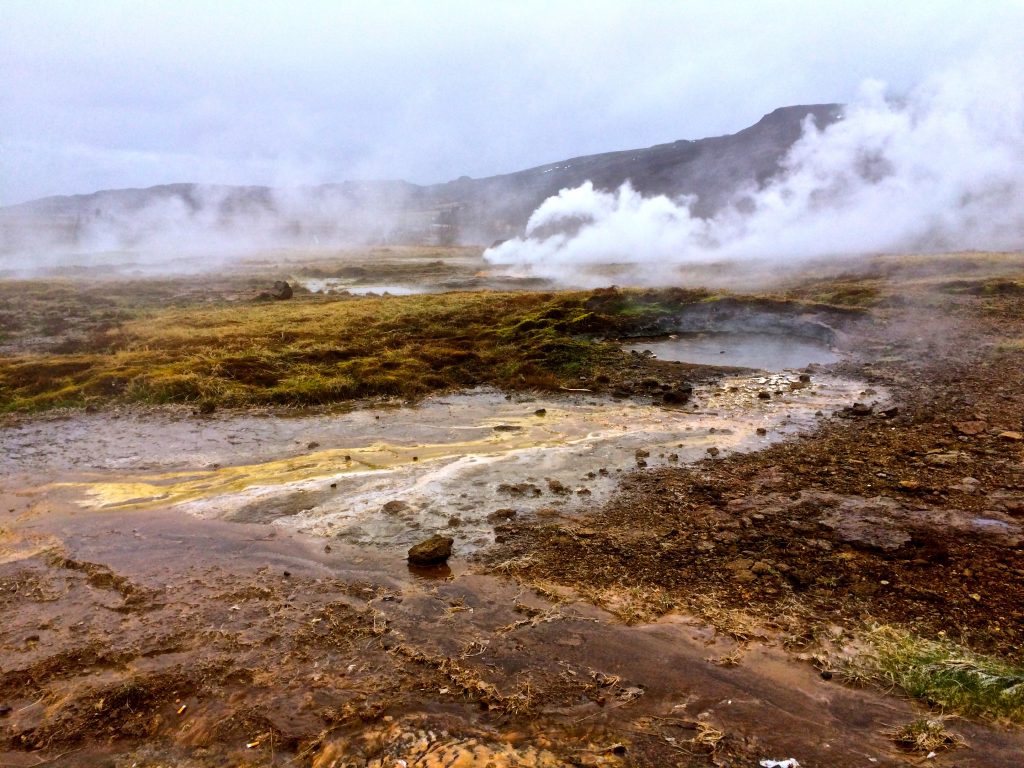 See all the steam coming out of the ground behind me? They use the geothermal heat to bake bread right there, underground. Is that not the coolest thing way to bake bread ever– with lava!? There's even a restaurant, Kjot & Kunst, that cooks everything using geothermal energy.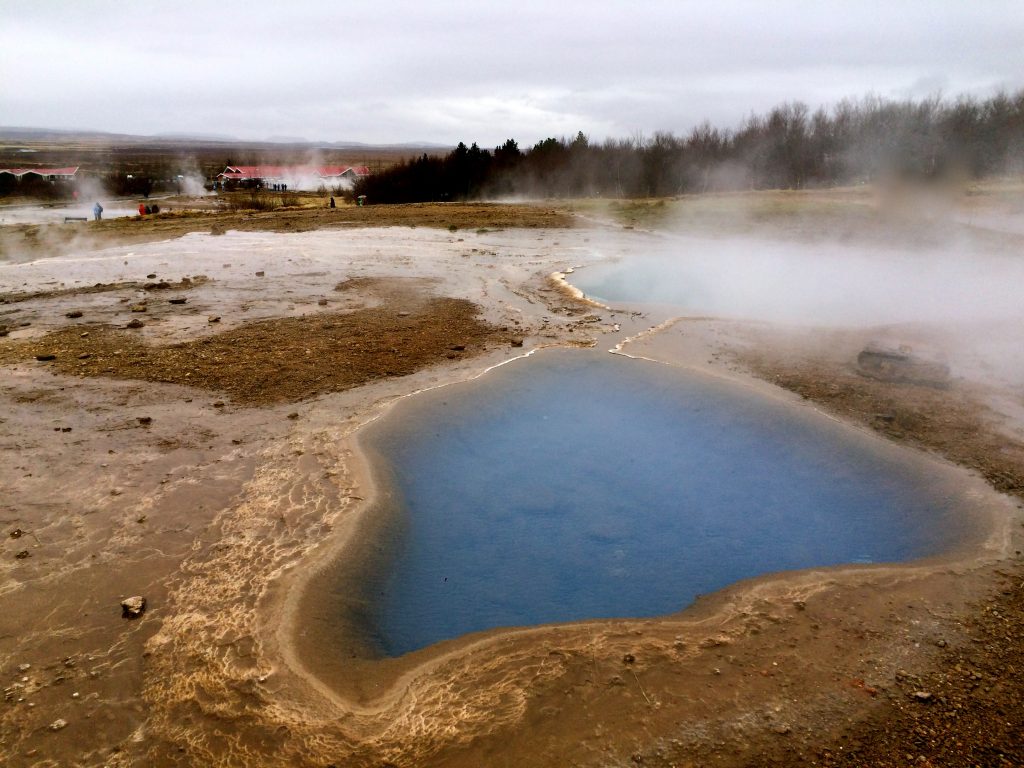 It also just so happens that my favorite type of yogurt is not Greek as you might think (that's so 2013), but Icelandic style skyr. I got hooked on a brand called Siggi's while I was in Texas but unfortunately I haven't been able to find it anywhere since I moved to Orlando. Well, luckily they have plenty of skyr in Iceland. If you're not familiar, it's even thicker, creamier and richer than Greek yogurt. Plus, it's super high in protein.
We stopped for lunch before heading over to Þingvellir (pronounced Thingvellir) national park and I got my skyr fix.
Some scenes from Game of Thrones were filmed here in the park. Got any guesses as to where this is in the series?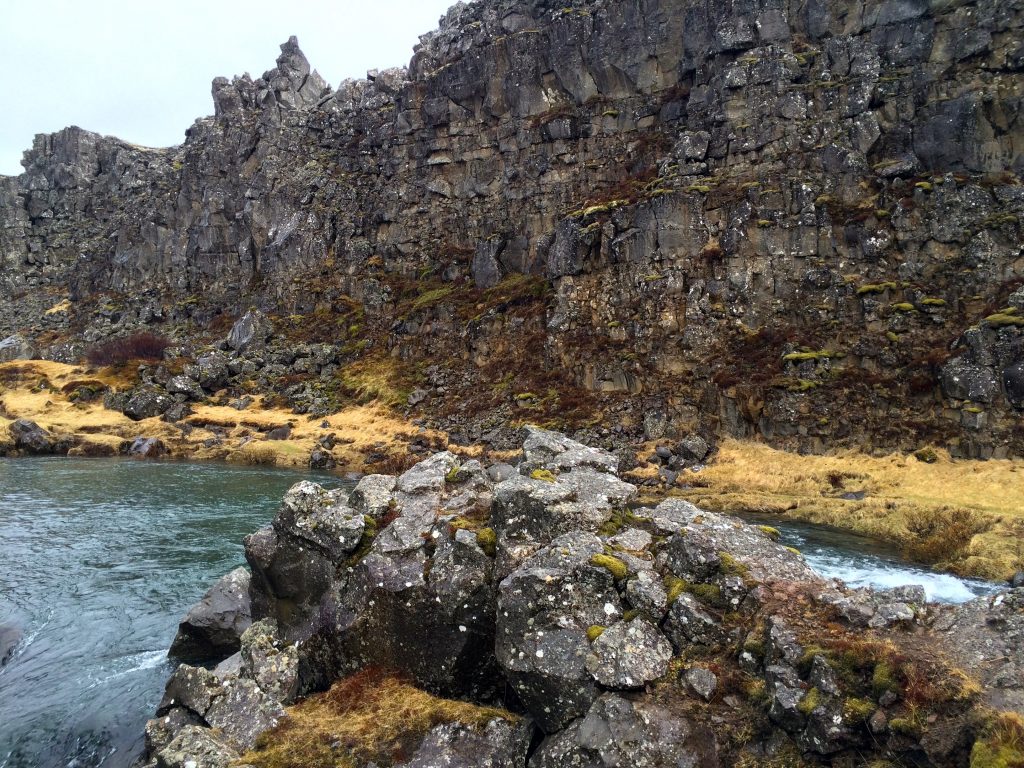 I have no idea what the people who live all the way out here do. We were in the middle of nowhere.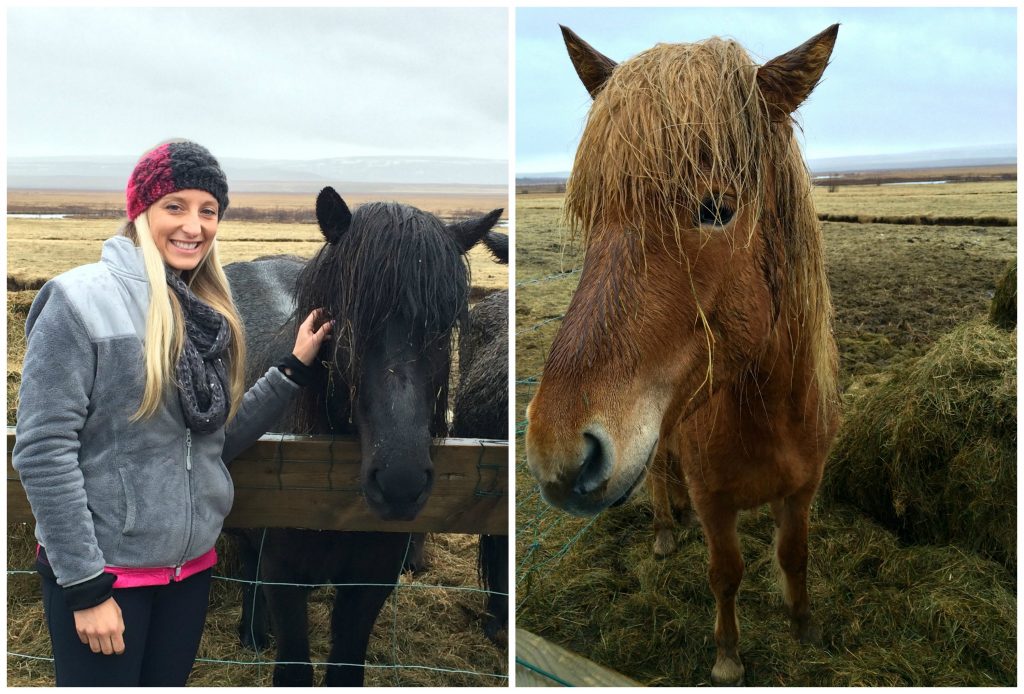 Stopped to say hey to the Iceland ponies.
I got back to Reykjavik around 5:00pm, famished. Sidenote- I ended up walking 8.9 miles that day according to my FitBit. I popped into Bergsson Mathús (have fun trying to read their menu) because their food photos posted by previous travelers on TripAdvisor were exactly what I was craving– something fresh but substantial, seafood with lots of veg. I got the meal of the day and it didn't disappoint.
The fish was called ling– I'd never heard of it until that day. Apparently it's a cod-like fish found in the northern Atlantic ocean. After dinner I headed up to Kol on a tip from another traveler on the Golden Circle Tour, who told me she had the best cocktail of her life there the night before and swore it had some kind of duck fat bourbon in it. What? I had to see this for myself.
I am so glad I did. The Duck Season, made with smoked duck fat washed bourbon (WHAT is that?!), lemon, and a maraschino cherry unlike any I've ever seen was the perfect mix of spicy, sweet and sour. Hands down in the top 5 of best drinks of my life. The atmosphere in Kol was just as good, with chatty servers and other solo travelers exploring Iceland for the first time. I could have stayed there all night, but alcohol is not cheap in Reykjavik ($15 cocktails) so after one more, I looked at my phone and saw that it was 11:00pm. It was still completely light outside and I felt strange going back to my room to go to bed when it looked like it was the middle of the day, so I went on another stroll. Being a weirdo dietitian, I decided to check out their grocery store (I LOVE creeping on foreign grocery stores) and snagged my favorite overseas candy bar.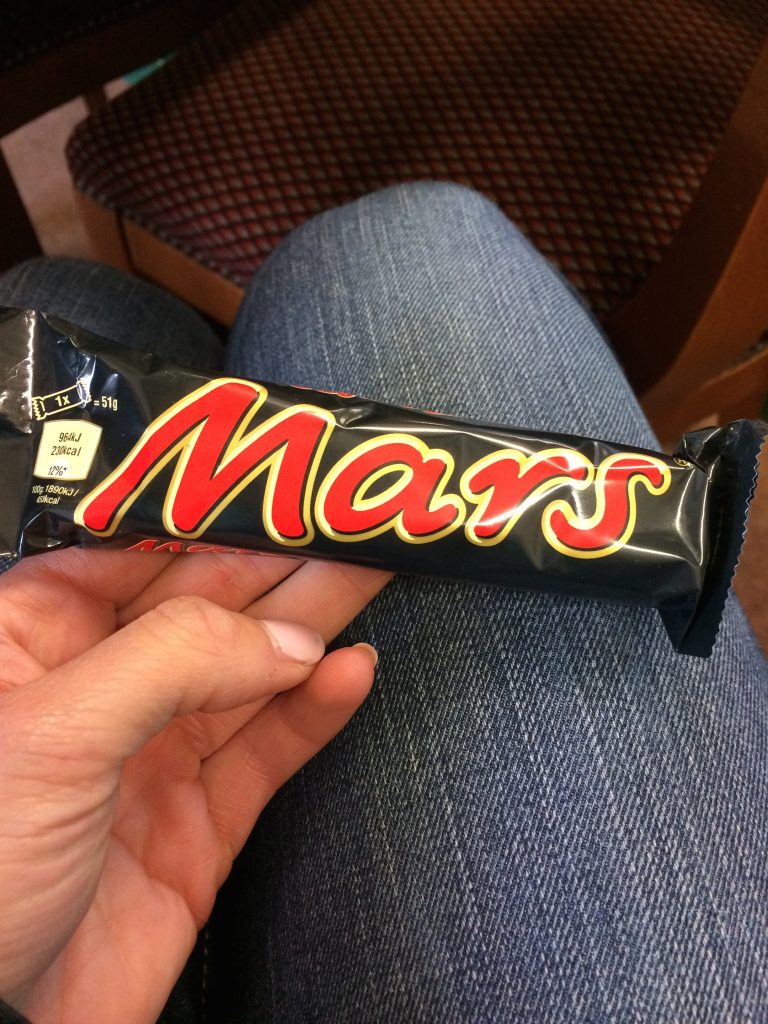 A Mars bar is like a Milky Way, just 500 times better. I finally decided I couldn't stay up any longer and set my alarm for 6:00am to take advantage of my final hours in Iceland.
My plan was to visit The Blue Lagoon on the way back to the airport, but I found out that tickets were sold out for the day and that Bakari was out of salmon. Initiate Plan B- visiting a local outdoor thermal public pool. Icelanders love to visit these local pools, take a healing soak, socialize with the neighbors and relax. I had to walk about 35 minutes out of the town to get there and let's just say I felt really, really out of place.
I was definitely the only non-Icelandic person there. All of the signs were in Icelandic, which shouldn't really be a problem because it's just a pool, right? Well, there's a certain way of doing things in these pools. First, you take your shoes off as you walk in and put them on a shelf by the door. Then you put all of your stuff in a locker, strip naked and head to a big open room with a bunch of shower head along the walls. The only thing I can compare it to is the showers you see in a jail on TV. You take only your soap and swim suit with you and put it on once you've showered (I only figured this out from awkwardly standing around observing other people for a few minutes). Then you're cleared to visit the pools. But first you have to figure out how to get out there. Carrying my towel, I found the doors that looked like they led outside, but then saw they had big red circles with a white line through them, similar to the ones that in America that are usually accompanied with the warning Do Not Enter. So I walked through a different door, then another and ended up in the staff break room, soaking wet with just my bathing suit and towel.
Turns out the red doors were the right doors. Also, you're not supposed to take your towel outside with you. Who knew? "Just run and jump in right away if you're cold!" one of the staff members said. It was about 34 degrees outside and the freezing concrete didn't feel pleasant on my bare feet but I didn't want to look like the idiot foreigner who sprinted and bombed into the calm, quiet pool where everyone was relaxing, so I tiptoed around and tested the waters. There were about 4 different smaller, jacuzzi size tubs, all of a different temperature and one big lap pool. I chose the warmest one and found myself surrounded by a few locals in their 60's and 70's chatting in Icelandic. I sat there for about 10 minutes basking in the warm water and awkwardness before deciding to try out the wet sauna. About 25 seconds after I walked in, my entire body was beaded with sweat. I felt like I couldn't even breathe it was so hot and muggy in there. I swear the wooden bench was burning my skin off, but the Icelanders were stretching out on it, doing yoga poses and looking completely comfortable. The only reason I lasted longer than a minute was because I didn't want to walk straight back out in front of them. Outdoor pools are apparently not my cup of tea.
With about 3 hours left in Iceland, I quickly showered, bundled up, and headed down to explore the Old Harbor area of Reykjavik. I took a seat at Cafe Haiti for a quick warm up, a Haitian coffee and great view.
For my last meal, I went to the most "Icelandic-ish" place I could find, Islenski Barinn, which translates to….you guessed it, Icelandic Bar. I asked the bartender for a beer recommendation and got a darker Kaldi, from Iceland's first microbrewery where, of course, they brew with fresh Icelandic water from a mountaintop.
The beer was great, but lunch was a disappointment. I went with the bartenders recommendation and got the lobster "dog." It ended up being deep fried lobster with some sauce that was way too sweet that didn't really compliment the already sweet lobster at all. And how can you ruin lobster? By deep frying it. It looks pretty though, right?
With about 25 minutes until the bus was scheduled to pick me up to take me to the airport, I took one last stroll through Reykjavik, wanting to find a little keepsake to commemorate my trip that wasn't too cheesy. I settled on a little hand-made, Iceland-shaped Christmas ornament from a shop that I'm pretty sure Santa himself works in. Not wanting to end the culinary aspect of my trip on a bad note after that disappointing lunch, I had to stop back in Bakari Sandholt and get a pastry to go.
Worth it! I found myself not wanting to leave at all. I had barely scratched the surface here. I still needed to go ice climbing on a glacier. Scuba dive into the continental rift. Eat bread baked in the ground. Go back to Kol for another Duck Season. Hike up a volcano. Go lava caving. Have breakfast at Bakari Sandholt every morning forever. Check out the thousands of greenhouses where they grow everything from tomatoes to bananas to roses using geothermal heat. Not to mention the Northern Lights in winter…
Just the ride back to the airport was stunning. Volcanic rock everywhere with snow lightly falling. Iceland, you impressed me more than I ever thought was possible. I can confidently say Reykjavik is one of the cleanest and greenest cities I've ever visited. I felt comfortable and safe traveling alone. The people were warm, welcoming and interesting, the scenery stunning. I went from not being able to pronounce Reykjavik to putting Iceland in my top 2 favorite countries. Out of 25, that's a pretty big deal, right? I just can't decide if it tops Australia, but it does make me want to visit other Nordic countries. Maybe I'm part viking?
Until next time Iceland– I'll be back!
Need advice on gear like backpacks and apparel for an adventure trip like this? Check out Globo Surf for up to date recommendations and reviews for everything from survival gear to ski jackets.