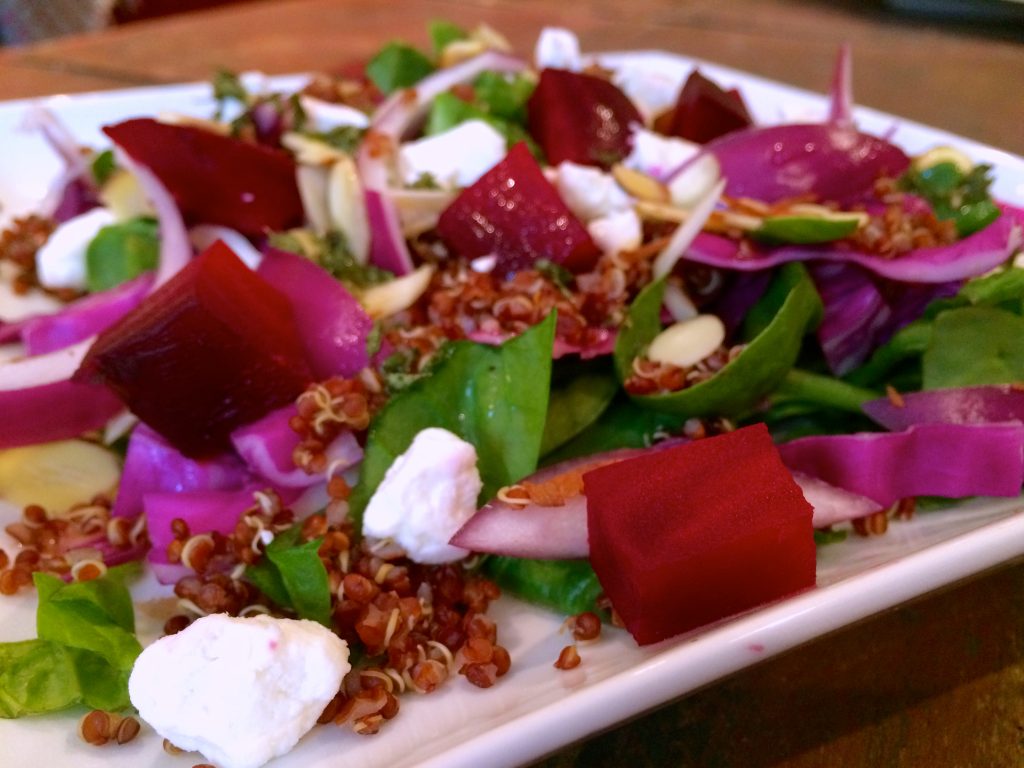 ---
Have you ever seen this much red on one plate?
This is quite honestly the best salad I've ever made. When I tell people I don't really love salads, they look at me like I have 5 heads. A dietitian that doesn't like salads?! When I say salad, I mean that boring iceberg lettuce, 2 cherry tomatoes and shredded cheese sorryness you get at most restaurants these days. I've gotta have some kind of grain and a bunch of weird veggies to get me excited about a salad… like this Spinach-Pesto Salad with Farro or this Two-Grain Southwest Salad with couscous and mango.
I recently discovered the magic that is roasting your own beets when making this Sesame Beet and Goat Cheese Dip. I mean, I was OK with eating beets before but didn't realize how GOOD they could be if you just roast them yourself. You don't even need to season them with anything, and they don't turn out like those mushy things in a can. You just need an oven, a pan, and water. I've been roasting veggies on the reg lately, partly due to the influence of Hummusapien (helloooo Maple Balsamic Roasted Brussels Sprouts)!
The dressing for this salad also turns out a bright red due, unfortunately I forgot to drizzle it on before taking the photos, so just imagine yours looking even prettier.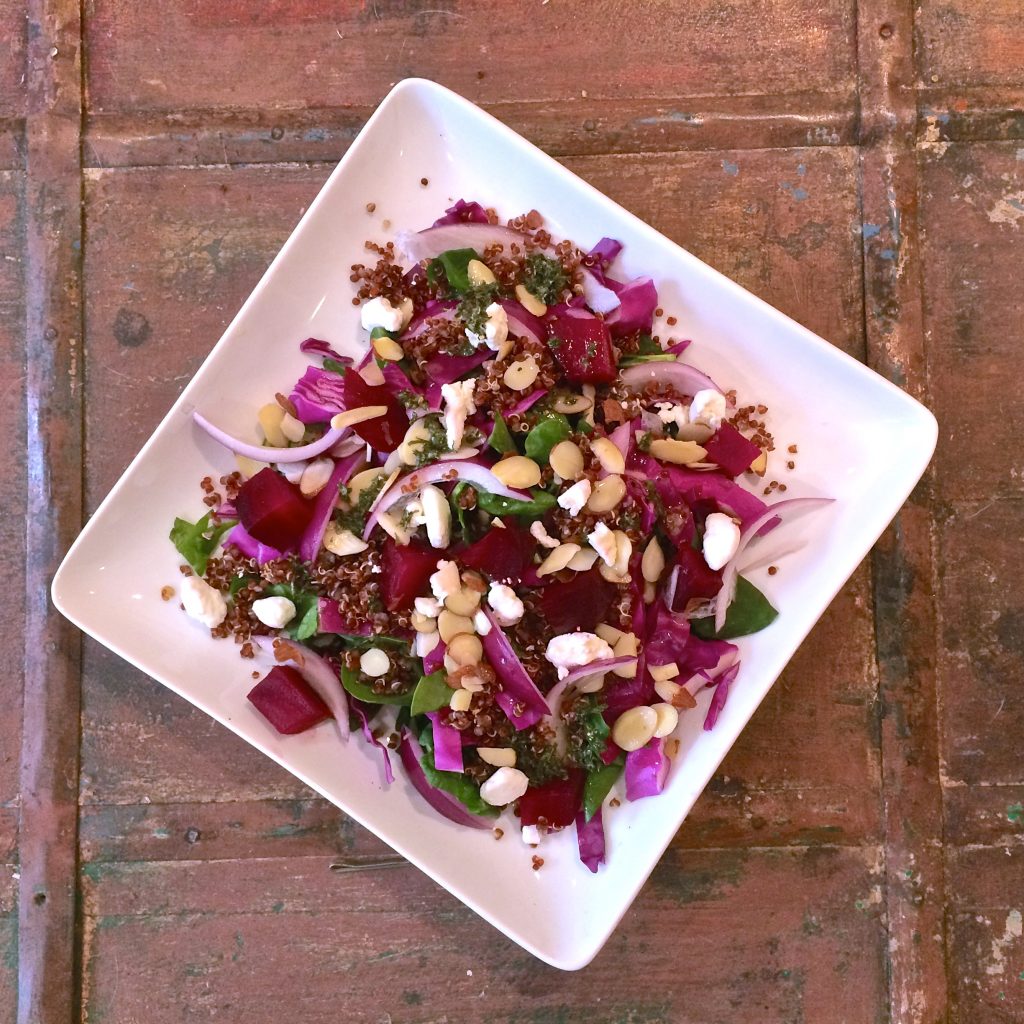 Roasted Beet, Red Quinoa and Goat Cheese Salad:
3 fresh beets
1/2 cup red quinoa (dry)
3 cups chopped spinach
1/2 head of chopped purple cabbage
1/2 small red onion, sliced
1/2 cup sliced almonds
4 ounces crumbled goat cheese
1. Preheat oven to 350 degrees. Wash beets and place in a baking dish with 1 cup of water. Cover with aluminum foil and bake for 45 minutes to 1 hour or until easily punctured with a fork. Let beets cool, then peel and chop, saving 1/2 of one beet for the dressing.
2. Meanwhile, cook quinoa according to package directions. Fluff with a fork and let cool.
3. Divide ingredients among 4 equal plates, layering first the spinach, then cabbage, quinoa, red onion, beets, almonds and goat cheese.
Orange-Beet Balsamic Vinaigrette:
1/2 of 1 roasted beet
Juice and zest of 1 orange
3 tablespoons balsamic vinegar
1 tablespoon white vinegar
4 tablespoons sesame oil (can substitute extra virgin olive oil)
1 teaspoon cracked black pepper
1 teaspoon dried parsley (or 1 tablespoon fresh)
1. Combine all ingredients in a food processor until well blended.
What are your thoughts on salad? How do you dress yours up? Have you ever roasted your own beets?
About the author: Megan Poczekaj, RDN, LD, is a registered dietitian nutritionist in Orlando, FL. She owns the private practice, Nutrition Awareness, where she teaches other entrepreneurs how to maximize their productivity and performance with nutrition. She is the author of the book The Optimized Life: A Nutrition Guide for Entrepreneurs and co-host of the Nutrition Awareness Podcast.