---
While planning for my move back to Orlando, I was searching for other dietitians and food in the area to connect with and came across Carissa Bealert's site. After reading about her unconventional path to becoming an RD (she started out in broadcast journalism), and her current gig as a RunDisney announcer, I knew I wanted to interview her for the Dietitian Spotlight Series to highlight how versatile a career in nutrition can be. 
Before becoming a dietitian, Carissa worked as a sports announcer and TV host appearing on CBS College Sports, Home Shopping Network, and TVSN Australia.  Carissa has been a sports announcer for ESPN's Wide World of Sports, the on-court emcee for the NBA's Orlando Magic and co-host of the travel show Hot Spots. She currently works as a race announcer for RunDisney announcing events across the country.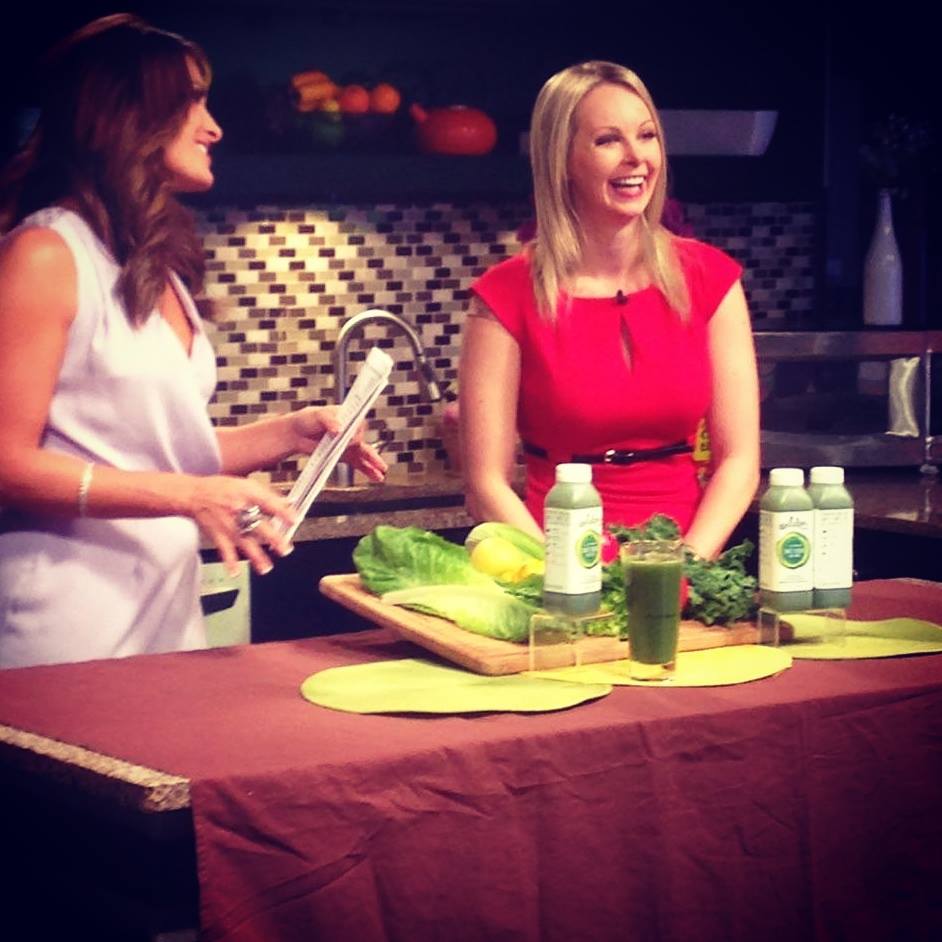 What first got you interested in nutrition? As a sports reporter, I spent a lot of time traveling. I started to see the link between what I was eating and how I was feeling and it sparked an interest in nutrition. After doing some research, I decided it was worth 3 more years of school to be able to help people achieve a healthier life through better nutrition.
Take us through a typical "day in the life." I don't think my life has a "typical" day. While I do have a full time job as an RDN coordinating media segments across the country, I am often on the go with different duties including working as a race announcer for RunDisney, giving corporate wellness talks, or making various TV appearances. When working on Home Shopping Network and with RunDisney it's not odd for my days to start at 1am!
Did you always know you wanted to own your own business? NO! I've always been independent, however owning a business is a lot of continuous work. 
Is there an interview or media feature that you are most proud of? Any time I'm able to speak to a large audience as a Registered Dietitian and spread the science of good nutrition then that's a huge day for me. There are so many mixed media messages about nutrition and they aren't always coming from the true experts, the RD's. When I can take that platform, then I'm very honored.
I will say, however that I highlight for me was traveling to Australia with Icon Fitness for a week of appearances on TVSN.
What an awesome opportunity! Have you had any embarrassing on-camera moments or totally failed interviews? Luckily having a degree in Broadcast Journalism has helped me from total flops! I can think pretty quickly on my feet and I have a lot of experience in live TV that has taught me to roll with the punches and to always be over prepared.
What's the most challenging or least rewarding part of being an RD? I think RD's are always battling other "nutrition experts" who don't have the school or educational background to truly understand complex nutritional issues. It seems like anyone who has lost weight (which is still a great accomplishment) feels like they are now a nutrition expert. It's tough making sure that RD's are being utilized in the media as the experts.
Do you follow any certain diet? I feel strongly about the advice of Michael Pollan, "Eat Food. Not too much. Mainly plants." I typically have 3 meals and 1-2 smaller snacks a day and I'm also a HUGE advocate for increasing one's fiber intake and focusing on whole foods.
Do you take any supplements? I currently take a prenatal vitamin and DHA as I'm expecting a little one in June. I also take probiotics and when not pregnant I will use protein powder on workout or long run days.
Is there any food that you won't eat? I'm not a very picky eater, but I often joke that I'm a "terrible RD" because I can't stand cottage cheese or hard boiled eggs, which are both fantastic nutritionally. I try to avoid highly processed, packaged foods and hot dogs. Not a fan.
What was your most memorable meal? Oh gosh – that's terribly hard, but the meal I look forward to every year is my Mom's Christmas morning breakfast. It's NOT healthy. It's Southern. We have biscuits, southern ham, cheese, and fried apples. I think meals are not always about what you're eating, but the memories that go along with them.
What diet, diet company or nutrition/TV personality do you think is the most detrimental to the public? Even though I am against and wouldn't recommend many products on the market, I do feel strongly about not speaking negatively about any foods or people in general.
Do you believe in "metabolic damage?" I think as a community we still have a lot to learn about how drastic changes in diet and lifestyle can affect not just one's metabolism but their endocrine and digestive systems too. That being said I do often see clients who have lost a lot of weight on a very restrictive diet that they ultimately couldn't stick with. They then gain the weight back and actually end up weighing more than before they started. I believe there is some truth to the idea of a "set point". People also need to understand that maintaining weight requires work just like losing weight. The maintenance phase is where exercise becomes important.
Is it calories in vs. calories out for weight loss or is there a bigger picture? I think calories in vs. calories out is a good place to start. People need to understand the way to either increase their calorie burn or decrease their intake as a very basic understanding of how to lose weight. It is more complex then this with genetics and food choices playing a big role, but there's nothing wrong with starting there.
What is your favorite place to go or thing to do in Orlando? I love Rosen Shingle Creek resort for a weekend staycation to relax. I'm also always happy spending a weekend morning jogging with my Marathonfest running group in Winter Park.
What would you like to accomplish in the next 5 years? I'd like to continue to grow as a nutrition TV expert and corporate wellness speaker. I'd love to write a book about how to workout and eat better in just 45 minutes a day. At the end of the day it's about being happy and that's always the ultimate goal.
What do you think needs to be done to elevate the RD profession? More awareness that RD's are the nutrition experts! We need to keep getting out there and letting people know that we are the best resource for nutrition related and weight loss questions and advice.
THANK YOU Carissa for being a part of the Dietitian Spotlight Series and giving us a glimpse into your life and career as an RD! Be sure to check out Carissa's blog and connect with her via social media:
Website – www.CarissaBealert.com
Twitter – @CarissaAnneB
Instagram – @CarissaAnneB