---
In this week's Spotlight, I interviewed Livia Ly, a dietitian trained in São Paulo, Brazil where she was born and raised. Lyvia is now living in the U.S. and in her final semester of a master's degree program in nutrition at the University of Illinois at Chicago. Lyvia moved to Chicago in 2008 with her husband and started looking for a job in nutrition but had a hard time finding a position. She realized later that she would have to go back to school in the US to become registered to practice here. She started over from the very beginning, taking classes in trigonometry, biology and English composition. She took multiple tests to evaluate her English and mathematics skills, as well as an English proficiency test called TOEFL to enter the university and then finally the GRE test to get into the Master's degree program.
Livia will be eligible to take her RD exam this December. She has earned two scholarships as a Graduate Research Assistant. She was honored at FNCE for this year for two additional awards, one in nutrition communications and another in entrepreneurship.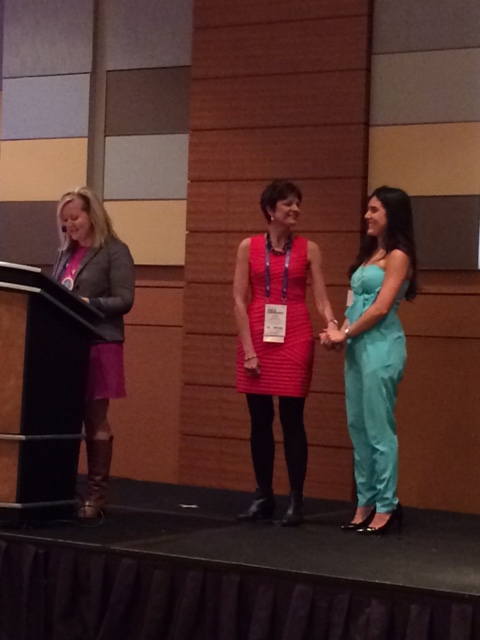 Livia, what are some of the main differences in having a nutrition career in Brazil vs. the U.S?
The big differences are that in Brazil, dietitians have the ability to order lab work, prescribe hospital diets, or recommend formulated supplements with specific ingredient amounts. Dietitian visits are typically covered by insurance in Brazil. There is a larger focus on prevention in there as well. For example, when I lived there, I would undergo multiple medical exams on a yearly basis to proactively check my health. Those same exams are usually only performed in the US to reactively diagnose a symptom. Brazilians also cook more often. Diets prescribed by dietitians do not simply include the ideal number of cups of fruits and vegetables one should have daily, but multiple menu choices with homemade meals and recipes based on the client's history and preferences. There are also more dietitians working in fields that are not clinical, foodservice or community, in Brazil.
Livia's home city of São Paulo
In the US, a hospital will hire more inpatient dietitians than outpatient ones. Dietitians are many times trained to prescribe a convenient diet, that doesn't require a lot of cooking, or that includes industrialized products with questionable ingredients.
Dietitians are more present in the media in the US. Their voices and opinions are much more valued here than in Brazil. American RDs make more money than Brazilian RDs too.
Do you find that the education required to become an RD is similar in both countries?
The education is very similar, especially in the clinical area. It was a lot of repetition for me. But, it did help me get a 4.0 GPA! I always say when you learn something for the second time you learn so much more. Plus, there are always new studies that make us change and improve our recommendations, so I did learn many new things. The main difference is that in Brazil you learn a lot more about specific ingredients and their functions, like the area of functional integrative nutrition. Also, our public health problems are different. In the US, the rates of chronic diseases in the population are still higher than Brazil. Brazil suffers much more with malnutrition or poor nutrition in many areas as compared to poor populations in the US. Our foodservice nutrition laws are stricter and there are more dietitians working with sports nutrition supplementation, for example.
I think that I am lucky that I've had the opportunity to see the nutrition field in two different countries. I believe that my background and degree from Brazil gives me a unique perspective that allows me to bring diversity and fresh ideas that can benefit the health field. I have been studying nutrition for 10 years now!
What first got you interested in nutrition?
During high school, I always enjoyed biology until one year where we had a career week where my school invited speakers from different fields to talk about their work. I remember a dietitian came in and gave an exciting presentation that was extremely interesting to me. I learned I could help people avoid and help treat diseases with food. I already enjoyed going to the gym, doing yoga and taking dance classes and I thought that learning how to eat healthy and helping others do it would be perfect for me.
When I moved to the US, I wasn't eligible to work or study in the beginning so I started volunteering at a food pantry and fell in love with public health. I have been a dedicated volunteer since 2008, and work with causes I care most about. One of the projects I am particularly proud of is a nutrition program that I developed at an underserved elementary school in Chicago and volunteered as a leader for two years. I received an award for outstanding contribution of community service in 2012.
What is your favorite population or favorite kind of client to work with?
My favorite clients are the ones who are interested in nutrition. People who care about their health and want to get deeper into what they can do to improve it even more.
What are you planning to do after you get your Masters?
I will open my business that will focus completely on wellness and prevention. My clients will receive a diet personalized to their DNA, where they will find ways to prevent diseases that they are susceptible to. I will also do lab diagnostic tests to help clients go on an elimination diet to avoid specific nutrients that trigger a particular condition they may have, like migraines. Also, I will encourage my clients to be recreational weight-trainers that want to follow a healthy diet and incorporate the right supplements for their goals. I want to use a holistic approach that takes into consideration the client's body, skin, hair, nails, as well as mind.
Do you follow any certain diet?
I am a health enthusiast. It's my natural habit to eat completely healthy. I follow and preach a healthy culinary with powerful exotic foods, "superfoods", and ethnic ingredients. I enjoy that proverb: practice what you preach, and Michael Pollan's phrase: eat food, not too much, mostly plants.
Is there any food that you won't eat?
Because I am a health nut, I avoid the so-called bad stuff. Highly processed unhealthy foods, like sugary beverages, junk snacks, or fast food options that are high in saturated fats and sodium. I also rarely drink alcohol and do not eat fried foods.
Is there any food or nutrition related book or documentary that really changed the way you think about what you eat?
Yes. I kept this book that I really enjoyed reading as an undergrad in Brazil. It's called Age Protectors by Edward Claflin and it's about integrative nutrition and health and how to age healthy and avoid diseases.
What are your thoughts on organic foods? Do you feel strongly one way or another?
I buy many organic products. There's a local grocery store in my neighborhood where their organic foods are cheaper than the conventional foods at other larger grocery stores. I usually buy organic fruits and vegetables that absorb the most amount of agro-toxins, as well as the ones with edible skin. I follow the Environmental Working Group yearly published list of foods that are highest or lowest on pesticides. There are some foods that I will always buy organic though, such as whole milk, butter and eggs, but those are not because of the agro-toxins, but because of the better taste and improved nutrition and the removal of antibiotics or hormones. I also weigh the issue of either buying a local seasonal product full of pesticides or an organic product imported all the way from Brazil, for example.
How do you feel about GMO's?
I am completely against genetic modified organisms in our food and have a strong opinion about this issue since being an undergrad in Brazil. In Brazil, companies that produce GMO's or transgenic products as they are called there, are required to notify consumers on their product labels by placing a triangle symbol with a "T" inside. It's sort of hidden in the box, and the majority of the population is unaware of this… it's sad. I have researched and found enough reasons to not trust or agree with transgenic foods for human consumption and will continue to support the need for GMO labeling in the US, so we can at least have a choice to either buy the product or not.
If you had to eat one food every day for the rest of your life, what would it be?
Hummm, my comfort food. It's called white carrot in English. It's a root vegetable and it looks like a parsnip, but it has a light yellow color and it is smaller. It is sweeter than orange carrots and high in fiber and phytochemicals. It originated from Afghanistan, Iran, and Pakistan and is very common in Brazilian-Paulista cuisine. It's so good and I usually only eat it when I visit my parents in Brazil. My mom cooks them as mashed white carrots.
Do you take any vitamins or supplements?
Yes, I currently take fish oil pills, whey protein concentrate and creatine monohydrate powders, as well as an organic cranberry juice concentrate.
You're most happy when….
My family is happy.
What's the most frustrating thing about the dietitian profession?
Dietitians are unable to order labs or prescribe specific formulated supplements in the U.S. Also, insurance does not cover dietitian visits for prevention, only if you are diabetic or obese and are also referred by a doctor. We rely too much on doctors in this aspect.
What would you like to accomplish in the next 5 years?
Develop a successful business that will focus on wellness and integrative, functional and personalized nutrition. I will provide consultations involving nutrigenomics, adverse food reactions, as well as nutrition in aesthetics. I also want to continue focusing my work on fitness and supplementation, and help recreational weight lifters achieve their nutrition goals.
I have noted through my experiences that, with the epidemic of lifestyle-related chronic illnesses, the healthcare system lacks patient-centered and preventative approaches, specific nutrition recommendations, and whole-food treatment strategies. I believe that listening to client stories and looking at the interactions among genetic, food sensitivity, environmental, cultural, and lifestyle factors can influence long-term health.
What do you think needs to be done to further elevate our profession and gain respect in the public eye?
More dietitians working in prevention and wellness. More dietitians being role models for healthy cooking and real institutionalized homemade foods. More dietitians working with patient-centered and preventative approaches, specific nutrition recommendations, and whole-food treatment strategies.
You can reach Livia via email at nutrition.ly.livia@gmail.com. She is fluent in Portuguese and English and regularly contributes to multiple nutrition related sites in both languages. Check out her recent post Cool Tools For Your Weightlifting Workout.
Connect with Livia: