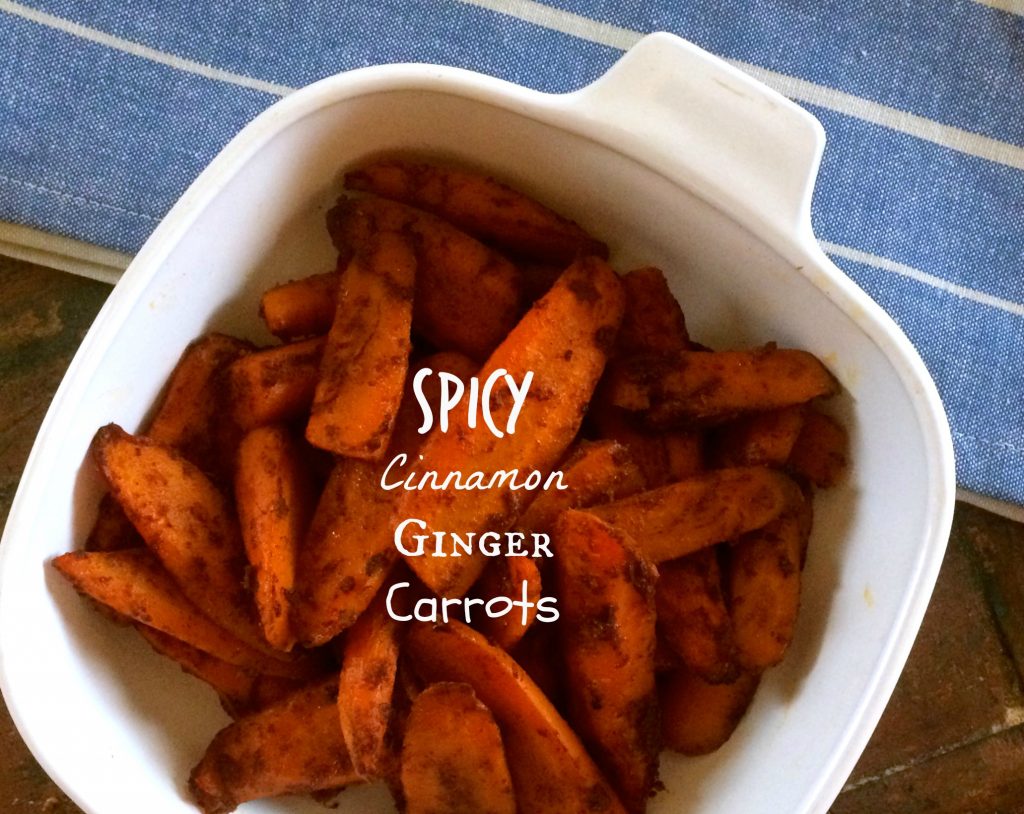 ---
These pretty puppies are hands-down, no contest, the best carrots I've ever had.
You know how when people start a diet the first things they go out and buy are skinless chicken breasts, carrot sticks and rice cakes? I think that's why a lot of people aren't huge fans of carrots, because they remind them of restriction and dieting.
I've never been a big carrot eater either– they're pretty far down on my list of preferred veggies. Then I recently saw this gorgeous recipe from The Forest Feast (I've never seen carrots look so good!) and I thought mayyybe I'd give cooked carrots a second chance. Of course, I'd have to put my own spin on them because I've never ever been able to just follow a recipe.
Let's just say I've never been so excited to come home and eat carrots two days in a row. This is one of those recipes that will become a staple in my kitchen and I'll continue to tweak with new spices and flavors. I served these little orange heroes alongside my Stuffed Pepper Quiche and I plan on sharing them with my family as a Thanksgiving dinner side.
That brings me to this months Recipe Redux theme– A Food Memory For Which You Are Thankful. My most cherished food memory I thought of was last Thanksgiving when I brought my Sausage and Apple Stuffing Bites as an appetizer for everyone to share. My grandma (who was not in any way adventurous about food) ended up loving them, to my surprise. She asked me to come over the next day and make more for her. We chatted about old family traditions and recipes she had been making over the years. That was one of the last times I got to hang out with her, just us 2. Since I already shared that recipe, I thought I would share a new recipe with you that I plan to share with my family, since this year's Thanksgiving will be about making new traditions around a different table.
Back to carrots– have you ever wondered if eating carrots can really help your vision or if that's just an old myth?
It's highly unlikely that you will experience any significant changes in your vision from eating more carrots unless you have an already existing vitamin A deficiency, which is not common in the US.
Then why all the hype surrounding carrots and eye health? During World War II, the British Royal Air Force started an advertising campaign claiming that the little orange root vegetables were the secret to their fighter pilots sharp vision. In actuality, the fighter pilot's accuracy was due to a new radar system the British wanted to keep secret from the Germans, but the rumor spread like wildfire and remains popular today among every Grandma and Great Aunt's dinner table.
Spicy Cinnamon Ginger Roasted Carrots
Ingredients
6 carrots, peeled and sliced diagonally
1 teaspoon cinnamon
1/2 teaspoon ginger
1/2 teaspoon garlic powder
1/2 teaspoon paprika
1/4 teaspoon cayenne pepper
1/2 tablespoon olive oil
Instructions
Preheat oven to 400 degrees. Combine carrots and spices in a large bowl and toss to coat. Place in a small oven safe baking dish..
Bake for 20 minutes, then stir and bake for an additional 20 minutes or until carrots can be easily pierced with a fork.