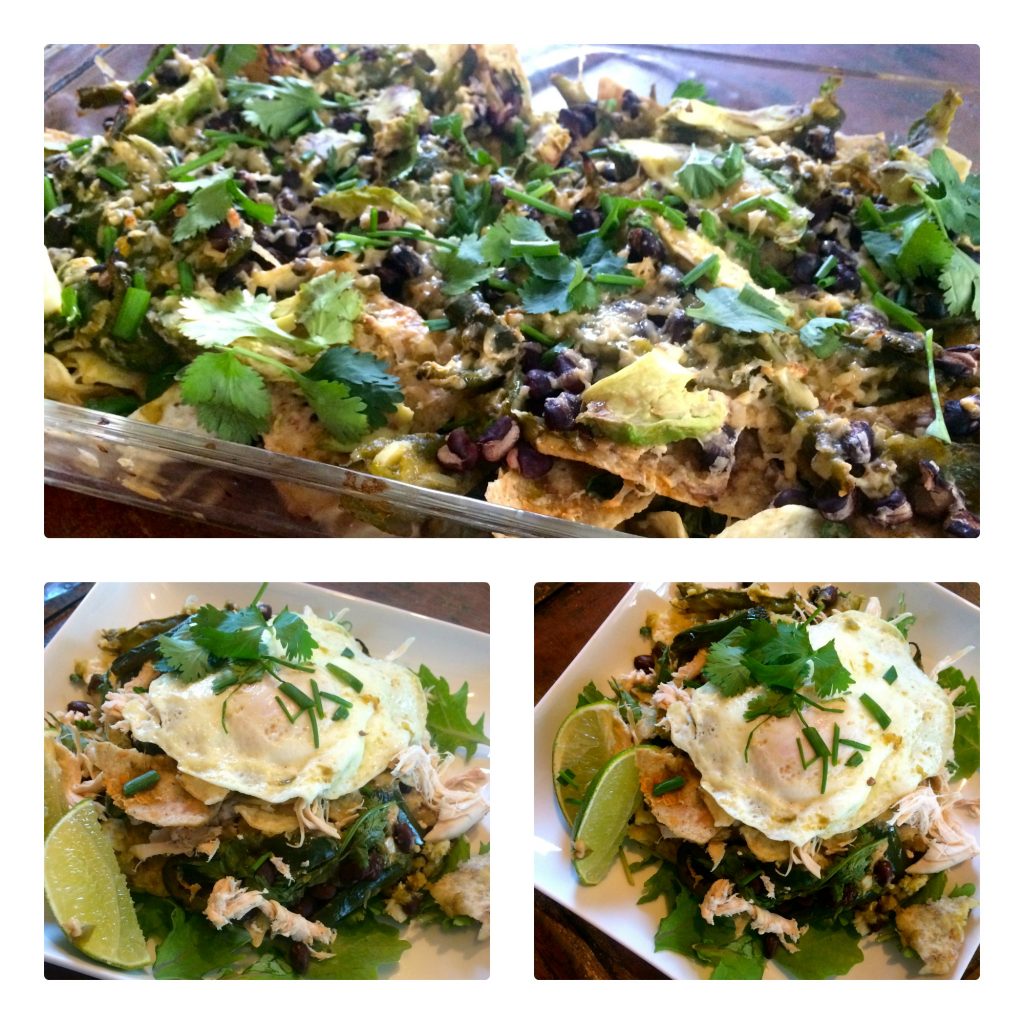 ---
The breakfast chilaquiles at State and Allen was my very first brunch meal in Dallas. I just picked what I thought was the weirdest thing off the menu at the time: Two fried eggs, Oaxaca cheese, Tasso ham, black beans, & edamame on warm tortilla chips-served w/a side of salsa. And oh, was it good.
Typically, chilaquiles are a Mexican dish with a base of lightly fried corn tortilla chips and include a tomato-based salsa and cheese. I don't see them on menus often and since I can't just traipse on down to State and Allen anymore, I decided to make them myself. I found a recipe from Rachel Ray, health-ified it a bit and gave it my own few twists.
Poblano Chilaquiles
1 tablespoon extra virgin olive oil
2 poblano peppers, sliced into strips
4 garlic cloves, minced
3 cups tomatillo (green) salsa
1/3 cup fresh cilantro, chopped
8 ounces tortilla chips (Trade Joes Multigrain with Flax work well)
5 ounces pepper jack or smoked jalapeno cheese, shredded
1 can of black beans (15 oz), rinsed and drained
1 avocado, sliced
1 lime
chopped chives or green onion for garnish
1. Preheat oven to 400 degrees. In a large skillet, heat olive oil over medium high heat. Sautee the peppers until browned (5 minutes) then add the garlic and cook an additional minute, stirring. Remove from heat and stir in salsa and cilantro.
2. Layer the bottom of a 2 quart baking dish with half the tortilla chips, half the cheese, half the beans, then half the pepper/salsa mix. Repeat, leaving a little cheese to top off. Bake for 15- 20 minutes then top with avocado slices, chives and lime wedges.
Bonus step: For the bf, I also snuck in some shredded chicken and put a fried egg on top. Perfecto!
About the author: Megan Poczekaj, RDN, LD, is a registered dietitian nutritionist in Orlando, FL. She owns the private practice, Nutrition Awareness, where she teaches other entrepreneurs how to maximize their productivity and performance with nutrition. She is the author of the book The Optimized Life: A Nutrition Guide for Entrepreneurs and co-host of the Nutrition Awareness Podcast.