---
Am I late to the party on this one? I feel like cauliflower crust was "sooo 2013" in the foodie world but either way, I'd never made it because I didn't actually believe it would work, or that it would be as delicious as it is.
On our recent vacation to Washington state, Will and I met up with his brother Ken, an expert fisherman and forager of the Northwest. Chanterelles and other wild mushrooms are wildly popular there and he was gracious enough to share with us (he can pick 5 pounds a day, no problem). We smuggled about a pound of chanterelles on the plane with us and I knew I had to come up with a special way to use them. Enter cauliflower crust pizza with pesto, parmesan, basil and fresh tomatoes.
Looks just like normal pizza crust right? But there's no flour in it at all! Crazy, huh?
After all the amazing food we had in Seattle (chowder in fresh sourdough bowls from Pike's Place, the thickest, freshest salmon in the world and maple bacon cupcakes just to name a few) this was a great first meal to come home to. This was also my first time having chanterelle mushrooms! Thanks Ken!
Cauliflower Crust
Makes 2 mini pizza crusts.
– 1 head cauliflower
– 3 cloves garlic
– 3/4 cup shredded mozzarella or Italian blend cheese
– 1 egg
– 1 teaspoon dried oregano
– 1 teaspoon dried parsley
1. Place cauliflower and garlic in a food processor and pulse until fine. Place in a double boiler to steam until soft.* Place mixture in refrigerator until cooled.
2. Preheat oven to 450 degrees. Combine all remaining ingredients with cauliflower mixture and press evenly on a parchment paper lined baking pan.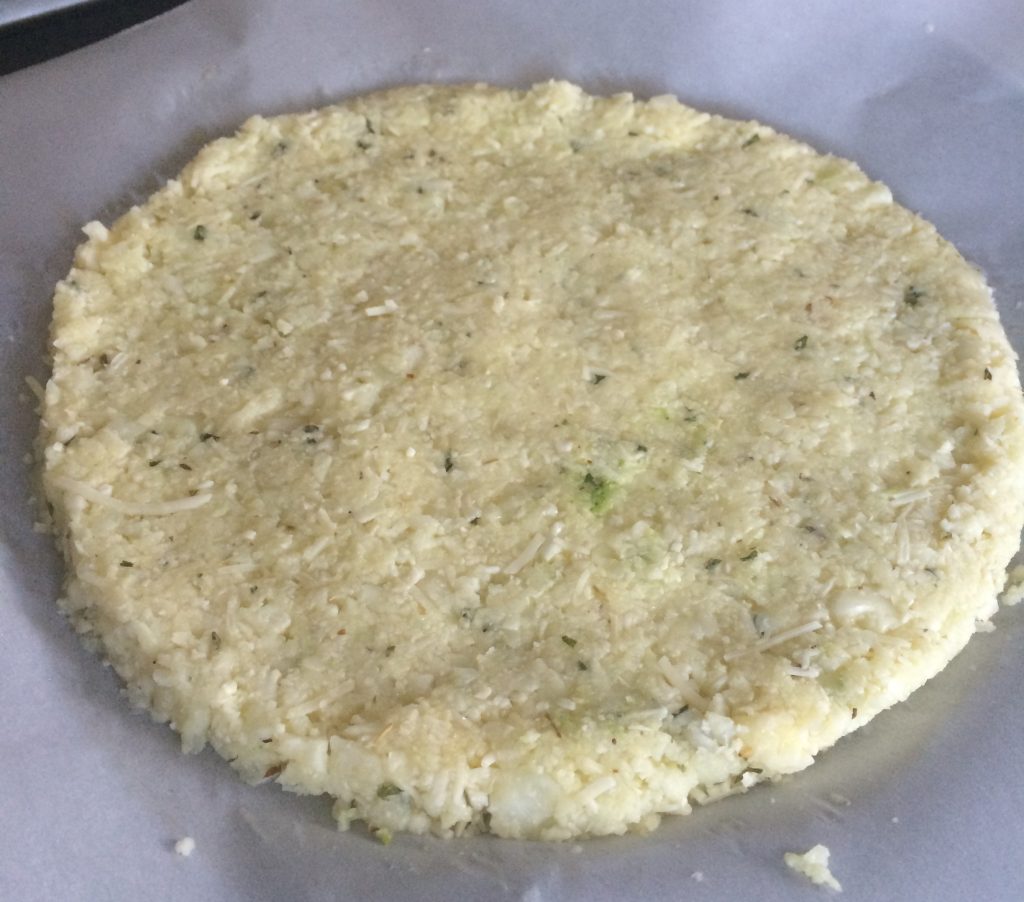 3. Bake for 15 minutes on one side, then flip the crust and bake another 10 minutes. Add your favorite toppings!
*The double boiler method is clutch here. You really don't want water or steam touching the cauliflower directly because if the mixture becomes too moist, the crust won't get crispy.
Confession: I don't actually own a double boiler, I just put water in a large pan then place a small pan containing whatever food/ingredient it is in the larger pan.
Toppings:
Pesto sauce
Parmesan cheese
Fresh basil
Sliced tomato
Chanterelle mushrooms, sauteed
Have you ever made cauliflower crust? Was it a fail or a win? Any other crazy twists on pizza you can't get enough of?