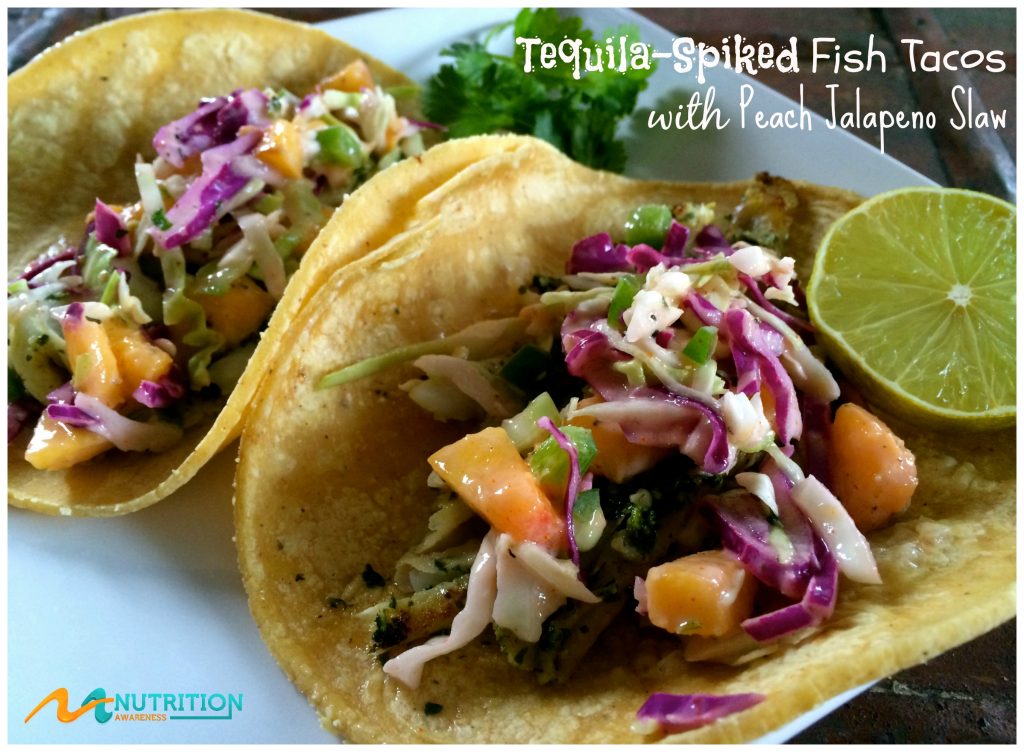 ---
This month's Recipe Redux challenge was to utilize alcohol in the kitchen. I showed my "spirit" with a little blast of tequila in my fish tacos. Still on a high from the Simple Summer Peach Salsa from last week, I HAD to figure out a way to incorporate more of those perfectly ripe Texas peaches.
My mom is visiting from Ohio this week and although she was weary about the premise of fish tacos in the first place (definitely not a Midwest thing) she ended up LOVING them and asked me to write down the recipe for her to take back to Ohio. I hope you can enjoy them just as much as we did!
Tequila-Spiked Fish Tacos
3 cloves garlic
1 cup packed cilantro leaves
1 lime, juice and zest
2 teaspoons ground cumin
1 teaspoon cayenne
1/4 cup tequila*
1 pound white fish fillets, rinsed and patted dry (I used wild caught sole)
6 (7-inch) round corn tortillas
1. Combine cilantro, garlic and lime zest in food processor and pulse. Add cumin, cayenne, tequila and 1/2 of squeezed lime juice and pulse again. 
2. In a gallon bag or a large bowl, marinate fish in the tequila mixture in a gallon bag or large bowl for 15-20 minutes.
3. Pan grill the fish on high heat for 3-4 minutes on each side.
Peach Jalapeno Slaw
1 and 1/2 cup shredded cabbage
1 peach, diced small
1/2 jalapeno, diced small
Juice from other half of lime
1 tablespoon plain Greek yogurt
1 teaspoon cayenne pepper
1 teaspoon ground black pepper
1/2 teaspoon sea salt
4. Combine all of the above in a large bowl.
5. Top warmed tortillas with fish then slaw and garnish with cilantro and lime wedges.
*A note about the tequila: make sure it's 100% agave, that's the good stuff. I used Don Cosme Blanco (made in Laredo, TX).
About the author: Megan Poczekaj, RDN, LD, is a registered dietitian nutritionist in Orlando, FL. She owns the private practice, Nutrition Awareness, where she teaches other entrepreneurs how to maximize their productivity and performance with nutrition. She is the author of the book The Optimized Life: A Nutrition Guide for Entrepreneurs and co-host of the Nutrition Awareness Podcast.