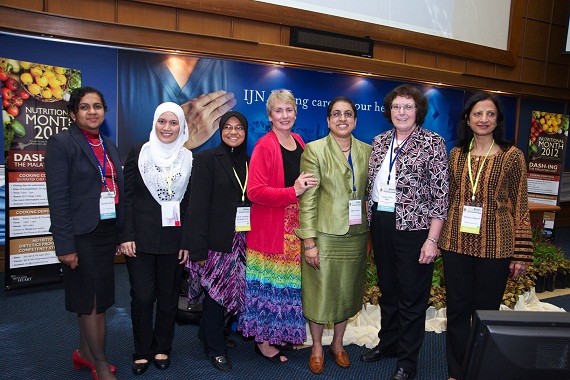 ---
I'm very excited to introduce to you this week's RDN in the spotlight: Linda S. Eck Mills, MBA, RDN, LDN, FADA. Linda has had an impressive career in dietetics (to put it mildly) which has allowed her to share her love of nutrition with countless people and work in vastly different occupations: from correctional facilities to food equipment manufacturers, through teaching, writing, speaking and starting her own business.
Linda was named the Outstanding Dietitian in Pennsylvania in 2001 and has served as the President of the Central Pennsylvania Dietetic Association. Starting this month, she will become the Secretary of Nutrition Entrepreneurs Dietetic Practice Group.
Linda, thank you for being part of the Dietitian Spotlight Series. You've worn many hats over the years and have had your hands in a variety of successful endeavors. How did you get started and what are you doing now? The road to becoming a dietitian was really long for me. I have a BS in Home Economics. It was when I was student-teaching high school Home Economics (now Family and Consumer Science) that I decided teaching high school students was not my passion. I completed a year of graduate school to pick up the courses I needed to qualify for membership in the then American Dietetic Association and then started a dietetic traineeship. Part way through the traineeship, I relocated and worked for a year before I started a three-year pre-planned work experience route to become eligible for the RD exam. After passing the RD exam on the second try, I went back to grad school and completed an MBA in Administrative Management. Since then I've graduated from the Coach U Core Essentials (Coaching) Program. I'm a charter Fellow of the American Dietetic Association.
I'm starting my 5th year as the Corporate Dietitian for Community Education Centers. I'm responsible for 41 secure and community corrections facilities in 10 states. The company's goal is to break the cycle of recidivism by providing a variety of training programs. I also direct Dietary Manager training programs at local colleges and teach ServSafe and Food Service Management. Per diem I work for Heartland Hospice. Since 1991 I have been the owner of Dynamic Communication Services where I'm a professional speaker, author (or co-author or contributor) of 10 books, freelance writer with over 200 published articles, and career coach. In the past I have worked for a food equipment manufacturer, sold small wares and puree food for industry leaders; worked in long-term care, acute care, and adolescent residential treatment center, mental health, and developmental disabilities in both clinical and food service management positions; taught credit hotel restaurant management courses to youthful offenders inside a state correctional facility and food service management courses and ServSafe to dietetics majors; and worked as a nutrition educator for a food commodity organization. Through all of this I have gained many transferable skills.
Wow! I'd ask you to take us through a typical day, but it sounds like you are always doing something different! My days are definitely not typical. I might be doing training for medical staff or food service employees, performing audits for corporate compliance with medical or religious diets, working with dietetic interns or dietary manager students, coaching a client, speaking at a professional conference, writing an article for a trade publication, or working with my co-author on the marketing plan for our book – Flavorful Fortified Food-Recipes to Enrich Life or writing a blog.
What got you interested in the field of nutrition? I was involved in 4-H and was one of six national winners in Foods and Nutrition. That is where I got my first public speaking/training experience, by doing 4-H demonstrations and winning with very little practice!
Is there any food that you feel like you couldn't live without? Ice Cream! Chunky Monkey, Moose Tracks, Orange Creamsicle, Peanut Butter, Mint Chocolate Chip, Butter Pecan…
Stop! You're making me hungry! What is your favorite part of your day as an RD? Doing what I love and loving what I do. I work with a fantastic food service team at Community Education Centers and have great instructors working with me in the Dietary Manager training program.
What is the biggest challenge of being a dietitian in your field? Corrections is the best kept secret for dietitians. I am the first and only dietitian in the company since food service became self-op over four years ago. Many individuals I come into contact with don't understand my role with the company and the breadth of skills that I bring to the company in nutrition, food service management, sanitation, writing and training. In addition, everyone thinks they know everything there is to know about food since they eat it. It can be a real challenge to politely correct them.
The question everyone wants to ask an RD: do you follow any certain diet? I'm fortunate to have inherited healthy genes, but I consciously work to eat a variety of foods and follow MyPlate. Do I hit this target every day? No! Dietitians are human. There are occasions when a banana split is dinner – after all it does have 3 food groups – dairy, fruit, protein!
What is the most memorable meal you've ever had? I actually have two meals that come to mind. A typical Malaysian meal hosted by the dietitians at the National Heart Institute in Kuala Lumpur, Malaysia for the speakers at the International Nutrition & Dietetics Professional Competancy Symposium. The other was a meal in Honduras provided by the local church for the construction mission team I was part of. It was nice to see church dinners are just as good there as they are in my area.
What diet fad do you wish would disappear? Gluten free for those who do not medically need it.
What food or nutrition related book or documentary do you think everyone read or watch? For nutrition professionals I recommend Nutrition and Diagnosis-Related Disease by Sylvia Escott-Stump. It has been in invaluable resource for me. From a career coaching prospective, I recommend Women Don't Ask and Ask For It, both by Linda Babcock and Sara Laschever and 48 Days to the Work You Love by Dan Miller.
What is the top tip you give your clients? Work with a mentor, mastermind group, or coach to shorten your learning cycle and get you to your goal quicker and easier than trying to do it alone. This is not a sign that you are incompetent. Quite the contrary, it's a sign of a smart individual working hard to reach their goal by working smarter not harder.
What is your favorite place to go or thing to do in your city? I live in a rural area and enjoy vegetable and fruit gardening. You can also find me bicycle riding on the rail trails in the area,
being a passenger on my husband's motorcycle or hiking on the local sections of the Appalachian Trail. I love to take nature photographs and have the April photo in the Journal of the Academy of Nutrition and Dietetics 2014 Calendar.
What would you like to accomplish (can be career or non-career related) in the next 5 years? I'm the co-chair of the Save the Stanhope School Project for the Pinegrove Historical Society. In less than 5 years my goal is to renovate the one-room school and open it to school groups. If anyone is interested in helping us financially, please go to www.pinegrovehistoricalsociety.com.
I am planning to retire from full-time employment in 8 years and will be working to build a 2-3 days-a-week coaching practice.
What would you say to someone interested in becoming an RD or getting into the field of nutrition? Any advice or caution? The profession offers MANY options. Decide what you are passionate about, determine the type of work environment you work best in, and don't be afraid to think and work outside the traditional roles that your college professors may tell you about. There are MANY options for Master's degrees that compliment the undergraduate foods and nutrition background. Consider diversification to get the biggest advantage. When I decided on an MBA, I only knew one other dietitian with an MBA. I stepped away from the MS in Nutrition and have no regrets. My concern is other professionals chipping away at our scope of practice. Dietitians must stand up, speak out, and take action now to protect the profession. Get involved at some level in the profession. The skills and friendships you make are invaluable to your career.
Connect with Linda Eck Mills:
Email: Linda@DyComServ.com
Website: www.FlavorfulFortifiedFood.com.
If you have a career you think others would like to learn about, please contact me for a chance to be featured in an upcoming Dietitian Spotlight Series article. Next Wednesday, we'll be hearing from Patty Duffey, RDN with MyFitFoods!