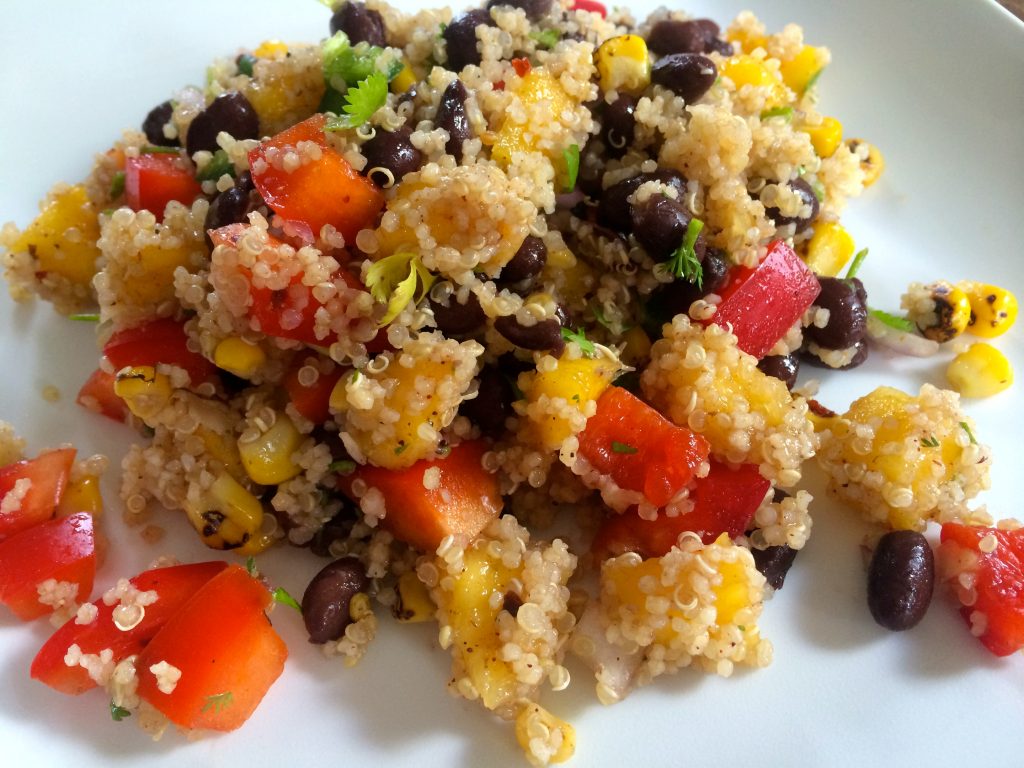 ---
Confession: I don't eat traditional salads or sandwiches for lunch. I despise the boring, cold, desk salad with wilted lettuce and lame, tasteless cucumbers and tomatoes. And don't get me started on the cold cut turkey sandwich on whole grain bread. Can you get more boring? So what do I eat for lunch?! Power bowls, power bowls, power bowls!
You can easily combine a complex carb, lean protein, and healthy fat and then add veggies and you've got the perfect combo of nutrients to keep you fueled for your workday. This two grain southwest salad can easily be personalized by adding chicken, cheese, salsa, or guac. I always make a big batch so I can pack for the next few days ahead.
Two-Grain Southwest Salad
Makes 5-6 servings
15-ounce can black beans, no salt added, rinsed and drained
3/4 cup cooked quinoa (according to package directions)
3/4 cup cooked whole grain couscous
1 cup corn (I used frozen fire-roasted corn from Trader Joe's and thawed it first)
1 red bell pepper, diced
1 fresh mango, diced
1/4 cup red onion, diced
1/2 cup chopped fresh cilantro
1 small jalapeño pepper, seeded and finely diced
juice 1 lime
1 tbsp extra virgin olive oil
2 garlic cloves, minced
1/2 tsp ground cumin
1/2 tsp chili powder
1/4 tsp red pepper flakes
1. Combine beans, quinoa, couscous, corn, bell pepper, mango, onion, cilantro, and jalapeño in a mixing bowl.

2. Whisk together the lime juice, olive oil, garlic, cumin, chili powder, and roasted red pepper flakes in a small bowl then pour over the bean mixture and toss. Refrigerate until ready to serve.
Original recipe idea from Skinny Taste.