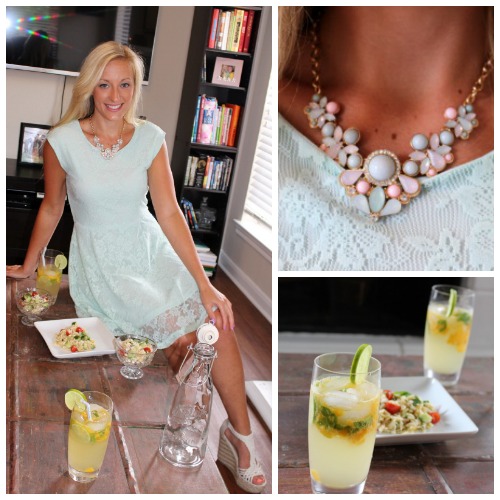 ---
Two healthy and refreshing recipes just in time for picnic season! To celebrate the end of spring and start of summer, Angela Amores from Pretty In Her Pearls and I decided to get together and combine her love of fashion and photography with my love of food and health. This post is the result of our collaboration– I came up with the recipes and she did all the styling.
I'll let the photos speak for themselves. It was so awesome having someone else take them for a change– all I had to do was make the food and plate it!
Fresh mint played a big role in both of these recipes. I've been growing my own out on the patio this spring and I love just being able to pick a few leaves here and there whenever I need it. I recently wrote an article for Medical News Today on the many health benefits of mint (there's a ton!), so I've been experimenting more with this herb lately. If you've never had fresh mint (especially in a mojito), go out and grab some this weekend or plant your own. Fresh mint tastes infinitely better than dried.
To get all the details on my dress or jewelry, head on over and check out Angela's blog. She posts daily about the latest fashion trends and season must-haves.
I hope everyone gets to enjoy a three day weekend! Are you making anything special for Memorial Day?